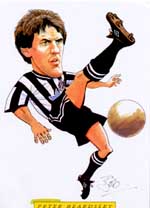 Honorary President: Peter Beardsley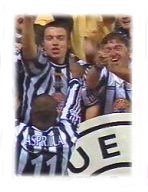 Newcastle United Supporters Club Yorkshire was formed in 1988. Most of us are exiled Geordies, and most of the rest have some connection with the Toon. And then there's Gordon! He supports the Toon because he was born on 4th May 1974, which just happens to be the day we lost to Liverpool in the cup final. Well I suppose it's better than picking the team that won to support!

We organise travel (or at least arrange to travel together) to all home games and most away games, some of us by train, others by car. However we get there, we normally meet up in the pub before the game. For home games this is currently in the Union Rooms (Wetherspoons, near the station), for away games it'll be in one or other of the pubs recommended on the Travel page of this site.

If you want a ticket for a particular game then this can normally be arranged, through the use of the season ticket of someone who isn't going to the game (home games), or by using someone's membership number (away games).

We also raise money for charity. The Burns Research Unit at Bradford University benefited to the tune of almost £5,000. Then it was a couple of grand for Tiny Lives, the Special Care Baby Unit at the RVI, of which Peter Beardsley is a patron. Nowadays it's another local charity, Martin House Hospice this time.

We used to have annual membership fees, but we scrapped this a few seasons back. Nowadays if you want to be a Yorkshire Mag..... then you are one!

For the armchair fan, or if you just can't make it to a particular game, many Toon matches are shown at the Quarry Gap on Dick Lane, Tyersal. Here's a map:






If you want to have a few pints then you can catch the 72 bus from Leeds or Bradford, getting off on Leeds Road (around Wensleydale Road). It's then a 10 minute walk to the pub.

For further information about anything to do with the Yorkshire Mags drop and e-mail to info@yorkshiremags.com.