Lift-off!!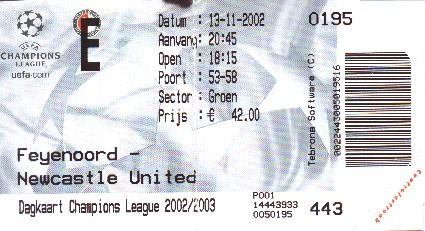 Where to start?? It's two days now since the Feyenoord game and it still hasn't sunk in. I never for a minute thought that we would get through, even though I always live in hope. Like most people, I would have quite happily settled for a UEFA Cup place before kick-off.
As usual, the Yorkshire Mags used all the transport options going to get over to Holland. Big Issue, Gordano, Alan Jamieson and Brendan flew from Liverpool to Amsterdam, treasurer Darren flew from Manchester to Amsterdam, while myself, Aaarroooona, Steady and Pigeon caught the boat from Hull. In theory P&O have a policy of not carrying football fans, but that didn't stop ourselves and hundreds of other Toon fans booking up. We made sure that we were in plain clothes when we arrived to check in at 7 on Tuesday evening, but it was soon obvious that P&O were turning a blind eye to the policy as they allowed people to board wearing Toon tops. So we put ours on as soon as we got on, then it was straight off to the bar for the first of many.
As usual, Steady had some cards with him, so it wasn't long before the Pontoon started. This was fortunate for me. Steady lost early on, then went chasing it as he does. Arran's lack of knowledge of the basic rules plus his inability to add up meant that he also contributed nicely to my spending money for the trip. The pair of them did better at the casino later on though - they both ended well up on the night.
By about one o'clock (two o'clock Dutch time) I was starting to wobble a bit, and it was nothing to do with the sea. So I decided to turn in, first as usual. I have to mention that we were all sharing a four berth 'special' cabin. I don't know what was supposed to be special about it - four bunks, a tiny bathroom, too warm and claustrophobic. Anyway, the next thing I was conscious of was getting woken by a loud crashing noise at about half 5. I was going to go back to sleep, but Steady had other ideas. "Your phone's fallen somewhere" he yelled at me, then he put the light on so we could look for it. Next thing all 4 of us were scrambling around looking for my phone which had apparently disappeared off the face of the earth. Eventually it was found down the side of the bunk, but by now Steady had decided it was time to get up, even though we didn't dock until 8! We tried turning the light out, but he turned it back on and started doing his impression of the wake-up call that comes over the tannoy from 6. "Bingdy, bangdy, boing! Good morning campers. The time is 20 to 6 and breakfast is now being served." We told him to p*ss off but he wouldn't give up. "Come on, get up you boring bastards!" Eventually Pigeon gave in to the pressure and went for a shower. Steady and him went off in search of breakfast before long, leaving Arran and me to have another half an hour in bed.
The were a few sorry states on the bus from the ferry terminal into Rotterdam. Hardly surprising considering the amount of alcohol and the lack of sleep. It was about half nine when we were dumped outside the station, and it was grim. It was raining, the wind was blowing and the place itself was depressing - futuristic office blocks, and shopping streets reminiscent of Billingham. We soon found the hotel and dumped the bags. Sensible people would have had a couple of hours' kip, but not us. We set off for a bit of a look round. It wasn't quite the same as wandering round Turin on the morning of the Juve game. Pretty soon we decided to seek shelter from the wind and rain in a bar/cafe place. The intention was to have a coffee or soft drink, but once we saw the beer pumps we just couldn't resist trying the local beer. "We'll just have one to settle us down" was the theory. That was followed by a second, then a third. At one point Steady, who was suffering, headed off in search of somewhere to get something for his headache. It was about this point that we started asking the barman about the Feyenoord fans. He confirmed that they have some real headcases, and informed us that a lot of them congregate in the bar next door! "It is not good for you to be here later" he warned us. And sure enough, it wasn't long before we saw a bunch of them walk past our bar and into next door. And they were dressed just like our thugs - caps and no colours. We decided it might be a good idea to move on. As we left - in sunshine! - it was reassuring (NOT!!) to see that the bar next door had bouncers on and was being watched by the police even though it was still about 8 hours to kick-off. On the way back to the hotel we were handed leaflets by the police. They contained a few dos and don'ts, plus a map showing where the supposed 'safe' drinking area was.
We were only in the hotel long enough to pick up passports (id must be carried at all times in Holland), then it was off to a bar by the station to meet up with Gordon, Hamish, Brendan and Alan who had just landed. It was a decent bar - cheapish beer, canny food, and a nice atmosphere. There were a few Feyenoord fans in, but it was obvious they were sound. The beer was going down well and everyone was having a great time (and I was just about to order some food!), then all of a sudden the door opened and about 20 of their fans came in. No colours, obviously looking for trouble. They just all stood around at one end of the bar, not showing any interest in having any drinks. Things went a bit flat for some reason! Apart from us there were quite a few Toon fans in the place, but wearing colours and all clearly just there to have a few drinks and to enjoy themselves. We speculated on whether the Feyenoord fans were really interested in us, or whether they were just congregating somewhere near the station waiting for our thugs to show. We also tried to work out whether we were safer inside the bar than out on the streets. After about half an hour the tension had eased a bit, but most of us decided it was too uncomfortable. As there was now a police van outside keeping an eye on things we felt it was a good time to make a move. Steady, Brendan and Big Issue weren't going to be intimidated though and stayed. The rest of us left, trying to look as nonchalant as we could, and making sure we went past the police van. Once we'd gone a couple of hundred yards we felt quite safe. Just then we bumped into about a dozen of nasty looking Feyenoord fans coming round a corner. They were carrying glasses and bottles of beer. It was pretty obvious that they'd been in a bar - probably that thugs bar judging from the direction they were coming from - and someone had phoned them to get them to go to the place we'd just left. They gave us some looks, then after we passed them they started chanting "Sunderland, Sunderland". We did our best to ignore them and kept going. At one point I turned around and saw a few of them stood deciding whether to come after us or not, but they didn't. At this point we decided it might be a good idea to cover up! As we headed off away from the area altogether we saw police vans on every corner, and a few dodgy looking locals. "Perhaps the safe drinking area might not be a bad idea", we all thought. A bit further down the road a bloke walking the other way said in English "You need any tickets?". So much for the cover up!
We were wandering vaguely in the direction of the so-called safe drinking area. I had mixed feelings about actually going there. Apart from the fact that I thought it could attract Feyenoord troublemakers, I hate 'conforming' and didn't particularly want to start now! Anyway, before we got there we spotted a small traditional bar off down a side street. There was only one customer in it, so it looked a safe bet. We piled in and started back on the beer. Not long after we got a phone call from Brendan saying that they'd been recommended by a plain clothes British copper that it might be a good idea for them to move on, so we gave them directions to the bar we were in. Likewise Darren who had just arrived in Rotterdam. A few dozen texts and phone calls later all the Yorkshire Mags were finally in the same bar, together with various other Toon fans that wandered in and at intervals, plus the odd local. It was a really good atmosphere - a bit like the restaurant in Turin - as we all got more and more 'relaxed', especially Big Issue who Gordon reckoned was pissed when he got up and had just been topping since. Eventually it was time to think about getting to the ground, which was still miles away. Most people headed off in taxis, but me and Darren opted for the number 23 tram. The local who'd been in the bar when we first got there escorted us to the stop and even gave us tickets for it. He needn't have bothered - it was apparently free for some reason. I suppose we might have been sharing the tram with some nutters, but as it happens the other passengers were all ok.
After getting off the tram we got a few looks and comments walking around the ground to our turnstiles, but we did better than the taxi brigade. Brendan, Steady and Big Issue bumped into a few of their squad and took a few kicks and umbrella swipes (so that's why their thugs carry umbrellas even when it's not raining). But at least Steady put one of their lot down in return. Or so he says!
Once inside the ground the atmosphere was fantastic. Even with half an hour to kick-off the place was virtually full. Well apart from the big corporate section of course. Their lot were waving loads of massive flags, then shortly before the teams came out their fans sang their club song, and EVERYONE joined in. It was the best atmosphere I've seen since Bilbao (away) and THAT Man U game (the 0-1, not the 5-0), and miles better than anything we get at St James' now. But once the game got underway they quietened down a lot. Probably something to do with the excellent start the Toon made. I'm not going to say much about the match other than:
- contrary to what the ITV commentator said, we all knew exactly what was happening in Kiev
- what pleased me most was that our players played as if it was just another match; in the other two away games half of them looked like they thought they shouldn't be allowed on the same pitch as the opposition
- there were some wild celebrations when the third goal went in!!

After the game we were kept in for ages. Eventually people started to get restless. It definitely seemed like they were trying to make us suffer. But finally we were allowed out. And once we were out at least the organisation was pretty good. There were two trains waiting, one to Amsterdam (where most people were staying), and one back into Rotterdam. After we got off the train we walked past a line of riot police on the way out of the station. But once outside there were no police in sight - it was just as well all the Feyenoord thugs appeared to have opted for an early night. We decided to give the bar where we'd had the run in before the game a miss. Instead we went to an Irish bar. There were bouncers on the door. They were happy to let us in, but only after a very thorough body search. The Feyenoord fans walked straight in though! But it was all friendly enough. It was about 70% Toon fans, and the Feyenoord fans were ok, even wishing us good luck in the next stage. The only one of their lot that gave us any grief (but not nastily) was a lad form Derby who had only missed two of their home games all season! We didn't ask what he was doing supporting a Dutch team. The bar had Sky digital. At one point it looked like they were going to put the highlights on, then the lass in charge bottled it. But eventually someone talked her round. And we were only told off once for excessive celebrations.

The bar shut at half one and those of us still standing 13 hours after the first beer of the day staggered back to the hotel. Before we got there though we bumped into an arty crowd who'd just come out of some film premiere thing. They were quite taken with us (naturally!) and we had some good crack. One of them had gone to the premiere on a bike (naturally!) so one or two of us had to borrow it to piss about on it. They were all going to some sort of party but we wisely declined their invite. But they insisted on giving us some autographs. So if anyone wants a postcard thing signed by the director and another couple of people then make me an offer. Paul McKenna??
Thursday morning we crawled out of bed about 9. We set off for the station to catch the train to Amsterdam. On the way we called in at their club shop to buy momentos. It was our second visit. Both times they had 5 staff on and no customers other than Toon fans. Strange. Anyway, once in Amsterdam it wasn't long before we were persuaded into a bar by a lass with not many clothes on. Poor Pigeon got stung for the round - £4 for half a litre to ogle the waitresses. Only one drink though, then we had a bit of a walk around. There were Geordies everywhere. We bumped into some lads off our ferry who told us that our sailing would take 7 hours longer than it should because of the weather. Marvellous! Before too long though we stopped again. This time it was in a traditional bar and therefore much cheaper - tough Pidge! Gordon and Big Issue joined us. There were a couple of Scousers in the bar. One of them was so full of shit, giving us that "Where were you when you were shit" line. "I'll always support Everton". "Are you going on Sunday?". "Couldn't get a ticket". Wanker.
It was soon time to get the train back to Rotterdam. We just had time for a tour of the red light district on the way to the station. Back at Rotterdam we picked up our bags from the hotel and caught the bus to the ferry terminal. There were some shocking states amongst the Toon fans. I wasn't sure whether it was down to drink or drugs, or a combination. A couple of them were only allowed on the boat after having their passports confiscated. Unlike the outward crossing, people were quite happy to wear their colours. There was a band playing in the bar, and they had quite a tough time. Between songs there was a bunch of Geordies that took over from them. "Geordies in the Champions League". "Shall we sing a song for you?". You could have felt sorry for the band, but they were crap and they were Man U fans. Steady and Arran visited the casino and both lost what they'd won on the way out, and more. As the night went on more and more Toon tops came out, then flags (black and white, not England or Union Jacks) were hung up, and loads of group photos taken.
We arrived back in Hull on time - so much for the 7 hour delay. The bad news was that we were at a different terminal to the one we'd set off from, and getting back to the car park was a shambles and took ages. Finally we were on the M62 back to civilisation. I dropped the car off at the garage to have some work done and got back in the house just in time to find out the draw for the next stage. And so it starts all over again.............
(By the way, apologies for the absence of pics - I couldn't find my camcorder battery when I packed. Pigeon had a disposable with him though, so we might have some on here eventually).