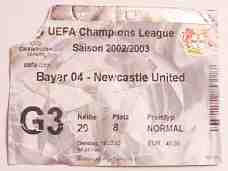 Well this is my trip report anyway. I'm sure that other Yorkshire Mags' accounts will be completely different....... and probably much more interesting.
Myself and Aaaarrrrooooonnaa flew out of Leeds-Bradford on the 10.35 KLM flight to Amsterdam on Monday. And very civilised it was! Stroll to the end of my street, catch the bus up to the airport for 60p, 15 minutes later we were checked in. We had a swift half in the airport bar, looking forward to the free drinks on board the plane. The drinks turned out to be soft drinks! Something stronger might have been on offer if you asked, but I didn't want to appear an alcoholic. Still, it was a decent flight - plenty of leg room on KLM - and we touched down on time. As soon as the bags surfaced we raced off to the airport station to catch the 1340 train to Dusseldorf. When we came to buy a ticket though it turned out that it actually worked out cheaper to catch the luxurious (and much faster) later Inter City Express rather than the slow, stop everywhere, change 3 times, trains that we'd intended to catch. So that gave us over an hour to kill. One option was to catch a train into Amsterdam, have a pint, then jump on the train to Dusseldorf. Instead I suggested going to Duivendrecht - find a nice bar, pint, something to eat, couple of cans for the train from the local shop - and picking up the ICE there. Mistake. Big mistake. Don't ever, ever think about getting off a train in Duivendrecht. Or, as Arran put it, "Divvent gan te Divventrecht". We came out of the station into a wasteland - railway lines, motorway flyovers, rail flyovers, masses of characterless concrete apartment blocks.


Eventually, after a freezing 15 minutes walk we found the older part of the town. This looked more promising and - yes! - a bar.

Except that it didn't open until 4 o'clock!

We walked on into the town 'centre'. The only places we found that weren't houses or offices were a florists and a hardware shop! Oh well, back to the horrible station. At least the station had a shop and a snack bar. We bought a couple of cans and a sarnie and went up to wait for half an hour in the sun on the platform. In the end the half an hour stretched to 50 minutes as the train was late. So much for reliable continental trains. Shortly after pulling out of the station we passed the Amsterdam Arena


where Ajax play. What a god-awful place to have to visit for a match. We lost a further 10 or 15 minutes before we got to Dusseldorf. By now we'd received a few texts from "Doctor Death" Richard who'd arrived a few hours before us. He'd already checked out quite a few bars in the Altstadt.
No sooner had we checked into the hotel than Richard walked in the door after a long, cold walk back from the Altstadt. Just in time for a long, cold walk back to the Altstadt! We had few beers in the first bar we came to in the old town, then had something to eat in a place over the road, before returning to the same bar again. It was a canny place - decent music, friendly locals, and warm! As the night wore on quite a lot of Toon fans came and went. There were a lot more about the place than I'd expected, as a lot of people would be staying in Cologne or arriving the next day.
Sometime approaching midnight Arran decided he needed something to help him sleep, so he went onto double vodka and orange. Now they don't actually measure out the shorts over there, and the first 'double' must have been at least a triple - you could hardly taste the orange. That didn't stop Arran ordering three more! Mind, most of the last one ended up on the floor after he put his glass down on a sloping surface. By now Arran wasn't looking too good. He (wisely) decided to head back to the hotel. There was no way in a million years that he would find the hotel on his own, but he said he was going to get a cab. Still, I was very apprehensive about handing the hotel/room keys over to him. I told him about 10 times to jam something in the room door because I knew there was no way I'd be able to wake him up to let me in if it was locked. Off Arran went. Now I was totally dependent on Richard to get me into the hotel. More beers flowed. Before long Richard was doing this strange 'dance', which involved racing from one end of the pub to the other, waving his arms and legs about a bit, then racing back again. Eventually I decided that it was time to head back while I could still (hopefully) remember the way. By now Richard's long day (up at 4) and excessive quantities of beer took effect. It was two steps forward and one step back all the way back to the hotel. More than once I turned around to find he'd done a U-turn and was headed in the wrong direction. I almost had to physically drag him back to the hotel - it was like having a two year old it tow. When we got there he pulled his house keys out his pocket. He tried his house key, car key, a couple of others. Surprisingly none of them worked. Eventually he stuck his hand in his pocket again and found the hotel key. We were in! But that's when the fun started. Sure enough the door to my room was locked. I went through the motions - banged a few times, rung Arran's mobile a couple of times - but I knew it was useless. So I asked Richard if I could borrow his floor. He was in no state to object. He collapsed on the bed fully clothed and didn't move an inch for the rest of the night. I grabbed the spare blanket and made myself 'comfortable' on the floor.
Once it got light the next morning I decided there was a chance of rousing Aaaaaarrrooooonaa. A couple of good bangs on the door was enough to get him out of bed. I couldn't see the point in giving him too much grief, so instead I just made the most of the last hour's sleep before it would be time to get up for breakfast. Down at breakfast I found out that our night had been quiet compared to our Paul's party's. One lad had tripped getting out a taxi, smashed his head on the pavement and had a deep gash that needed half a dozen stitches. An ambulance was called, but he refused to go to hospital. Then early in the morning he heard about a family crisis back at home and immediately set off for the airport. Another lad was hobbling badly in the breakfast room. It turned out he'd stripped off in a club somewhere and was dancing with nowt on when he'd stood on some broken glass. A piece was still stuck in his foot, he reckoned it was rubbing against the bone. He was trying to get it out with tweezers, but couldn't. Out Paul himself was looking in a bad way. His best guess at what time he's got back was 4 or 6, and he'd just got up for a bit of breakfast before going back to bed.
My plan for the day was to head down to Cologne, wander about for a bit, have a few beers, then catch the train back to Leverkusen reasonably early. Arran decided he'd tag along. I went to see if Rich was interested, but he'd hung out his 'Do not disturb' sign. I suspect it stayed there for most of the day. We jumped on the first train to Cologne, which was stupid as it was an Inter City and we got stung for a supplement. Really stupid considering we weren't in a hurry. Once in Cologne Arran shocked me by insisting that we climb up to the top of the cathedral. For anyone that doesn't know, it was the highest building in Europe before the Eiffel Tower came along. He set off up the 509 steps at a cracking pace. It didn't last. A long way before the top he was gasping. He tried to claim it was the altitude. Yes Arran. After the cathedral we had a stroll along the river, timing it just right to bump into the players doing the same thing. By now Arran's little legs were getting tired so we found somewhere to have a drink - soft only though. It was about this time that I asked Arran if he'd got a taxi ok the previous night. He said that he'd found a taxi no bother, but they couldn't work out where he wanted to go, so he told them "Choo choo". He ended up at the wrong station, so had to get another taxi. He refused to say how much it had all cost him.
After a bit more of stroll through the old town we called at a bar for the first beer of the day. It went down well, but it was still an awful long time to kick-off, so - believe it or not - we killed an hour by having a look round a museum. At least it was warm! After the museum we grabbed a bite before heading off to meet up with Big Issue and Pidgeon who were in an Irish bar. When we got there we found it was virtually full of the burberry brigade. There was an intimidating atmosphere about the place and you could sense something might go off. There was a rumour that most of them didn't have tickets, so obviously they weren't there for the football. Me and Arran didn't even stop long enough for a drink. There were dozens of other bars in Cologne, but instead we decided to go straight to Leverkusen. Graz reckoned there was absolutely nothing there, but we decided to chance it. If he turned out to be right then we'd have plenty of time to go back to Cologne. As it turns out he was wrong. The 1960s shopping precinct outside the station was horrible, but on the other side of there was an older part of the town. And there was a bar!

Or rather a theme pub - Monkey's. Not exactly traditional German but they sold beer. And needless to say we weren't the first Toon fans in. We contacted Big Issue and Tom to let them know where we were, but Big issue was already on a train to Dusseldorf to meet up with Tom to sort out tickets, and the lot of them decided they were staying in Dusseldorf until as late as possible. As the afternoon/evening wore on Monkey's became busier and busier with Toon fans. It wasn't that long before they ran out of large glasses. It turns out the same thing happens every time an English team plays there. You'd think they'd have learned by now. Alan Jamieson joined us later on, straight from Cologne airport. He did his best to make up for lost drinking time.
Eventually it was time to go to the match. Even though it wasn't far, we decided to get a taxi, although Arran had no recollection of this next day. When we got to the ground there were long queues at our turnstiles, not helped by the thorough body searches. Once through the turnstiles we found that there was a locked gate between us and the ground. We didn't have a clue what was going on (and I still haven't), and the police behind the gate just stood there with blank faces. We were going pretty mental. Eventually the gate was opened, then there was a bit of skirmishing as we all piled though. The police had a lad on the floor and were trying to arrest him. We all decided they were out of order and intervened. It all got a bit heated, but eventually it calmed down. I ran into the ground and up the stairs, just in time to see the Toon fans celebrating the first goal. I was p*ssed off, but also naturally dead pleased.
The atmosphere in our end was brilliant, especially after we got our third goal. Off came the tops, even though the temperature had plummeted by now and was well below zero. What the ITV commentators didn't mention though was that there are heaters in the ground. That plus all the bodies and the jumping about meant that it was actually quite warm. Incidentally, Brendan wasn't the only Yorkshire Mag to be picked out by the cameras when they showed the crowd scene early in the second half. Look closely and you'll see at least two more!
Shortly before the end of the game we had the usual announcement that we'd be kept in for 15 minutes afterwards. I couldn't see the point in this considering that most of their fans had left well before the end. However, after the game was over we were allowed straight out. "The police have decided to show a bit of common sense", I thought. Wrong again! They let us out of the ground, but only as far as the same locked gate. I was really keen not to be kept back too long otherwise I would miss the first train back to Dusseldorf. I was therefore quite pleased when the Toon fans at the front managed to smash the gate open within a few minutes. I was pushed though the gate by the weight of bodies behind, but then most of us ended up in a big heap just the other side of the gate after someone at the front tripped up. Amazingly the police managed to force everyone back without using batons or dogs and got the gate closed again. Everyone except one that is - me! I've no idea why they missed me. I hung about for about a minute before setting off in search of the station. As it happens the police let everyone out almost immediately anyway. So why keep us in in the first place? It only took 10 minutes to get back to the station - plenty of time for the train. There were about equal numbers going back to Dusseldorf and Cologne, and the trains were equally late! Not quite true actually as ours turned up about 10 minutes late, and there was still no sign of the other one.
Back in Dusseldorf some of us made straight for the bar opposite the hotel, while others went for a kebab first. It was while we were knocking back bottles of Alt in this bar that Arran let on that he though the match had ended 2-2! He didn't know that Lua Lua had scored, then he didn't realise that their 'goal' in the second half had been disallowed. He couldn't understand what all the celebrations at the end were all about. Poor Arran! Those of us with an early train to catch (Arran and me) sensibly called it a night about half one, leaving the others to continue well into the morning.
The journey home went smoothly. Inter City Express to Amsterdam

(not Duivendrecht), a bit of 'fresh air' (it was absolutely freezing in the wind) to clear the heads, a quick drink, then off to the airport. A beer in the departure lounge was followed by a couple of complimentary cans of beer on the plane. A tail wind meant that we arrived early, my bag reached the carousel at exactly the same time as I did, then I enjoyed a leisurely stroll back to my house in lovely sunshine.
Another great trip, and the right result to top it off. Let's hope Milan is as good.