Seven of us were flying from Stansted to Nimes, which is about 60-70 miles from Marseilles. Tom, Jude, and Alan H caught the train down to the airport, whereas the rest of us (myself, Aaaarrrroooonnaa, Gordano and Brenda) went down in Gordon's car. Gordon had said he wanted to set off about 9, but it was nearer quarter to 10 by the time Brendan and me got to the meeting point which was Aaarrrooonaaa's place. Gordon was pretty agitated by our late arrival, but we still had loads of time. A relaxed drive down got us there about two and a quarter hours before the flight. That meant we had a bit of time to kill. Shame. It turned out that the bar has become yet another Wetherspoons, but unfortunately not with Wetherspoons prices. Instead of £1.40 a pint it was £2.99, and there was certainly none of their 'Two for a Fiver' meals. Still, we managed.
The fun started on the flight. We were slightly late taking off due to the late arrival of a couple of passengers, who not surprisingly were slightly p!ssed Toon fans. Unfortunately one of the stewardesses took a huff. She was stomping around with a black look on her face. It didn't help when Tom, who has a notoriously weak bladder (sorry Tommy), tried to go to the bog while the seat belt sign was still lit. She came racing down the aisle and told him to get back in his seat. It must have been a good 25-30 minutes into the flight, with no turbulence after the first few minutes, before they turned off the seat belt signs. I'm convinced this was a calculated act of retribution. Of course, the signs going off triggered a stampede. Tom was so desperate to be at the front of the queue that he smacked his head on the lockers jumping out of his seat! By the time he was on his way back a couple of minutes later the aisle was blocked by the drinks trolley. He was having a bit of crack with some of the other passengers when Fraulein Hitler suddenly told him to get back in his seat. Not easy when there's a trolley in the way! It was about the same time that she told me off for shouting, when in fact it had been someone else. Anyway, a few minutes later we're all back in our seats looking forward to some liquid refreshment. Wrong! It was at this point that we realised they weren't serving alcohol. It wasn't a total surprise to be honest. What was a surprise though was when the trolley was a couple of rows in front of us and all of a sudden people were buying beer. Tom almost lost it. He called the stewardess over. "Excuse me, I thought you said you weren't allowed to sell alcohol on this flight." "No", she replied "I said I wasn't allowed to serve it to you lot". Tom did lose it now. "No that's not what you said. I want your name. Your attitude has been atrocious ever since we got on this flight. We've done nothing wrong but you won't serve us alcohol." "You mightn't have done anything wrong, but you're with that lot back there." "Excuse me but no we are not!" Instantaneously her attitude changed. "Oh, I'm awfully sorry sir. Would you like a drink sir. Free of charge." Well, perhaps I made up that last bit. Anyway, we all got a drink in the end. The thing was though, ok there were a couple of lads on the flight who'd had a few drinks, but they weren't at all bad. Airline staff must have to deal with a lot, lot worse.
We touched down at Nimes' toytown airport at about 6, 15 minutes later we were on the airport bus, and by quarter to 7 we were at our hotel in Nimes. It was a cracking hotel, really friendly, well located, and pretty cheap. It was just as we were chucking our gear in our rooms that the trip's prime act of numbness surfaced. Aarrroooonna realised that he's left one of his (many) bags in the luggage rack on the bus from the airport. It contained his house keys (not the end of the world apparently), his 200 quid camera (not so good), and his mate's son's Gameboy (bad). Still, he reckoned he'd be able to claim on his insurance. Except his insurance was also in the same bag. We adjourned to the Irish bar around the corner to discuss what Arran was going to do. He'd only had a mouthful of his pint when he decided he was going to go back to the station to wait for another airport bus to arrive. An hour and a half later he was still waiting! Ours had been the last bus of the day.
We had a pretty quiet night in Nimes - few pints, a canny meal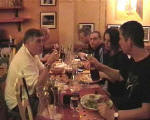 , a few more pints. There were a few other Toon fans knocking about, all of them apparently ticketless. We were warned by locals to be careful in Marseille as (as we already knew) it's a pretty rough place. At one point someone got a text saying that it was kicking off in Marseille, and I was glad we were in Nimes. This turned out to be a load of boll0cks though.
It was a relaxed start for most of us the next morning, although there were a few sore heads. It was anything but relaxed for Aaaarrroooonnnaa though. He was away at 8 chasing his bag. He headed back to the station, then jumped in a taxi to the airport. When he got there he found the same bus with the same driver sat there, and with Arran's bag sat next to the driver! Unfortunately the bus wasn't setting off for over an hour, so it was another taxi back to the station where he waited for us to stroll down after breakfast.
You hear a lot about how good French trains are. I already knew that while this is true of the TGV routes where there's been massive investment, it's not elsewhere. Sure enough our train to Marseille was over twenty minutes late. Gordon and Brendan passed the time by cracking open their first cans

. Some of us didn't feel much like drinking. The train eventually pulled in, and off we went. We actually made up quite a bit of time on the journey to Marseille and were only 10 minutes late when we arrived just before 12. First stop was the Ibis Hotel next to the station where I had to pick up our Paul and couple of his mates. They'd stopped in the Ibis on Wednesday, but couldn't get in on Thursday so were using a spare room we had.
For anyone that hasn't been on a European trip, the Toon fans are brilliant. Wherever we go they basically couldn't give a sh*t. No matter how rough the place is supposed to be, they wander around with their tops on and fill the bars. Take Marseille. We all got a letter from the club with our tickets saying, amongst other things, that there were a couple of areas in the city to avoid. One of these was a street called La Canebiere. So how did we get from the station to our hotel? Straight down La Canebiere to the harbour! And of course we passed loads of other Toon fans. When we reached the harbour it was obvious that a good atmosphere was building up. All the bars had a good mix of Marseille fans and Toon fans, all getting along great. This is actually very unusual on European trips as you tend not to see any locals until really late on. On this occasion though a lot of them had obviously decided to make a day of it. And why not!
We checked into the cheap and cheerful Etap not far from the port, took some Parcetamol, then headed out on the drink. We'd passed a square

on the way to the hotel. "That looks like it could be a sun trap", I remarked. Wrong!! It just so happened that the quite strong cold wind was blowing straight along it. It wasn't too bad when the sun was out, but when it went in.... My shorts didn't stay on for long! Still, we made it our HQ for the day

. Yorkshire Mags (and various assorted others) kept arriving to boost our numbers. Alan J and Pidge turned up homeless. Their hotel had been overbooked, they'd been fixed up with somewhere else, but it was miles away so they told them to stuff it. Our Paul said they could kip on his floor. That only made five in the room!
Some of us wandered off to a restaurant after a bit to get some lunch

and to get warmed up. Then it was back to the bar. There were various acts of entertainment during the afternoon - buskers, beggars, people selling things, a trapeze artist

, Marseille fans

, a local kid who took us all on at football

, etc. At one point a local film crew turned up. They interviewed our Paul. You'd think they'd have chosen someone that hadn't been knocking back alcohol as if a world shortage was imminent. It was about this time that we heard that Big Issue and his lot were stranded in some god-forsaken place in the middle of nowhere with a virtually non-existent train service. They weren't going to be able to get to Marseille until half 6. It could only happen to him.
Eventually we decided to relocate to one of the bars around the harbour. It was pretty chocka and the crack was good. I got chatting to this young, attractive, female Toon fan. She informed me that she'd been on our flight. "I was on the same bus as you into Nimes. I was sat at the very front." Oh, oh. Some of the lads on the bus had assumed that she was French and had been making some pretty lewd comments. She had a good laugh about it. It turns out she's studying in Montpellier (not far away) and had been returning after a break. She'd come to Marseille without a ticket on the off chance of getting one. I found out on Sunday that she did actually get one in the Marseille end and had a great time. If anyone wants Sarah's phone number by the way......
The match kicked off at nine local time. We'd been warned to allow plenty of time for getting in, so we set off around half seven. I think. Off we went to catch the Metro. I think all the Toon fans must have set off about the same time - the station was heaving. We tried to buy tickets (honest!), but had to give up. Everyone jumped over the barriers and piled down to the platform. The train arrived within minutes, and away we went. I'm sure that there must have been plenty of Marseille fans on the train, but it didn't seem like it - it was absolutely jumping! There are two stops you can get off at the ground. Most people got off at the first, but some locals told us to stay on. Walking from the Metro station to the ground there were actually hardly any other Toon fans around, but we didn't feel unsafe. In fact, quite the opposite as the Marseille lot couldn't have been friendlier. Myself and Alan bought a Marseille scarf each on the way.
The letter from the club said that we had to report to a big warehouse place somewhere near the ground for 'processing' and that this might take some time. As we neared the ground we were pulled to one side by some police. When there was a dozen or so of us they set off escorting us towards the ground. It looked like we were going to bypass the warehouse. Great! Wrong!! This is where the trip started to go wrong. We were within yards of the ground when we suddenly got diverted to a side door into the famous warehouse. Never mind, we still had loads of time. They checked our tickets, then did a quick body search. Then we waited. After about 10 minutes they opened a door and let a few people out. I got the impression it was the 'executive' fans. Fifteen minutes later and we were still stood there with, naturally, no explanation. Things not surprisingly began to get heated. People started shouting and pushing. I wondered if we'd even get in for kick-off. Finally they opened the doors and took us into the ground, where there were problems getting inside due to narrow entrances and people pushing and shoving (does this sound like Hillsborough?). I was amazed at how many people had managed to get in before us - they must have arrived at the ground an awful long time before kick-off.
Once things had settled down I made my way right to the back of our section where there was a bit more space. Tom and Jude and a few others ended up at precisely the same spot. This being a UEFA Cup game we all in theory had allocated seats. What a joke. Behind the goals no-one sits down, but at least they have little bits of plastic bolted to the terraces that could possibly be termed as 'seats'. We didn't even have that. Still, we never sit down anyway (apart from at Southampton for some reason).
For anyone that watched the game on the telly, you've got no idea what you missed. You had to be there to see and hear how good their fans were. I'd love to know how they organise it - Keith Barrett get on the case! Both ends never stopped all game, but the best was when they got together.....
As for the match, we were obviously in with a chance until the second goal. But I'm sure I wasn't the only person that felt that the fire getting out of hand represented out best chance of getting something out of the night. In the end, the better team on the night got through. I've already mentioned how all their fans stayed back for ages to celebrate. In an ideal world the police would have let us sneak out as soon as the final whistle went, but that wasn't on their agenda. There'd been announcements during the second half that we'd have to wait 30-45 minutes to get out. Considering how the two sets of fans had got on before the game there was no need for this, but nevertheless this was what they were going to do. So why then did they let our fans move from the terraces down to the back of the stand as soon as the game finished? This was asking for trouble. Sure enough, within 20 or 30 minutes it was heaving downstairs by the exit gates. I can't be sure exactly what then happened, but as far as I could see one of the gates got forced open, people pushed out, then the riot police got stuck in. All totally predictable and unavoidable. Except that you got the impression that the police had gone out of their way to antagonise people all night in the hope that they would eventually be able to start battering people with their batons.
It was weird when we finally got out of the ground. By now it was about half 11, but a lot of their fans were still making no attempt to get home. They were stood around their cars eating and drinking waiting for the traffic to clear. We, on the other hand, were quite keen to get back on the beer in the town. We rushed back to the Metro station only to find the doors shut. Bast*rd! One of their fans pointed round the corner. Hopefully we could get a bus or taxi. But no, it was another entrance to the Metro, except this one was open!
We came out of the Metro station by the harbour to find that the place was jumping. There were loads of their fans there celebrating and commiserating with us, but alongside that there was hell on. There were riot police chasing people up down the streets and belting them with their batons. We watched the fun for a while (including jumping out the way of the bangers that were exploding all over the place), but decided to move on before things possibly got nastier. We ended up back in the wind tunnel. Most of the bars were shut, but there were a few open. Some of our lot were apparently interested in stuffing their faces, while others of us ended up in a drinking bar. Things start to get hazy at this point. Gordon and Aaarooonnaa were around for a while, but then they went. I was given a Marseille scarf, and gave a way a Toon top. Dennis turned up, then moved on. Alan J and Pidge turned up, and a couple of hours later I finally went to bed. However, the York Mags and the Marseille fans were still going strong at this point (about 4 or half past). In the end Alan and Pidge never made our Paul's floor. They just went straight to the station for the first train back to Nice.
Next morning was also a bit of a blur! I just about made the tail-end of breakfast. Unknown to me, Alan and Aaarrrooonna were already out walking round the harbour. Aaaroonnna wasn't impressed at getting dragged out of his bed (correction, off the floor - he wouldn't sleep on the bed or bunk) for this. We all met up and staggered back to the station. We were booked on the TGV back to Nimes. Unfortunately some ignorant French people couldn't read their reservations and were in some of our seats, Rather than cause an diplomatic incident we didn't boot them out. Instead we used what seats were free.
Back at Nimes we had a few hours before out flight, The plan had been to dump our luggage at the station and have a good look round what is a very historic town. We revised the plan when we found that there's no longer any left luggage facility. So we did the next best thing. We wandered up to the Roman amphitheatre, walked around the outside

, then found a bar. We had some lunch and a couple of beers, strolled back to the station, had another beer, then got on the airport bus (same driver).
Back at the airport we found that the flight was 40 minutes late. Never mind, we'll have a few beers. Except that they shut the bar just after we'd got the first one in. In the end it was probably for the best as there were a few Toon fans on the plane that had clearly had more than enough to drink. Unfortunately two of them were sat in the row behind me, Tom and Jude. They might have thought they were funny, but we certainly didn't. I wondered if Tom would lose it, but I think he kept counting to ten. It was a long flight! Back at Stansted around 8 we went our separate ways. Those of us in the car made it back to Leeds by around 12. The others had a great curry at Kings Cross, and arrived back in Leeds at 2. Miguel for some reason picked them up and did the taxi thing.
All in all another good trip. Alan and Tom were upset by the bother getting out of the ground, but for me the Marseille fans (before, after, and inside the ground) more than compensated.