The rain in Spain...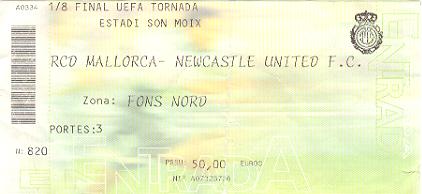 ...falls mainly when the Toon play there apparently.
Myself, Maggie and Brendano set off from Manchester at half 7 on Wednesday morning, along with our Paul and his mob, plus another twenty or so Toon fans that were on the same flight. The rival Big Issue tour had flown out of Liverpool about an hour earlier. Good planning meant that we had time for a pint or two at the airport bar, which is of course the perfect way to start a European trip.
I'd never been to Majorca before in my life, so didn't really know what places like Magaluf (where most of the Toon fans were staying) were really like, but from what I'd heard and read you wouldn't get me near somewhere like that. Equally Arenal, where Big Issue's lot were staying, didn't seem to have much going for it - a big resort, miles out of Palma, although admittedly very cheap. We were therefore staying on the outskirts of Palma itself in the Hotel Horizonte.
Coming out of the airport in search of a bus into Palma the weather was pretty much as expected - bright but cool. Working out how to get from Palma to the hotel, and then finding the hotel from the bus stop, was a bit tricky, but we managed it pretty well. As most people will already know, checking in was a bit of a laugh because the receptionist came to the conclusion that me and Maggie were Brendan's Mam and Dad and so tried to put him in the single room that was booked for Maggie. Once we'd sorted that out we set off for our rooms. Me and Brendan had a canny room with a jacuzzi and a great view of the bay. Maggie's otherwise very nice room had a view of....... the street at the other side of the hotel. The hotel's advertised swimming pool was still under construction, but that was no big deal as it was nowhere near warm enough for a swim anyway.
We set off for a stroll along the side of the harbour into Palma. Before long I was really wishing I'd put my shorts on. There was still a cool breeze, but when you were out of it it was really warm. Before long we naturally stopped for our first beer since arriving. Well, beer for me and Brendan but not Maggie as she'd given up alcohol for Lent. It was gorgeous sat out in the sun looking at all the expensive yachts, but we were very restrained and only had the one before moving on. Once in Palma proper we dived into a 'Farmacia', Maggie to buy a film, me to buy some sun cream to stop my head getting burnt. As it turned out an umbrella would have been a better investment on my part!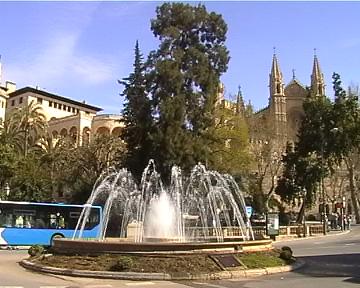 Here's the tourist bit. Palma is a really lovely city/town. It's such a shame that most people that visit Majorca (including probably 90% of the Toon fans that were over for the match) never see it. There's some pics on the Photos page that should give you a feel for the place. Anyway, we walked around the outside of the cathedral, but not the inside because it had shut for the day just before we got there, then wandered about a bit, then stopped in a nice square for another beer. And that's when things started going downhill. Within half an hour it had clouded over and got really chilly. Was I glad I wasn't in my shorts after all. We moved on to look for somewhere warm where we could get something to eat. Eventually we ended up in a really expensive place overlooking the harbour. The beers were three and a half quid which was not good news. But it was warm!
A trip back to the hotel was needed so that we could put more clothes on. Tee-shirts under Toon tops was the order of the day, coats of course not being an option. We then jumped on a bus back into Palma in search of a nice traditional restaurant. Amazingly the first place we saw was perfect - not cheap, but loads of character and good food. About 3 hours late we made our way back to the bus stop. Half an hour later we were still there. Plenty of number 3s (one every 7 minutes or so in theory) going the other way, but none for us. Eventually we gave up and jumped in a taxi. It cost a bit (but not a lot) more than our combined bus fare, but at least we didn't have to climb the 115 steps from the bus stop up to the hotel. We naturally had a nightcap in the hotel bar, joining all the other Toon fans already in there. Surprisingly it was actually the cheapest place (about £1.80) we came across for a beer the whole trip. Maggie turned in first, me and Brendan were a drink behind. It had been a long day, especially for Bren. But if we were knackered we still managed better than the lot on the next table - all three of them fast asleep!
We were up quite early next morning. A good breakfast set us up for the long day ahead. As we left the hotel about half 9 the weather looked quite promising - pretty overcast, but not cold as the wind had died down. You got the impression that the cloud would clear and it would be a really warm day. How wrong can you be! Getting off the bus in the middle of Palma it was obviously a bit early to start on the beer, although Brendan looked to be twitching a bit. I had an idea that would kill some time.....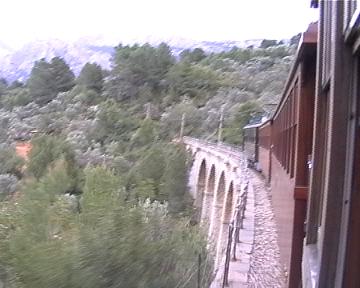 When I'd been doing some digging on Palma I read about a touristy train thing that takes you to Sóller on the north side of the island. I was quite keen to see more of Majorca than Palma, so it seemed like a good way of killing two birds with one stone. It turned out that there was a train leaving in half an hour, so we bought tickets and climbed on board. Brendan decided to tag along. One reason was that he'd worked out that none of the Arenal crew would be arriving in Palma for hours yet, but I think the deciding factor was that I suggested having a drink in a nice bar overlooking the sea when we reached the other side of the island. That was the theory anyway. We set off a bit late and slowly rattled our way northwards. Eventually we reached the mountains and entered a long tunnel. Once out the other side of the tunnel we had a great view down to Sóller in the bottom of the valley....... and clearly nowhere near the coast! If I'd done my homework properly I'd have known that to get to the coast you have to catch a tram the rest of the way. That wasn't an option for us as when we pulled into Sóller station we only had 20 minutes before the next train back to Palma. It was though just long enough for a the first beer of the day (at nine hours to kick-off) in the station bar and to stock up with cans for the return journey. On the way out of Sóller the train passed loads of orange and lemon trees right at the side of the track. Bren decided to try to grab an orange out the train window. I had visions of him being decapitated by a passing pylon.
It was just after one when we arrived back in Palma. And it was raining! To be fair though, it was only a few spots. Some of the Arenal crowd had texted Bren to say that they would be arriving in Palma about quarter past one. Maggie was keen to take a look at the inside of the cathedral though, so we split up. Brendan stayed by the station, while me and Mags headed by a not very direct route to the cathedral. Little did we know that we wouldn't all meet up again until half-time at the match.
As cathedrals go, it was pretty poor. It wasn't long before we'd seen all there was to see and were back outside again, only to discover it was now raining quite heavily. We sheltered in a doorway for about 15 minutes, but by now we we hungry and thirsty so we made a run for a bar. It was a nice traditional bar, but with the odd Geordie in to make us feel less conspicuous. We had drinks and food while we waited for the rain to stop. Then we had more drinks. By now I was sure Maggie was really keen to meet up with everyone else (in Magaluf now as far as we knew), so I ordered the bill even though I really did not want to go to Magaluf. The bill was paid, but it was still raining steadily. As we started to make a move Maggie was looking decidedly unenthusiastic about venturing out into the rain. "You know", she said, "we don't have to go...". Yes!! Nice one Maggie.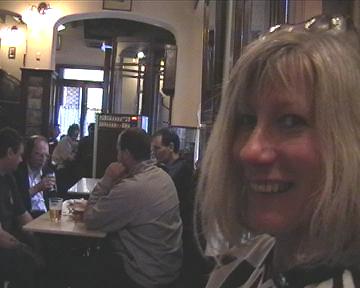 So more drinks were ordered, then more food, then still more drinks. By now it was after 7 and we still had to go back to the hotel before heading to the ground. Naturally it was still raining, but we couldn't wait any longer. We raced up to the number 3 bus stop, and this time a bus turned up straightaway. We'd worked out that a taxi was the best way to do the 3 miles or so from the hotel to the ground, especially considering there was a taxi rank 30 yards from the front door of the hotel. Nice idea, except that when we reached the hotel there wasn't a taxi on sight, and there were at least 20 Toon fans in the hotel bar obviously intending to get to the ground the same way. I threw a pint down my neck while Maggie was getting herself sorted, then we joined the surprisingly civilised taxi queue outside. As it happens a few taxis turned up pretty much straightaway, and 10 minutes later we were at the ground.
It was immediately obvious that the locals had decided to give the game a miss as there were hardly any of their fans outside the ground. It was little different inside. Quarter of an hour before kick-off there must have been twice as many Toon fans as Mallorca fans. A few more of their lot arrived really late on, but the crowd was still only about 50-50. The official crowd was about 11,600, but I'd be surprised if there was half that number in the ground. Take a look at the pictures on nufc.com's match report and see if you think the ground was really half full. To give them their due though, the Mallorca fans might have been very thin on the ground, but they got behind their team really well. It was only when we scored our second that they lost heart altogether. Our lot were obviously in party mood, many of them in shorts and Toon tops, hardly appropriate considering the conditions. By now the temperature had dropped to a chilly 7C. Fortunately though the rain had finally stopped otherwise it would have been seriously horrible.
The Spanish police for some reason found it necessary to keep us in for 15 minutes after the game, even though the few remaining locals were long gone well before that. We came out the ground to find no sign of any buses back into the town centre, but fortunately for us (very fortunately as we were amongst the first out the ground) there were about 30 taxis lined up. We dived into one, even though we weren't sure where we wanted to go. "Palma mate", said Brendan. Very specific! We soon realised that we didn't have a clue where, if anywhere, we would head for in the town centre, so after a bit of a debate we instead told the driver to take us back to our hotel. It didn't seem right to be back in the hotel bar within 15 minutes of leaving the ground, but that's how it worked out. I got the first round in. " What do you want?", I asked Maggie. "Wine." "Yes, but you can't, so what are you having?" "I'll have a beer", and with that Maggie's pledge not to drink during Lent went out the window. Or should that be down the toilet. Anyway, we had a few more pints before eventually running out of steam around 13 hours after that first beer in Sóller.
Our flight time on Friday was reasonably civilised, so we didn't have to get up until after 8. We left the hotel at half 9 and wandered down to the number 1 stop. By now we'd got the buses sussed out and we knew that the no 1 would take us straight to the airport for just over a quid each. Bargain!
Another good trip, roll on PSV. For those lucky enough to be able to go.