Some of the articles that appeared on the site before and after JT's shambolic non-performance on Countdown....
---
He's less popular than Rose West
Biffa plugged the Blaydon Races ring tone in an attempt to make up for the massive shortfall in expected charitable contributions. The shortfall is a result of JT's mute showing on Countdown. So far we've had over 100 enquiries for the tone - from all over the world. The next development will be for us to offer to send it mischievously to makems for you - but re-named as their......er ....... anthem. But there again they don't have one - do they? They used to sing Blaydon Races when everyone else in the country called them Geordies! No wonder they latched on that form of abuse - 'Mackem'. Any thing for an identity.
Speaking of abuse, one Smogo has asked if there's any where to get Pig Bag for his phone - you know the one where they all go... ur ur ur urrr .. ur ur urr urr, and wiggle their hands. It seems all their kids are taught to groan this from the cradle - if you know what I mean. And we're playing that lot on Monday - Urrr!
I'm also reliably informed that Gloucester Rose has developed a better Geordie accent - after a few years in Durham's 'She' Wing - than the posh bloke with the wobbly eye brows who called himself John Thompson. She gets more letters, has a better accent and she couldn't do any worse than him as chairman.
---
Coont Toon Comment - and there's more !
Q. What have JT and a nervous astronaut got in common?
A. They both sit sh*tting themselves during Countdown.
Q. What have JT and Tommy Cooper got in common?
A. They both died on national television.
Cheers - Gaz
What was the crack with the Sting/Robson Greene/Gazza style toned
down accent? That and his constantly raised eyebrows, (he looked like a
startled bunny trapped in the headlights) thus making him look like a right
ponce.
And I'm willing to bet that Rose West gets more letters in prison than JT did in
that letters game on Countdown. Three for God's sake!
No offence meant. I'm just having a go.
Anon.
'He was sat there like a dog sh*te'n razor blades'
From Sid
'What about JT's performance? It was a bit like those ads for the stuff that makes grey hair dark again, you can see the lips moving but you know what's coming out isn't the person's own voice! And what about the forced grin and cheekily raised eyebrows? At least it's good to know he can come strongly from behind (something some of our members can vouch for, to coin a phrase).'
From Anonymous ( but a Mirror Ball competition arrived with this - click on the man in the balaclava below to see it.)
---
SECRETARY DISGUSTED
That sums it up really. The conundrums he solved perfectly reflected Tom's opinion of JT's chairmanship on Tuesday night. Quite ironic as JT reckons he was disgusted - but by Richard Shiteley's perfunctory treatment of him when JT failed to react a totally sackless pun. It the first time I've ever really watched the show and I was bored rigid. It's a train spotter's alternative rainy day activity.
When the oily compare took the huff it meant that the intro bit was skipped - in which it was intended that he read out a pre-prepared bit about JT being a Cannylad who was hoping to raise funds for charity.
So JT didn't sparkle but wasn't helped by the smug Tory Yorkshire TV egotist - who we now learn has bumped into our Chairman in the past at the odd Tory party function - when JT, drunkenly, cruised in on one of his birds - allegedly.
At least the Burns Unit will be better off for JT's ONE and ONLY Cannylass. But responding with Geordie Boy? Come one Carol he's old enough to be your ....er....slightly older brother. What we have learned over the last few days is that JT is known by a different nickname in Bramhope. But an ever newer one is starting to emerge after his recent dalliances - and it starts with 'That'.
Let's have your pledges please.
---
One Large One Please Cannylass
So the bloke in the lemon shirt said the magic word and now there are loads of people wondering if the posh Geordie on Countdown tonight was the same individual who greeted the supporters at last night's meeting with F's a plenty.
Jekyll and Hyde he certainly is. But some of us already knew that when deprived of beer our chairman is a miserable git. With beer he's a useless foul mouthed git. There's sometimes a middle ground when he's ok-ish. Just imagine you came to your first ever meeting yesterday and saw JT for the first time. You'd have left appalled & amazed - but I bet you'd have rung up all of you mates to tell them they mustn't miss Countdown because of certain ructions.
Once again 'Secretary' came to his rescue and he scraped home with a 42 - 36 victory. So the champion's teapot is on the mantelpiece but the champion tosspot is still our chairman. Tune in tomorrow when we understand his less friendly side comes to the surface when his low irritation threshold is severely tested by Whiteley.
---
Three Lasses…….Once

Two Lasses…….Now and Then

A Lass…….Now

Alas, No
Baffled by the obscure headline? It seems that those of you who tuned in to Coont Doon tonight got an early glimpse of JT in a tight, unsightly blue shirt ahead of his starring appearance.
Apparently it is usual for Richard Shitely to introduce the next day's contestant by asking if they managed to crack the last conundrum (anagram).
So over to "John Thompson, from Leeds" and lights, camera, action and the Yorkshire fat bloke says….
"Hey - thick Geordie over there - did you get that or what? "
Well - JT could have responded in a number of ways - after all he had just seen the answer. He could have said :
"Why Aye Man "
" No Problem "
" Nee Curree " (Japanese for no worries)
" Simple , we're Geordies man! "
" Of course you smug fat Yorkshire get. "
So in a moment of pure inspiration he responds with "ALAS, NO"
Eh ? That was before he hit the free bar. Tune in tomorrow for more numbness.
---
Coont Doon with Toon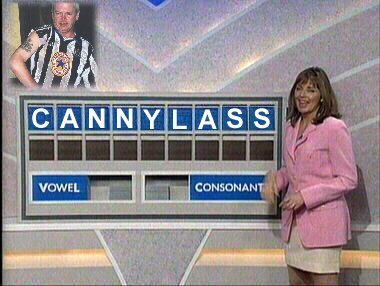 It seems that our Chairman and animal lover is known as 'Toon' by his cronies in the Fox & Hounds in Bramhope. On Wednesday afternoon Toon is putting in a celebrity appearance in the back bar where the telly will be on and the Brown Ale will be chilled ready for his first (and only ??) appearance with lovely, separated and flirty Carol and that badly dressed fat smug Yorkshire bloke, Richard Sh*tely - or something similar.
If you can make it to the Fox there will be some free food - but it won't last very long as the underfed student Wheely Bin is likely to be hoovering up all of the landlord's tasty morsels. John - the landlord - has a reputation for being blunt and, occasionally, miserable. But no one compares to the treat in store for any newcomers to tomorrow's Monthly Meeting when they will get to see the barman in the THT.