Old Features
Boro trip reports (Oct 00)
Man City trip report (Sep 00)
Offensive behaviour (Sep 00)
Like a Virgin (Sep 00)
White-wash the coal (Sep 00)
Life begins at 50 (Sep 00)
Pidgeon's coming home... (Sep 00)
Homing Pidgeon (2) (Sep 00)
Homing Pidgeon (1) (Aug 00)
Steady's Skull (Aug 00)


---
Boing Boing Baggies 2 Toon 2
It's always nice when you can just enjoy the last game of the season without having to worry about the result. On reflection, this was probably the perfect result as both sets of fans went home reasonably happy. For either team to have lost would have spoilt the day. What was puzzling for me though was why the Toon fans had to put in their noisiest performance of the season for a nothing game! Several West Brom fans have stated on our message boards that we were easily the best/noisiest visiting fans they've had this season.
Yet again our day got off to a bad start. A big group of us met up at Leeds station for the half 9 train to find that in the last couple of days it had been mysteriously re-timed to 9.46. To make matters worse, it was going to be diverted due to engineering works and would be an hour late getting to New Street. We'd expected to be in a pub shortly after opening time. Not now. Of course, most of our group were well stocked up with beer anyway. Those of us that weren't managed to scrounge off the others, buy from the buffet before it shut for an hour for stock taking, or got some from the station bar during our prolonged stop in Derby. There was a serious game of Pontoon that lasted for most of the journey down. This was bad news for Steve who lost a small fortune. This was after he'd already had to fork out ten quid on a taxi from Mirfield to Leeds after the replacement bus service (more engineering work!) went straight past the station without picking him and Richard up.
Once we finally arrived at New Street we raced up to Snow Hill station just in time to catch a tram towards the ground. The conductor said it was ok for us to use our train tickets on the tram. I'm convinced that we shouldn't have, but he was too intimidated to argue. We got off a stop past the ground, aiming for The Vine. Big Issue was already in there and he assured us that there was 'no bother' getting served. But when we got there the bouncers weren't letting anyone in as it was chocka. This was about 10 past 1, at a pub that's best part of a mile from the ground. That says a lot about what it's like getting a drink anywhere near the ground. Anyway, just then some people came out of a side gate and we sneaked in. Get in! Except that even though we were inside it looked like we might never get served. Think of the most crowded pub you've ever been in in your life and you'll get the idea. After a few minutes quite a few of us decided to try elsewhere. As we left through the same side gate the bouncers were letting people in the front door. We had a look in and it didn't look as bad in that bit of the pub. Most of our group got served reasonably quickly and headed out into the beer 'garden' where there was room to move. However, I'd decided I couldn't cope with the crowds and set off back to the tram station to meet with the stragglers from our group who'd missed the first tram from Snow Hill. We jumped on the next tram to West Brom town centre where we knew there were a few pubs. I can't recommend West Bromwich as a place to visit, and the Wetherspoons pub apparently won't let away fans in, but I can't complain about The Goose. It's a Wetherspoons sort of pub, but even cheaper. The cheapest pint was an amazing 90p! Unfortunately it was half one by now so we only had time for a couple before catching the tram back to the ground.
Shortly before the end of the match there was an announcement that Metro trains would stop running at 20 past 5. I wasn't sure whether this meant trains or trams, but either way it was pretty incredible on a match day, and it prompted a mass exodus by many of the home fans, followed shortly afterwards by a mini exodus of Toon fans. I saw a number of Yorkshire Mags headed for the exits with 3 or 4 minutes to go. I'm sure they all hung around for the final whistle though..... I myself waited until the team had left the pitch before making a move. I raced down to the tram station and was amazed to be able to get on the first one that pulled in. Along with a few of our lot, I was back at New Street in plenty of time for the half 5 train which was incredibly on time. But it still hadn't arrived by 25 to 6 (although apparently it rolled in shortly afterwards), and there was no info on when it was likely to turn up, so I decided to go for a pint and get the half 6 along with most of our party. Getting a pint was easier said than done though. Virtually every pub had bouncers on the door and were very particular about who they let in. Surprisingly, the Newt (big pub next to the station) was one exception, and that's where I ended up, supping a superb pint of Banks.
Amazingly, the half 6 train was on time. It was heaving though, so most of us ended up standing most of the way. It was an 'interesting' journey for many of our fellow passengers, including Maggie's niece Sally who just happened to be on the train on her way back to the Toon after a weekend away. Also on the train were hairdressers Rachel and Emma who had been to the Hair and Beauty show at the NEC. They reckoned that Paul (Dawson) is "quiet, and nice, and has lovely eyes". Pass the sick bucket! Only joking Paul, I'm sure they're good judges. Aaarrrroooonnnaa wasa on top form once again. He looked liable to topple over at any second. He was seriously annoying one bloke that he was stood next to for a while. I tried to get him to sit down so that he was less of a danger to himself and everyone else, but he refused as he reckoned he'd fall asleep. Yeeeeeesss! Meanwhile the lovely Debbie in the buffet car (sorry, 'on-board shop') was getting loads of attention. Of course the lads reckoned they were just stopping her from getting bored....
All in all it was a good day out. Hopefully we'll have plenty more of the same next season. And you never know, we might actually win something as well!
---
Fulham 2 Toon 1
This was definitely one of those days that I should have stayed in bed. It all started going horribly wrong as our group of ten (eight Yorkshire Mags plus two York Mags) stood on platform 11 in Leeds station waiting for the 7.41 Midland Mainline service to St Pancras to arrive. This was actually the 8.41 re-timed to 7.41 this week because of engineering work. Anyway, at 7.39 the board said the train was on time. At 7.41 it suddenly changed to 'Delayed at sidings'. There was no announcement, no further explanation, and no suggestion as to if/when the train might turn up. Eventually we made enquiries and were told that they were having problems with the engine, but that the train would definitely run. At 8.41 we cracked open out cans and bottles to celebrate the train being an hour late. We looked into alternative ways to get to London. There was a GNER train to Peterborough at 10 past 9, but the GNER man at the station said we'd have to pay full fare if we caught it. By this time the board said that our train was going to leave at 9.25. However there was a train to Sheffield leaving at 9.15 and we jumped on that to increase our options. The guard was a Sheff Utd supporter who doesn't like the Toon on account of us beating them in the semi, but that didn't stop him letting us on the train, working out what time there was a train from Sheffield to St Pancras, what platform it went from, and what time it would get us to London.
Once at Sheffield we changed onto the train to St Pancras. As we sat there the train from Leeds that we were supposed to be on pulled into the station and pulled out ahead of us - sods law! Still, we were due into London at quarter to one which, all things considered, wasn't too bad. Plus we had plenty of beer and Brendan's pack of cards to help us pass the journey. Of course, things had to take another turn for the worse. We crawled much of the journey and didn't reach St Pancras until 10 past 1. As we found out later though, we still did better than Andria. She left Sheffield an hour before us, but somehow didn't get to St Pancras until half past 1! Anyway, we raced down to the tube to catch the train to Shepherds Bush. When we got on the platform we found that none of the next 3 trains, the last of which wasn't due for 9 minutes, was going our way. Pretty impressive considering it's supposed to be an 8 minute service. We decided to jump on the first train and change to the Central line at Notting Hill Gate. Not ideal, but better than hanging around. While we were on the train one of the York lads suggested getting off and getting a bus. As if we'd know where to find a bus going the right way! Anyway, a couple of minutes later we had our only break of the day. There was an announcement that our District line train had suddenly turned into a Hammersmith & City line train, which meant it would be going through Shepherds Bush. All the poor bastards that actually wanted Circle line stops had to get off at the next station.
Once at Shepherds Bush we set off in search of a pub. A lot of Yorkshire Mags were already in the local Wetherspoons pub, but that was the opposite direction to the ground. Not a good idea considering the time. Instead we headed for an area reasonably close to the ground that has a few pubs. The first two were chocka with Toon fans, but the next one was sound. No problem getting served, and £1.80 for bitter. The next hour or so consisted of loads of phone calls and texts trying to sort out tickets, followed by a dash to the ground.
As for the match, I was pretty p*ssed off at our performance and tactics at the finish, but in hindsight we were a bit unlucky. We were well in control before Griffin's stupid challenge got him sent off. Even then, we were comfortable until they scored what was pretty much a fluke.
Back at St Pancras our train was inevitably late leaving. But the journey back was a bit of a laugh. Steve's revelation that he loves cooking had us shocked and the rest of the carriage in stitches. One of his favourite recipies is for pan-fried salmon on a bed of crushed potatoes. This is how he does the potatoes:
Organic Tatties
Extra Virgin Olive Oil
Chopped Spring Onions
Boil
Crush
Sprinkle
LIGHTLY Drizzle
Then to destroy any street cred that he had left, Steve spent the entire journey back drinking water. And UHT milk, out of those little cartons you can get from the buffet.
We eventually pulled into Leeds station at 20 to 11. It had been a VERY long day. It was a cheap journey (£16.50 a head), but let's hope we're back on GNER next time the Toon are in London.
---
Toon 2 Chelsea 1
What a tough game this was! But it ended up with us taking a massive step towards Champions League football next season. I'm not sure why Chelsea aren't higher up the league than they are, but I don't care.
Most Yorkshire Mags went up on the York Mags minibus because of the never-ending engineering work on the railways. Never a fan of minibuses, I preferred to go by train. Fortunately everything went according to plan and so I was in Wetherspoons by 10 past 11. These half 12 kick-offs are really sh*te - everything ends up so rushed. By the time you've got your first pint down you've got to start thinking about what time you're setting off for the ground. Once inside, the atmosphere wasn't bad for such an early kick-off. It got quiet at times, but that was probably because people were absorbed in the game, which can't be a bad.
When the final whistle went we had all the time in the world to cheer the team off the pitch, then wander down to the pub to have a couple of pints and talk about the match. But for some reason quite a few of our lot weren't up for that. Instead they raced down to the station as soon as the game finished, paid 15 quid or so for a single to York (despite having already paid for the minibus), and then jumped on the first bus/train back south. Why? Because they didn't want to have to hang around until 4 o'clock which was when the minibus was setting off back. Very strange. The rest of us met up in Spoons and savoured the win properly.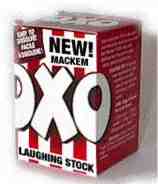 Myself and Big Issue eventually caught the scenic train back via Mackemland and Smogsville at 20 to 5. Just about when we reached S*******nd we heard about Saha's late winner for Fulham. How we laughed. The train seemed to take for ever, but we actually reached Leeds bang on time. Graham was due to get back to 'Pool at 5 to 9. He rashly phoned the Mexican to tell her to have his tea ready. An hour later I got a text from him saying "Thought I'd cheer you up. Trolley went at Leeds before I could buy cans. Cow in tunnel ahead. Greetings from Huddersfield!" It's anyone's guess what time he eventually made it back.
We're on a great run at the moment, but Arsenal's win against Charlton today confirms that our chances of actually winning the league are virtually zero. We'd probably have to win 9 out of our 10 remaining games to get anywhere near. I'd love for it to happen, but I don't somehow think it will. Instead we'll have to make do with qualifying for the Champions League again and the Mackems getting relegated, preferably on April 26th.
Main talking point of the day was JT's non-appearance. Nothing unusual in itself of course, but this one was something special. Late on Friday he had tickets for him and Sue and was trying to swap them for two together. Then on Saturday morning he rings Alan to say that he wasn't going to the game. The reason? "Because Sue's buying a new car today." So like she wasn't buying a car on Friday night, but then she woke up on Saturday and realised that she was!! Yeah! Obviously what's happened is that when JT couldn't get two seats together either she's told him he can't go, or he's done the gentlemanly(!) thing and decided to stay at home with her. Leaving Tom having to get rid of tickets at the last minute yet again. What a knacker! How about an award for 'Tosspot of the Year' Gaz?
Leeds City Station was 'interesting' when we arrived to catch the 9.48 train. Leeds were of course playing at Derby, and for once all their thugs had decided to travel by train. There were dozens of them, all Stone Island and caps and not a colour in sight. They should have been on the 9.36 train, but it was delayed 20 minutes. Not only that but it was leaving from the same platform as ours. The five minutes we were stood on the platform was just a bit uncomfortable. There were quite a few police in the station, but none on the platform. Anyway, nothing happened in the end.
After the game there had been talk of stopping in the Toon a bit longer than normal, but in the end everyone bottled it and we got the 5 to 6 as usual. Tom, with Big Issue on backing vocals and the rest of us joining in the bits we knew, treated the passengers on the York-Leeds train to a rendition of American Pie. How they loved it!

---
....but we're in the Champions League for definite thanks to Big Al's two equalisers. Robert seemed to think he was taking part in some sort of end-of-season friendly in the first half, but improved enormously in the second, especially after he'd been booked.
Some bizarre referring by our friend Uriah Rennie. Our only two bad tackles resulted in bookings, whereas their five that were equally bad went unpunished.
Wheely announced in the Golden Cup that he was engaged, then changed his mind two minutes later. No doubt we'll find out before too long what he was on about.
Apparently Steady got to the pub shortly after opening time. So no surprise then that he was wrecked by the time he got to the ground. He couldn't remember who Lynda (North West Mags) was despite having chatted to her at length at Bolton. Ok, she's had her hair chopped and re-styled for their Player of the Year presentation on Saturday, but she doesn't look that different.

---
Possibly the best thing about today was that the arrive-late-leave-early brigade missed Lua Lua's goal (and celebration!) and big Al's history-making strike. The sad thing is that they'll do the same again next week.
Ticketmeister Tom was so excited about the Player of the Year Presentation(s) that he left a ticket in the house. When Aaron found out that his brother was ticketless he immediately phoned the ground to book one on his credit card for 40 quid. Thirty seconds later Gordon suddenly woke up and announced that he had a spare! Don't worry about it Tom, one lapse in a season is forgiveable.
JT put in a surprise appearance. He was even wearing a Toon top! The previous couple of home games he's turned up in plain clothes, looking like he's told Sue that he's just slipping out for a paper but sneaking to the match.
Fun and games coming back on the train. The 17.56 Virgin was delayed. 'We're receiving fitter attention and we don't know what time we'll be leaving. Anyone going to Durham and Darlington should get the GNER train on platform 6'. Half the train (including Alan, Mike , Tom and Nicky) promptly got off. Within a couple of minutes we set off, ahead of the GNER train!

---
The day got off to a poor start when the train ended up leaving Leeds 40 minutes late. We had to go back to the station off-licence to get some more cans - Michael had just about finished his second before we'd even left the station.
Once we eventually arrived at Derby we headed straight for the the Brunswick. There was a good turn-out of Yorkshire Mags - Gordon, Pigeon, Rich Rogerson, Alan, Mike, Big Issue, Gaz, Arrrrooon, Tom, Nicky, me, plus probably a few others I've forgotten. The Northwest Mags had an equally impressive turn-out - Andria.
Highlight of the day - apart from the last 20 minutes of the match (amazing the difference a bit of pace up front makes Bobby) - was when Shakey's chair collapsed under him in the upstairs bar in the Brunswick. He managed to hold on to his pint, but hurt his shoulder as he crashed to the floor. Rich Rogerson, no doubt sensing a big cut, reckoned that he shouldn't settle for less than a few thousand. Shakey on the other hand was happy to settle for free beer for the rest of the day. In the end he didn't even get that.
Champions League here we come???


---
For once people had an excuse for leaving the ground early - the sight of all those Scousers heading out with 20 minutes to go had a lot of us worrying about our cars. There was one of their lot sat in the row in front of me. He was on the phone to one of his mates at half time describing the first half goals. After a bit he came out with "Are you not watching it?". The response from a few rows down was "He can't - someone's pinched the telly!".
For me the most important thing about this game was that we showed we can score goals and win without Bellars. I'm sure I'm not the only one that's been really concerned about the drop in form and results the last few weeks. The results today (Saturday) confirm that we won't win the title, but most of us knew that was realistically beyond us anyway. With seven games to go we've still got a good chance of a Champions League place. I think I might have settled for that at the start of the season!
Pigeon turned up in Wetherspoons before the game and, not surprisingly, told us that he had no idea what train he got back from Arsenal or how he got home. It was all homing instinct apparently.....

---
A small band of intrepid YMs assembled at Leeds station shortly before 6 am. Also catching the 10 past 6 to Kings Cross was Steve the Sheff Wed fan. He seemed surprised at the absence of 'Toon' (JT to you and me). Can't think why.
It was chaos on the train. It seemed like whoever had been sorting out the reservations had been in a hurry to get home. Coach A reservations were in coach B, coach B in coach A, coach F in coach D, etc. People were wandering up and down the train totally bemused. I've never seen so many people p*ssing themselves laughing at 6 o'clock in the morning. In the end it degenerated into a case of sit where the hell you like.
On arrival at Kings Cross at 20 to 9 we set off in search of a beer. The door to the 'Irish Bar' (used to be Queens) was open, but the only sign of life was a cleaner. Pigeon wandered in to make enquiries. A bit of a mistake as he was already out of his head and obviously not in need of any more drink. Nevertheless he got a promise of 'We'll try to open at 10'. Before long we discovered that the Dolphin was open. Not surprisingly it was heaving and getting served was a bit of a pain. In the end we moved on to different pubs. I headed for the Drayton Park to try to meet up with Kat's Mam and Dad to sort out a ticket for Dave Bailey. The saga of Dave's ticket is a long story - much too long to relate here.
You all know what happened at the game, so on to post-match antics. We got back to Kings Cross and ended up in the 'beer garden' (a few plastic chairs over the other side of the road) of the Irish Bar. There was no sign of Pigeon - no surprise there then. By the time we got on the half 4 train Gordon was struggling. In fact he was eating his Kentucky with his eyes shut and 90% asleep, which meant we could get away with pinching a bit of his chicken! There was still no Pigeon - he's probably in Hamburg or somewhere. Cards followed. Pontoon was a scream when we found that Gordon didn't have a clue how to play. Then Hamish threw a wobbler when some beer got spilled on his new designer top. 'It's brand new he spluttered' while threatening people with death.
We arrived back in Leeds at a ridiculously early 20 to 8. Wetherspoons in the station was shut again - more trouble with Leeds thugs no doubt. Michael and Alex set off to see Tom's band in Otley - gig report to follow hopefully.
A disappointing day. Only a place in the Champions League to play for now. Let's hope Craig's back soon.

---
Well I suppose we all knew it had to happen eventually. We didn't look the same team without Bellamy, which is worrying. Hopefully we'll do better in the next two games. Whatever happens though we should still qualify for the Champions League the way that Leeds and Chelsea are going.
Those of us on the train were entertained by Tom on the journey back. He was on fine form, despite the fact that he was seriously ill with flu. He was well enough to flirt with any female within range though. And just why his fly was undone after the three student lasses got off at Durham is anyone's guess! And we had to laugh at the two Arsenal fans we got talking to:
"Where are you going back to?"
"Leeds."
"Do you live there like."
"No, we left the car there because that's as far as you can get back on the train."
The thick Cockney w@nkers didn't realise that the train went through Doncaster on the way to Leeds! Then again, they probably wouldn't know that Doncaster is nearer to London than Leeds.

---
Late news from Boro
Cars prevailed for the trip and, after arranging to get everyone into a very handy car park, the inevitable happened and 3 vehicles became detached from our own convoy. One of them - driven by Tom - ferried Hizbollah and Jimmy 1i to and from Leeds. Tom has asked why he ended up with two passengers who were too tired to pass the time cracking on about the match. He reports "Hiz slept all the way there and back whilst Jimmy had 20 winks" ..boom boom.
Another car looked like it was last used by the Ant Hill Mob and, by sheer coincidence, carried that 1920's throw-back - Big Issue. Mentioned below is how you could be compromised in possession of the wrong ring tone. But that's insignificant compared to Big Issue's problem trying to zip up tight to disguise his allegiance on the way to the ground.
In his case it wasn't his phone that gave him away - it was the problem caused by his coat's zip giving up and spilling out - in full view of monsters of smog - a World War II gas mask that he claims he bought from a junk shop in Liverpool for £5 - although we suspect he was issued with it during the war.
He's certainly been a trend setter over the years. We've seen him lead the way in fashion (double breasted pin stripe de-mob suites and kipper ties) dust masks (for every previous trip to the Smog) rubber face apparel (Gorilla masks for Mackem matches) and now the gas mask. Next season there'll be loads of lads wearing them - if the Smoggies stay up.

Sh*t ground no fans.
Usual stuff in Smog tonight - p*ss liberally taken out of the home fans, Hamilton Ricard and Bryan Robson - but backed up also with a storming 3-1 win. Don't know whether we were outstanding or they were garbage. It's probably down to us being very good, professional, (kept the ball for ages) and committed, especially when they had possession. But they were very, very poor. It seems that they have been putting in similar performances all season at home - blue Scousers did them easily so lets not carried away... eh?
So explaining the chants - Re...tard sounds very similar to Ri...card. That was new. Bryan Robson on the dole doesn't need explaining and similar to the Terry Butcher nemesis in the rain. What also needs explaining is that if you have the Blaydon Races ring tone on your phone - as many people now have following the great response to the bit on Biffa's site - it is wise to make sure that the ringer is switched off when walking back to your transport. Zipping up may provide you with some anonymity but if your phone rings when tramping slowly across waste ground, through congested underpasses and slow moving crowds of disenchanted home fans - you may need your wits about you. (I bet Morrissey could do something with that last line - and the next one.) But they all seemed too miserable to care.
Oh....and back to the headline.... it was a chant that didn't get an airing but it certainly sums up the Land of Smog - especially after Dyer banged in the 3rd. Wey hey !
---
Manchester S.O.S.
Manchester's finest - and friends of Big Issue - did the business again today by ensuring that the Police escort got back to Picadilly in time for the train we were booked on - only then to keep everyone in the herd waiting outside until it left.
So the 3 who missed the train - a Solicitor, an Orthodontist & a Student - were obviously such a massive threat to public safety and had to be kept away from the station incase they got mixed up with ...er.....the other people they had travelled over with.
Go on Rog - get them sued. They are obviously trying to take over the mantel of the South Yorkshire excuses for public servants.
---

Offensive Behaviour
Delayed update I know but Saturday's performance left most people feeling totally cheesed-off and motivation was lacking. Sorry. What we can report - in no particular order and of limited relevance and interest - is:
Next week's showing of Countdown will see JT looking 25lb. heavier than he does now. The recent use of moisturiser to try to limit the wrinkles is an utter waste of time. Taking a new friend along for the trip on the train with the lads and not gannin on the hoy is an interesting departure to his normal behaviour - but then disappearing down the train to sit elsewhere!. Come-on, it's outrageous behaviour.
Carol Vorderman has left her 2nd husband - but not for JT.
Roger Tames is definitely a Gooner, has a 100 mile-an-hour cockney accent, his dad was a season ticket holding Iron but both his son and daughter are Toon fans. To give him his due he does own (bought and paid for) 3 season tickets. He was so keen to get in on Saturday that he didn't even try a celebrity scam and willingly paid for a lost ticket pass because his lad's had been mislaid. I couldn't get it out of him that he hates the Mackems though.
As we all suspected, Duncan Wood, his former partner in crime on Café Sport (the programme is a crime) really does have has a name that perfectly matches his character. He hasn't been sussed out by GMTV….yet .
Si Hudson - from Northallerton - has joined the Bin, Pidgeon, Sam Dingle and Steady in the race for the Skull. He admitted he didn't know how to spell his girlfriend's name for his 'family' membership. Sounds like she's a 'virtual' friend to me.
Bernie's backside is offensive
All 4 Leeds players involved in the Majestic incident last year have pleaded not guilty to various offences.
But the biggest offence of all is the big thumbprint in the middle of JT's forehead. And he's her personal shopper. Unbelievable.
| | |
| --- | --- |
| It gets worse - click on the bottle for what JT now means when he says he's 'walking the dog' | |
---
Like A Virgin ….Oh, Ah ….in the Clluurrbb for the Very First Time.
Bernie proved us all wrong last night. You all thought that he didn't have an ounce of romance in his body by the way he talks about family life on the mini-bus. We were fooled, by the frosty farewells in the car park at Wetherby, into thinking the spark had gone from their relationship.
But how wrong we were. He really made it a night to remember for her indoors by secretly booking a baby sitter and, as soon as she got home, whisking their lass up the A1 for a romantic evening ……..at the Orient match, followed by candle lit cocktails in....... the Clluurrbb.
It was straight out of Mills and Boon as he wined an dined her in front of his mates, not in the slightest embarrassed ……buying her pints of lager and cheese and onion crisps. He won't confirm this but we think he brought a loo roll in case the Novocastria toilets were bereft of such luxury. He didn't want her using the facilities only to discover she had to stamp her feet - if you know what I mean.
He then arranged a chauffeur driven luxurious stretched Metro train to transport them in comfort from St James' to Manors where he then - without any of the lads knowing - drove her straight to Low Fell…………… for fish and chips…… to take away.
As they drove home, her girlish innocence gone for ever, no longer a virgin, she lay back relaxed and in never to be forgotten moments of pure contentment, dozed in her seat along side him, snoring, as he played their favourite tunes on the car wireless …….606 and David Mellor.
Mrs Bernie …you are a lucky lass.
---
White Wash the Coal
Poor Tom - fate continues to deal him a tough hand. Saturday wasn't the best of days for him. No sooner had he opened his mouth to take the piss out of Dave B for being a Makem Toon fan - and ex-Secretary - when a wasp stings him on the eye-lid. His lid went red, and his eye puffed up. Next day a visit to casualty got him some anti-histamines so that he could try and look half sensible at school on Monday morning. He still looked like he'd been scrappin with Kirky ....again.
Now it was particularly important that he showed the acceptable face of football - because he was due to meet another Makem Toon fan in an official capacity who was due to visit Tom's school. After in-depth meetings with Special Branch, press officers and Labour party spinners, all was set for the visit to Guiseley School of .......... the Prime Minister - Tony Blair!!
Tom had been instructed to keep it quiet - for security reasons. He had to sort out unsightly builders' skips, uneven curbs and then get the car park swept before the arrival of the PM's cortege. So he goes to work, through the pain barrier and the the skit from his colleagues for his blistered cheek - gets the coal whitewashed - hopeful for a game of head tennis in the playground - only to learn that the big day had been sabotaged by the fuel crisis and Toon Tony had been forced to return to London - to fill up his jag. Now do you understand why both Tommy and Toon Tony hate farmers.
---
Life begins at 50

I won't waffle on about our Chairman's lease of life following his half century in March. But with an election approaching (the AGM on Tuesday) his Tory credentials have come to the surface and he has embroiled the supporters' club in a pre-election sordid sex scandal.

We can't reveal too much - Crossy needs the detail for the News of the World. However things may be getting complicated in Bramhope - there's been a mention of a trip to Paris when he may miss a match - so we'll keep you posted. Oh - nearly forgot - one of them is already 'involved' with a bobby.

Thanks to Gary Foster for the poster -

a fine effort.
---

He's coming home, he's coming home, he's coming ............... Pidgeon's coming home!
The only bit of good news from Saturday's match at Southampton is that Anthony managed to get on the bus after the match. It was close though - after a few frantic phone calls he got the message that the bus pick-up point had changed.
Gordon, Wheely, JT and Ant managed to get seats on the free Carling bus from the Toon - they were picked up at Selby Fork services at 06.45 in the morning. They met up with various nation-wide Yorkshiremags including Jock McKnob and his daughter Rachel - who managed to get to the Dell after an arduous journey from..................... Southampton.
Dennis got there from Kent and Phil and Alex Hussey made it from Taunton. It was Phil who tipped us off about the free Carling bus deal early on Wednesday. Canny lad.
JT had some company as Richard Livermore and John Ludlam from Monmouthshire got there too - and they reminisced about the Battle of Britain in the beer garden of The Winston - where they saw Gordon supping his cans of Fosters Export that he'd brought with him. Brown Dog at £2.45 saw JT quickly skint - despite the bus trip being free. So Gordon didn't spend much and - now that he's got young Ant under his wing - he too took some cans (3.1 % Heineken by all accounts). So the missed return trips should soon become a distant memory. Anthony's apprenticeship saw him stay at Tadcaster on Saturday night - where he had the good sense to go easy on the Sam's lager. So no Bin-like antics from Ant who is now the favoured visitor of Zack and Edna.
(Oh.. and they wouldn't have scored if they played all night - according to Gordon - and Jock McKnob is aka Alan MacLean.)
---
STEADY SLEEPS SOUNDLY.....BIN BEGINS TO RELAX?

Anthony Pidgeon yesterday rocketed to the top of the numb league when he again missed the return journey of the trip for the Chelsea match. This time Big Issue kept him company on the platform at central station as the train disappeared in the direction of the High Level bridge (or the other one.)
---
Homing Pigeon?
What should we have done when the new lad - with a name that should mean he always finds his way home - got himself lost in the motorway service station on the way to the match? We should have been a bit worried - and tied a noose around his neck.
After the game he ended up miles away from the pick-up point - at the train station - having walked in the opposite direction. He missed the bus back and took some serious stick in his absence - especially as his no-show delayed the return journey from Coventry by the best part of an hour.
He got a mention below for the missed Spurs train - but disappearing twice in a row could see him press Bin and Steady by the end of the season. A remarkable start to his Yorkshiremags career.
---
STEADY'S SKULL
The season's hardly started but already it's proving difficult to keep up with the sheer numbness of some of the regular match goers. Rather than let their efforts at staking a claim for Steady's crown fade from the memory here are the early contenders for this season's Steady's Skull.
So far we've had :
Wheely Bin honking up all over chez Dingle in Tad.
Darren Thompson's effort at writing a cheque for his membership that proved to be beyond him as he dated it with his date of birth (1970)
Gordon ('Our Sam') who got on the wrong train at York for the trip up for the Spurs game and then rang Dave B to tell him what he'd done! He then thanked Dave B for suggesting that he should jump off at Darlo and join the following train with the rest of the group - 'Cheers Dave, I'd never thought of that.'
Anthony missed the train back after the Spurs game - but then Gordon rang Dave to squeal on Anthony in an attempt to deflect attention from his earlier numbness on the way up.
But what will take some beating is Wheely's 'Dear Edna' letter. He had the sense - eventually - to send an apology and a gift for the chaos he caused and for soiling the sheets, carpets, bathroom floor, dressing gown, towels and pillows. But in the same letter he undid all of his good work by offering to provide the money for the pillows - 'as soon as you provide me with the receipt'.

Magnificent ! - beat that.

---