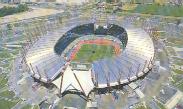 It all started for most of us at 8 o'clock on Sunday morning when we met up by Millgarth police station to drive down to Stansted. Tom and Jude were already in the air by this time though as they were on a 7 o'clock flight to Genoa. We'd actually had a bit of a scare on Saturday - Air Traffic Controllers in Italy were on strike and virtually all flights in and out of the country were cancelled. But by Sunday everything was back to normal. And of course we were all buoyed by Saturday's win.
One person missing though was (inevitably!) Pidge. When I got up on Sunday I'd found a text from him on my phone saying "I don't need a lift - see you there". Oh well, more room in the back seat. I assumed he'd stayed down somewhere after the Birmingham match and was meeting us at Stansted. Wrong!!! As we made our way down the A1 I started receiving a string of garbled texts from him, apparently saying that he was in Rome and that he would see us in Turin!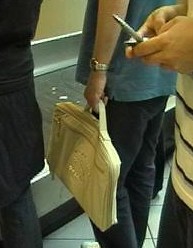 As we emptied the boot at Stansted we got our first glimpse of Gordon's hand luggage - a poncy 'document bag' as he called it. He got some stick. As we waited to check in we heard from Tom that him and Jude had already had a run in with the authorities in Italy. They'd been fined by the guard on the train from Genoa to Turin for not stamping their tickets in the machine on the platform before getting on. He was not amused! Check-in and the security checks at Stansted took ages, so we only had 15 minutes before boarding and only managed a couple of pints.
The plane was about 50% Toon fans. They were pretty well behaved considering. It probably had quite a bit to do with the relatively early start. We actually arrived about half an hour early in Turin which was a bit of a bonus. As we waited for our luggage we were amazed (but at the same time not!) to find Pigeon hanging about. He'd arrived on a flight from Rome some time earlier, but without his luggage. In fact, his luggage hadn't even got to Rome when he'd flown out there.
We left Pidge desperately searching for his stuff and set off to get the bus. Just finding the stop turned out to be a real challenge, and then we couldn't work out how long we would have to wait, so the majority decision was to jump in taxis. If you haven't experienced an Italian taxi ride then take it from me it's something you really have to do sometime!
We were soon at the hotel, which was canny enough for what we were paying, and within minutes we were ready to go hunting for a bar. Well, all of us apart from Gordon were ready anyway. He had to have a shower first. And of course it took him ages to do his hair. We heard from Tom that all the bars seemed to be shut, but they'd eventually found a sort of ice-cream parlour that served beer. So we all joined them there. Some time later Pidge sent a text to say that he'd arrived bagless at the station, which was about 200 yards from where we were, so I gave him directions so he could find us. About half an hour later I got another text to say he was at the hotel! He eventually found us though, and gave us his story. It goes something like this:
- he'd rung Ryanair during the week to make sure that I'd got his name right when I booked the flight; I had, but for some reason he was told that he wasn't booked on the flight at all
- some time ago he'd won a competition in a football magazine to see a game of his choice in Italy, so he arranged for it to be the match in Rome on Saturday, and he flew out with KLM from Leeds-Bradford via Amsterdam
- he persuaded them to fly him back from Turin via Amsterdam first thing on Thursday morning
It was time to move on to a proper bar. However they all seemed to still be shut, so instead we went to a restaurant for some food. Good move! It was a tremendous find - cheap food, cheap beer and wine, and very friendly. Before we left we had a big photo session and a load of crack with the bloke in charge. He said to us that we could go there before the match on Tuesday if we were having problems getting a drink - there was rumoured to be an alcohol ban from 2 o'clock on the day of the match.
By this time (it must have been getting on for 11) some bars were open, most notably the very Italian 'Tetley Huntsman'. Not surprisingly there were already quite a few Geordies in there, and it was pretty lively. It got even livelier after Alan had had a couple more pints. He ended up dancing (around Andria's handbag allegedly), and then knocked my pint over. This was a bit embarrassing as it was on the edge of the pool table (along with a load of others I hasten to add) at the time. We mopped it up as best we could hoping the staff might not notice. Brendan joined in the fun by riding around the bar on a miniature bike thing. By now it was getting quite late so most of us headed back to the hotel. It had been a long day, especially for Jude and Tom.
Monday
I managed to get up in time for some breakfast. Aaron came in to the breakfast room to tell me that he'd booked himself into a single room for the rest of his stay. He was sharing with Si. Well Si and Pidge had arrived back at the hotel at about 4 or 5, having had a confrontation with the police on the way. The story appears to be that Si had said something pretty innocuous to some female, but then all these uniforms appeared from nowhere. Nothing came of it though. Anyway, back at the hotel Pidge was supposed to be sharing with Gordon, but didn't want to have to wake him to get in the room, so he moved in with Si and Aaron. Si then started shouting out the window, apparently thinking that this would somehow impress the Dutch lasses in the room next door. It certainly didn't impress Aaron who decided he'd had enough.
Before long a few more people started to appear. We discovered that Alan, Mike, Gordon and Andria were already on a train to Milan. Me, Aaron and Brendan decided to follow them. When Pigeon heard what we were doing he decided to tag along. He literally climbed out of bed (Aaron's bed!) and walked straight out of the hotel, still wearing the clothes he'd had on for 2 days.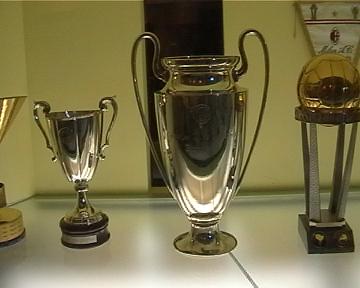 We heard from Alan that they were in a bar outside the San Silo and that a ground tour started at half one. By the time we reached Milan it was almost 1, so we jumped in a taxi and headed for the ground. It turned out that the tour actually started at 2, so we had plenty of time. We paid our 7 euros and had a wander round the museum while we waited for the tour to start. In the end the 'tour' consisted of being taken into the equivalent of the bottom tier of the Leazes, getting 2 minutes of patter, then 20 minutes where we could wander round that section to take photos. Normally you would apparently also see the changing rooms, but they're having some work done at the moment.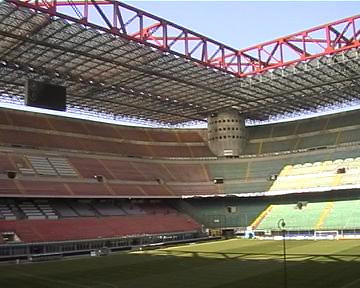 Some impressions:
- it's big!
- you'd really need to see it with a full house
- the bars and toilets would be hopelessly inadequate in England
- it would have been better if they'd cleared up the rubbish after the previous day's game!
We headed back to the bar, where we had ham and cheese toasties (superb!) and cold beer. It was fantastic sat out in the sunshine. The weather was so much better than the BBC had been forecasting before we set off. After one beer the group split. Gordon and Andria were determined to check out the shopping. Mike and Alan decided to go with them as they'd already had enough beer for the time being. Me, Aaron and Pigeon wanted to have more beers. Brendan was torn, but in the end the lure of the shops won. Those of us that stayed at the bar had a couple, then left with enough time to spare to have a quick look at the area round the cathedral. And very impressive it was!
We'd all tentatively arranged to get the 17.20 train back to Turin. When Me, Aaron and Pidge got back to the station we found that there was a fast train at 17.15. We decided to get that. We bought some drinks, stamped our tickets, then went to board the train. Except that there was no sign of Pigeon. We looked around for a couple of minutes, but he was nowhere to be seen, so we got on the train. I sent a text to Mike asking if he'd seen the non-homing Pigeon. He sent one back saying that he was on their train. Along with Aaron's bottle of coke!
Back at Turin we found that Pigeon's luggage had finally reached the hotel. That was a relief to everyone - I'd been thinking of lending him some of my clothes. We checked where everyone was drinking and set off to meet them. By now the Cooks, Alan J and his wife, plus Dennis, Norman from Sheffield, and Richard the Dewsbury doctor were also in town. After a few drinks we went in search of food. We ended up in a serve-yourself place. We upset the staff a bit by doing a few things wrong. Meanwhile Aaron liked pouring his own beer so much that he poured himself 3 pints.
After eating we headed for the Huntsman, but it was heaving and it was really hard getting served. Some people stayed, but some (including me) headed off to a quite cafe/patisserie for drinks and conversation. They kept looking like they were going to pull the shutters down, but they kept on serving. Eventually though we had to concede defeat and headed off to our hotels.
Tuesday
There was a few of us in the breakfast room at about half nine when Richard wandered in looking a little bit dishevelled. He then proceeded to tell us precisely why he was looking that way! Apparently he'd been in the Huntsman really late on when some local picked his pocket and ran off with his wallet. Richard and Norman set off in pursuit. Norman had had far too much beer to get very far and promptly fell over and scraped his face along the pavement.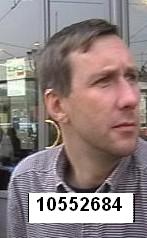 Meanwhile Richard continued his pursuit..... until he was suddenly found himself surrounded by police before being taken away in handcuffs. He then spent most of the night trying to explain to the police, none of whom spoke English, what had happened. But all's well that ends well! The police had also arrested the pick-pocket, and Richard was eventually re-united with his wallet and released.
After breakfast we set off on a slow stroll along the river, eventually reaching the ticket pick-up point, conveniently located nearly 3 miles from the station area which was where all the hotels were. About half of our group's tickets hadn't turned up before they left home, so they were going to have to come here later in the day. By now it was getting hot and we were getting thirsty. We headed back to the town, looking for a bar. After about a mile we passed a little cafe that had bottles of beer in the fridge. We dived straight in and sat outside soaking up the sun. Within 10 minutes we'd joined by a couple of busloads of Toon fans who'd just been dropped off. Some people went straight on the Guinness, not realising it was 8%! Tom and Jude had had a lie-in and now wanted directions to where we were. Ex-Chairman Al gave them clear directions, but they had Cookie with them! "We can take a short cut" he said when about 200 yards away. Nearly an hour later Tom and Jude appeared, minus Cookie who by now had abandoned them to find it themselves. Drinking continued on and off at the little cafe by ourselves and various other Toon fans until 4 o'clock. On several occasions we thought that the beer was going to run out, but they always seemed to find some more from somewhere. They must have sold 300 bottles, probably as much as in a month normally. But then at 4 o'clock they wouldn't serve us any more. And that's how the drink ban was enforced in cafes and bars all over Turin. They would serve the locals, but not Toon fans. But there were plenty of places that would, including the restaurant we had the prior agreement with. We got there to find that we weren't the only ones to have been invited - the place was jumping. Beer and wine flowed and it got noisier and noisier. At one point Gary had a competition with some lad to see who had a loudest singing voice. They were both pretty deafening and tuneless and we called it a draw.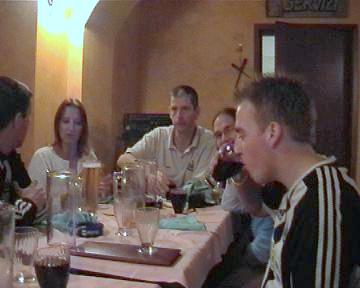 Six o'clock - the time the special buses were setting off to take the Toon fans to the ground - came and went. I'm sure someone must have used them, but I've yet to speak to anyone that did. By quarter past 7 we decided to head off in search of taxis. We went to a rank nearby, but nothing turned up within a few minutes so we decided to try the station rank.... along with a couple of hundred other Geordies. People at the front of the queue said that they'd been waiting about 10 minutes. Ten minutes later we hadn't moved and realised that the taxis had stopped picking up. Eventually the police announced that there was a bus on the way. They started moving us to the front of the station, then they stopped. Myself and a few others ran out of patience and went to get the number 9 bus. Mistake! The first one didn't turn up until about 5 to 7, by which time the people who had waited back at the station had been whisked off with a police escort. Still, it was still 50 minutes to kick-off, and there were plenty of Juve fans on it. Surely they knew what they were doing? The bus crawled towards the ground. We were eventually dropped off at 20 to 9, 5 minutes before kick-off. We were so far from the ground that we couldn't see it and there were no stragglers to follow. Somehow we managed to find it, but it was a 10 minute jog. By the time we'd negotiated the turnstiles and security checks we'd missed the first 10 minutes. I couldn't believe that I'd arrived in Turin two days before the game but missed the kick-off!
There was a cracking atmosphere inside the ground. The Juve fans never shut up, and the Toon fans weren't far behind. It was the best support I've seen in ages, especially at the start of the second half. I was in the top tier and it was shaking. The second goal though killed off the fans as well as the team.
As expected we got kept in for ages at the end. Apparently things got a bit ugly downstairs where the 'England fans' weren't happy at not being allowed out, but most people just stayed in the stands. Eventually they let us out, but by the time we got out all the buses they'd put on to take us back to town were absolutely heaving. There were hundreds of us standing about looking a bit lost. We weren't allowed to make our own way back to town. The bloke in charged announced that "We did not expect so many supporters. More buses are coming". After nearly half an hour some arrived and we jumped on. The journey back was a lot faster than the journey out, and fortunately they dropped us by the station rather than at the pre-match pick-up point (the same place as the tickets were dished out).
Because we were dropped so close to the hotel a lot of people decided to have an early night. Myself, Tom and Jude went back to the restaurant for more pizza and beer. The crack in there was good. I stayed till about 2. Gino, the owner, was an absolute top bloke. He was so impressed with the Geordies, and desperately wants us to play there again next season. Walking back to the hotel I was surprised to see that there were plenty of bars open and serving Toon fans. Everywhere seemed pretty quiet though.
Wednesday
Dennis was already well on his way home by the time we assembled at breakfast - he'd had to leave about 6. Those of us that were leaving packed our bags, then we all went for a wander around the town. In the case of Gordon, Andria and Brendan this was specifically a wander round the designer clothes shops. Around lunch time we stopped at a cafe for a bite and a drink. The waitress got really upset because we tried to pay before taking the stuff outside to consume!
Before long it was time to say our goodbyes and go our separate ways. The four of us flying back to Stansted survived another hairy taxi ride to the airport, before touching down bang on time. The traffic on the M11 was much lighter than expected and we were back in Leeds bang on 9. Another memorable trip was over. Roll on Feyenoord!

Photos 1
Photos 2
Video