"Lets dance, in the east of France...."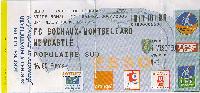 Most of us flew from Liverpool on Wednesday lunchtime, although Doctor Dick had gone over a day earlier to do some bar reconnaissance. Gordano and Paul caught the 7.08 train from Leeds (with the first can opened by Gordon before the train had left the station) in case there were any train problems. Sure enough, the 8.08 train which Brendan (who'd been on it from the Toon) and myself were on was running late. We still arrived with plenty of time though. Andria got there at the same time as us, then after checking in we joined up with the others (Gordon, Paul, Big Issue and the Mexican) in the bar. As expected there were quite a lot of Hearts fans on the same flight as us. They were definitely looking on it as their last chance to have a good trip abroad before getting knocked out.
We landed in Basel on time, then caught the airport bus to Mulhouse. I'd read that the bus fare was normally €7.50, but only €5.50 each if you had a group of four or more. I therefore collected all the money together and asked the driver for seven tickets. He gave me the tickets then wrote down 7.50 x 7. I queried it. "Not 5.50?". "No, 7.50". So we sat ourselves down only to find that four Geordies who'd got on after us, who'd had a local helping them buy their tickets, had only been charged 5.50! Well, this was France after all so it was no surprise that we'd been ripped off. When we got to the other end we complained to the driver who gave us back the €14 he'd overcharged us without any argument. So why didn't he just charge us the right fare to start with?!
From Mulhouse it was a 45 minute train ride to Montbéliard, where we were met by the Doc. We set off straight away past the impressive castle

to the Hotel de la Balance to sort out the room cock-up. Graham and Linda still had a room at the Balance, and we knew that they'd sorted out some rooms at other hotels for the rest of us, we just weren't sure where they were. It turned out that one of the rooms was in a town centre hotel. Me and Andria grabbed that one, a wise move as it turned out. The others were in place a few miles out. The other four were taken there by car, but then had to get a taxi back in. We all met up in a bar near the station as arranged. Just as the beer was starting to flow nicely, the place shut. It was only eight o'clock! As it happens we really needed to eat anyway. After a false start in 'Tex Mex' we ended up having a decent bit of food in a pizza place

. By now most of us were on wine, very sensible (in financial terms anyway) considering that it was only marginally more expensive than the beer. As the night wore on we were joined by quite a few other Toon fans. It seemed that there was hardly anywhere else that you could get a drink. Eventually the long day and the drink started to take its toll and people began to turn in. This is where being in a hotel 200 yards away was a massive advantage! Andria left relatively early, which she couldn't have done without forking out for a taxi if we'd have been in the alternative hotel. I've no idea what time I packed in (I'd definitely had too much wine by now), but I wasn't the last. As far as I know Paul and Gordon were the next to leave. Gordon being Gordon and a Yorkshireman and not wanting to spend money unnecessarily, they went back to the Balance and cheekily asked if there was any chance of a lift to their hotel. And they got one! By the time that Brendan and Richard were ready to go there were no taxis running (like I said, this is France). The restaurant owner said his brother would take them, but he wanted €50! That's nearly 40 quid for anyone that doesn't know. In the end they settled on €25.
Next morning I woke with a bad head and feeling fairly rough, but I couldn't have much of a lie-in because we had to be at the Balance for 10 o'clock to be taken to Thursday night's hotel. Fun and games or what! This time the six of us would be in the same hotel at least. Andria and myself were taken there first, then the chauffeuse went to bring the other four. They tried to give me and Andria a double room, but she did her nut and refused to have it. So we ended up in a very nice twin, and instead Gordon and Paul had the double! As soon as we'd dumped our stuff in the rooms we ordered taxis to get us back into the town. We were only about 3 miles out, but we realised that we'd have to be organised after the game. Apart from the fact that there'd be no buses running (they stop before 9 o'clock - this is France after all), we'd probably struggle to get taxis if we messed about for too long. To make matters worse we only had one key per room, and you needed the key to get in the front door first. So people heading back individually and falling asleep was a recipe for disaster.
Back in Montbéliard it was pretty cold and dead. We had a stroll through the town in a largely unsuccessful attempt to kill some time before we hit the beer. We couldn't believe how empty the place was. The streets were virtually deserted, and the shops totally devoid of customers. Within about 20 minutes people were starting to get restless. We agreed to go somewhere for a drink, the intention for must of us to have coffee or a soft drink. However, the place we ended up in was a sort of supporters club bar

and it didn't seem right not to have beer. That therefore was the start of our pre-match drinking session. Nine hours before kick-off. Apart from ourselves and the other Toon fans that came and went the place only had a handful of customers in the 3 hours or so that we were there. It's hard to see how they make a living normally. We really needed to eat, so we moved on to Route 66 bar, where the Doc informed us we'd be able to get food. The place did cheap filling food (with proper chips instead of the normal skinny continental version) and, being close to the station, was doing a roaring trade with the Toon fans. We'd read in the local paper that Newcastle had only sold 125 tickets for the game, but it was obvious by now from the numbers we'd seen that this was a load of b0llocks.
Bellies filled we moved on again to a nicer bar right opposite the station, which of course meant it would attract a lot of Toon fans. It did get busy, but never too busy, and we never had a problem getting served. In fact, every time my glass was nearly empty another full one would miraculously appear! Someone would go to the bar and ask the landlady

for 8 beers, and a few minutes later they'd be brought to us and we'd all cough up our €2.10. Great system. As the afternoon/evening wore on the place started to get a bit more boisterous

, but it never got out of hand. The odd Sochaux fan came in, but most of them didn't stay too long. They didn't seem intimidated, I just suspect that they don't normally have more than one drink. Alan J strolled over from the station around half 5 (as usual he'd flown out a day later than everyone else, and was staying in the Balance - lucky b@stard), together with his luggage of a toothbrush. Ian M had arrived a bit earlier, having managed to wangle a work trip around the match, and having apparently managed to get totally wrecked the night before.
As usually happens on these trips time suddenly accelerated and pretty soon we had to set off for the ground. The Toon fans were very much in evidence and very noisy on the way there. It was only supposed to be a 10 minute walk, but we followed the locals and ended up not going the shortest route, especially for getting to the away end. And then we finally got there getting in was a nightmare. There were some gates that were open about a foot

and they were letting people through at a rate of about one every 10 or 15 seconds. Yet again you have to wonder if it was done just to antagonise people. Fortunately we'd left the bar in enough time for it not to be a major hassle. When I first got in the ground there weren't a lot of Toon fans in. But eventually our section was more-or-less full (so much for the 125). The support was tremendous from start to finish. There were a couple of new songs around ("Bellamy, Bellamy" to the tune of some pop song I don't know the name of, a Shay Given song that I didn't pick up cos it wasn't sung near me, but Brendan knows it), plus there was a revamp of the Marseille "Let's dance, in the south of France" (hence the headline to this report

). There were also a few impressive renditions of "Pogo, if you love the Toon".
Their fans seemed out to enjoy themselves. Even when they were 2-0 down they were still singing and setting off flares

. Once it got to 3-0 they quietened down a bit, but it was good to see that hardly any of them left early. There must have been 90% of them still in at the finish, and there was no booing. Picture St James' if it had been the other way round....
We'd been warned that we could have to wait up to 40 minutes before being allowed out after the game. Fortunately it was more like 20. We headed straight back into town and to our agreed meeting point, the Irish bar O'Briens. This had seemed a good rendezvous seeing as how it was supposed to be open until 1. It was open, but the police wouldn't allow anyone in. After a few minutes the Toon fans started wandering off in search of somewhere else. Brendan and the Doc decided to try their luck in a nearby restaurant, but the rest of us (me, Andria, Gordano and Paul) thought it was probably a good idea to join the taxi queue. Ten minutes later and it was obvious we were going to be there a very long time. Someone suggested going to the Balance and getting them to phone for a taxi. I wasn't convinced that they'd be able to get us one, but off we went anyway. Within seconds we got a phone call from Alan J saying that he was in a restaurant just around the corner and that they were serving drink. Naturally we had to join him for a couple, even though this might mean it was going to be even harder for us to get a taxi. By the time we made it to the Balance it was well past midnight. The bloke on reception spent about 10 minutes on the phone but got absolutely nowhere. Eventually he said that if we waited 30 minutes the bloke that had run Paul and Gordon to their hotel the first night would take us. I haven't got a clue who this bloke was, but I suspect he'd been dragged from his bed. While we were waiting we joined Graham and Linda who were in the lounge drinking some wine they'd acquired from somewhere. At some point Graham disappeared to raid their mini-bar for champagne, meanwhile Jamieson helped himself to a bottle of beer from the hotel bar. This didn't go down very well with the bloke on reception for some reason, even though Alan said he was happy to pay for it.
To our relief our transport turned up right on cue after half an hour. Pretty soon after setting off I commented that he was going a different route to the one we'd been taken that morning. After a few more minutes we found out why - he was taking us to the wrong hotel!! He thought we wanted to be at the one that he'd taken Paul and Gordon to the night before. We put him straight, but that was when the fun started. It soon became obvious he didn't actually know where the hotel was. He phoned someone at one point, then he stopped and asked the police. Shortly after that we hit the same roundabout for the third time, then we ended up in a dead end and he was on the phone again. I honestly thought he was going to tell us he couldn't find it and dump us, but then all of a sudden we found ourselves passing the hotel. A 3 mile journey had taken 40 minutes - not bad! While all this had been going on we heard from Brendan. He'd left the Doc and had managed to get a taxi from the station, but he was worried about how Richard would manage without a key if he ever made it back ....
I was woken early next morning by a phone call from Brendan. "Do you know where the Doc is? He's not here." No surprise there then. During breakfast we got a call from Richard to say that he'd crashed out in someone else's hotel and would see us at the station. We had time for a quick one before getting the train, then time for another one while waiting at Mulhouse for the airport bus. The airport was chocka with Hearts fans - our flight was virtually the same time as a charter was leaving for Edinburgh. The ones that were on our plane were actually quite subdued. Perhaps they were still in shock from their result, or perhaps they were just hungover.
Back at Liverpool we waved goodbye to Alan J who was driving back, and to the Doc who was scrounging a lift with him, and to Andria who had talked a mug (sorry - a friend) into coming to pick her up. The rest of us departed for Lime Street and a leisurely train ride back. Or so we thought. In hindsight, a train at 20 past 5 on a Friday was always going to be busy. And to make things worse it was a carriage short - two instead of the normal three. Even with three it would have been busy. But with two it was seriously overcrowded. Brendan somehow managed to get himself a seat, the rest of us were standing. Or myself and Gordon were, Paul having made himself at home in the toilet, where he of course was able to sit. "At least", I thought to myself, "people will be getting off before long." They were, and plenty of them, but at each stop there was at least as many people waiting to get on. At some stops they couldn't physically get through the doors. This was the original train journey from hell - two and a quarter hours packed in like sardines. Taking ages at every station meant that we were late getting back to Leeds, which meant I missed my bus and would have to wait half an hour for the next one. Except that my bus was late and I still caught it! A good end to a long and tiring day. And a tiring trip!
A quick footnote. Big Issue and Linda were staying an extra night and coming back on Saturday. Gordon got a phone call from Graham on Saturday lunchtime saying that they'd missed the airport bus from Mulhouse and were going to have to get a taxi, and were worried they might miss the flight. It could only happen to Graham! They didn't of course. I suspect that the reason they were late in the first place was that they'd got carried away at Montbéliard's Christmas market, which had just started that day. I always had Graham down as a bit of a shopaholic myself.
This is a report in the local paper next morning. The translation is down to a combination of Google and me. It may not be 100% perfect.....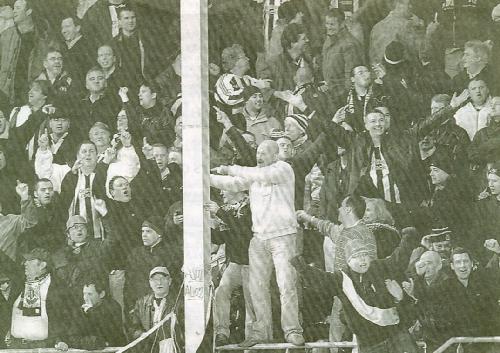 MONTBELIARD - "Will the bars be open after the match?" English supporters and journalists were more worried about this than about the team selection of Graeme Souness, in particular the omission of Kluivert and Robert. The Scottish manager explained that it was necessary to rotate his players because of the games coming up, but the only thing that interested the English was elsewhere. For them, the match had begun much earlier in the afternoon. The hotel and café owners weren't complaining about the day's takings. It was as if the Christmas market had begun two days early... Most of the fans had come across the Channel, benefiting notably from the Liverpool-Basle flight. The crowd and the giant shirt deployed by the Sochaux supporters finally launched a more animated evening. On the English side, a banner announcing "Newcastle United - Alan Shearer simply the best!".

The Sochaux captain Michael Isabey, not the least impressed, threw them his gloves before the kick-off. Ready for combat! The songs rang out from the Sochaux fans and the visitors. Whereas Guy Lacombe initially remained wisely seated on the bench, Graeme Souness stood permanently. On the pitch, the spectacle promised by the two coaches was indeed worth watching. Jérémy Ménez was inspired by rage at Lee Bowyer, culprit of a bad tackle on Lonfat. And for his 300th appearance in a Newcastle shirt, Shay Given was particularly inspired, preventing Sochaux taking the lead. The challenge facing Guy Lacombe's players was doubled when Ameobi scored a second just after the interval. Sochaux had come back from two goals down once last season, in the unforgettable League Cup semi-final. The penalty missed by Jérémy Mathieu just after the hour unfortunately rang the death knell for Sochaux's hopes. The British fans in their striped shirts could start looking forward to qualification. And to celebrate their first victory on French soil they sang "Au revoir, au revoir" to the home fans, more so as Bellamy and Robert made it an even more bitter pill for Sochaliens to swallow, not eliminated yet but forced to take points against Sporting Lisbon then against the Greeks of Panionios.

Photos
Video