New Italian Magpie



Some of you will know of Massimo from Italy. Some will have met/seen him and his lovely wife Barbara in Wetherspoons, but probably most of you will have no idea who he is. Well he lives in Bergamo (handy for easyJet flights to home games!), he's been mad about the Toon for a few years now, and he's even got his own web-site that's got some excellent photos on it, especially of the Champions League games at Juve and Inter. Anyway, Barbara gave birth to little Aurora recently, This is what Massimo had to say about things in an email to Tom:
Hi Mate,
How are you ? Hope all you are well.

Last April 25th was born Aurora , my daughter (I attach some photos). My wife and she are both well.
Nufc season's ended well, Roeder done a very good job and I think that he's a proper manager for the next season because he knows very well the young player and he can promoted some into 1st team. If Souness had been sacked before February we would have gone to Uefa Cup.

I would like to organize a friendly football game next year between your supporters club and mine. It would be fantastic to also involve a club of Newcastle and play a triangular tournament. (Yorkshire Mags vs Italian Mags vs Newcastle Mags). What do you think? Speak about it with your lads and extend to Newcastle Club at Newcastle (if you know one).

Hope to see you and all lads soon.

Bye, takecare

Massimo
Incidentally, for the benefit of our female readers, you can see a much bigger photo of little Aurora if you click on the pic above.



Bore draw

The draw at St Andrews draw was no use to either ourselves or Birmingham. Three points for us would have put pressure on Blackburn before their game against Blackburn and would have given us a great chance of holding of Bolton for seventh spot, but in all honesty we never looked like winning. Ok, we could easily have scored when Titus surged forward near the end, but that would have been tough on Birmingham who had more than matched us over the 90 minutes.
Brendan's day didn't start very well. He got to the Central at 5 past 7 in plenty of time to catch the 7.24 train only to find that it had been re-timed to 10 to 7! So instead he had to get the 7.40, which just happened to be the train that which the rest of us were catching further down the line. To make matters worse for Bren, the 7.40 then didn't leave the Toon until 5 past 8. The train managed to make up a few minutes by the time it got to Leeds, but then lost it again when it stopped just outside the station for no apparent reason. When it did finally pull onto the platform we wasted no time in finding Brendan's party. But no sooner had we sat ourselves down than Liz the 'Train Manager' turned up with a member of the Transport Police, who she informed that "him with the spikey hair" (Brendano in other words) had been giving her a load of grief on the way down from the Toon. "Right, you two, off!" Mr Plod said, meaning Brendan and Cramlington Paul. Quite why he picked on Paul wasn't clear, other than that he also has spikey hair, because it was generally agreed that he hadn't done anything wrong. And Liz then decided that she actually only wanted Brendan to get a bollocking rather than chucked off. Well not unless he misbehaved again anyway. I'm not sure what was behind all this carry-on. It was something to do with Liz warning the lads that they were sitting in reserved seats (even though the reservation system wasn't working) and would have to move. Brendan then pointed out that he wouldn't have been sat there at all if his train (which he had a reserved seat on!) had left when it was supposed to. I suppose it didn't help his case that:
- there was a mountain of beer bottles on the table in front of him
- they were sitting in the Quiet Coach, which is of course a contradiction in terms where Brendan's concerned
Anyway, there were no further problems with Liz the rest of the way down to New Street, even though the Quiet Coach became very much the Noisy Coach once the cards came out.
Arriving in Birmingham half an hour's drinking time late we headed straight next door to the Newt. Well most of us did anyway. Gordano and Paul preferred the long hike to Wetherspoon's "because it's cheaper". A couple of pints later we jumped in a taxi to the Brighton WMC near the ground, where we'd arranged to meet up with the Birmingham fans we met travelling to and from the home game against them this season. The only problem was that they don't drink there any more! Fortunately they were just over the road in Bordesley Labour Club. A couple of hours' good crack ensued, and then it was time to stroll to the ground in the sunshine.
Once inside the ground it was clear that the Toon fans were really up for it. However, the longer the game went on the more obvious it became that we unlikely to get the win that we needed. And so the Toon fans resorted to winding up the Birmingham fans about going down, especially when news filtered through about Portsmouth's goals at Wigan. Naturally this didn't go down very well with the locals! Apparently things got a bit heated after the game, but I didn't see anything myself and in fact the walk back to New Street was surprisingly hassle-free.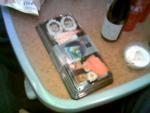 While most of us were stocking up with beer for the train back, Stevie Round had other ideas. I thought he'd given up on Sushi after hearing the horror stories about what eating it can do to your brain, but apparently not. So there he was on the train with a tray of raw fish and some cans of Pymms! He'll be getting football fans in general, and Toon fans in particular, a bad name. The journey back was fairly uneventful - no run-ins with Train Managers, no warnings from Transport Police. We had a few games of Chase the Ace, but they were a quiet few games because Brendan was in the next carriage. And so that's the end of our away trip adventures for another season.


It's a funny old game

Don't anyone that wasn't at the West Brom game get fooled by the scoreline. For the second game in a row we won by three goals despite playing poorly. At the SOS we won through a combination of good fortune and them falling apart after we equalised. Against West Brom it was down to the opposition being very, very poor. You usually find that teams in their position have a real go. But in the first half they showed absolutely no ambition. Even after they went behind there was no visible change. Bryan Robson obviously wasn't happy though, hence the three half-time substitutions. The Baggies were slightly better in the second half, but still hardly threatened our goal.
I haven't got a clue who "the guests of Collingwood Insurance" were, but they must have known a bit about football. They picked Craig Moore as Man of the Match even though it's virtually unheard of for a defender to get chosen unless he's done something really exceptional. Moore on the other hand just went about his job without any fuss, and he fully deserved the award. Mind, him winning it is probably also a reflection on how bad most of the rest of the team were!

Paul's new top

It's the Sun this week

No comment required
(click on pic for larger image)


"We'll Meet Again...."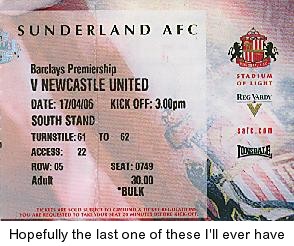 We might have been singing this to the Mackems, but I for one hope we never have to play them again. I don't ever look forward to derby games, and I hate having to go over to their place. So it'll suit me down to the ground if they never get promoted again. And preferably they'll drop down to the third division, or whatever contrived name they have for it nowadays, so that there's a safe gap between us.
Having said that I don't like playing them, I'm usually very confident about away games against the Mackems, due largely to the fact that it's so long since we lost over there. But I wasn't at all confident today. I knew that they'd really be up for it, and I fancied that we might not be. And so it turned out. Normally when we play at their place it's us that sets off playing all the football and S********d that look totally at sea. Well this time it was the other way round. Throughout the first half we created nothing going forward, and were pretty much all over the place at the back. At half-time everyone agreed that we could only improve in the second half, but we didn't. Our equaliser came from nowhere, but it's effect was to totally flatten the Mackems. And the rest is history. It goes without saying that Chops and Lucky getting their first goals (well, first Premiership goal in Chopra's case) can only do the pair of them a power of good.

Fighting my way through the S********d fans
hanging around the Toon turnstiles

"You couldn't sell all your tickets"

The "Murray In" campaign gathers momentum

"Sunlun till I die" my @rse - near empty home sections


Blart, not art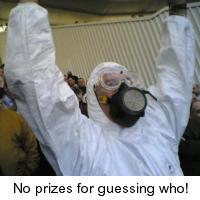 Shola's sudden goal spree means that we've still got a chance of finishing seventh, which wouThe win against Wigan keeps us in with a shout of finishing seventh. If this isn't good enough for a UEFA Cup spot, it will certainly get us into the Intertoto. And the way the Intertoto is this year it should then be a formality to progress to the UEFA 2nd qualifying round, where as a seeded team it should again be a formality that we get through that tie and into the first round proper.
Next up is the small matter of a game against our recently relegated friends from down the road. It's a game we can't really afford to lose. And not because we need the points!
Incidentally, Laura Cook's doing the Race for Life on May 17th. If anyone wants to they can sponsor her on-line here. It's for Cancer Research by the way.

Saturday's Chronicle features our very own
Aaarrroooonna on the front page


And so to the heading. Is that the Times Art
supplement that Keith's studying so closely?
Erm no, it's actually the Sport.


Goal-a-game Shola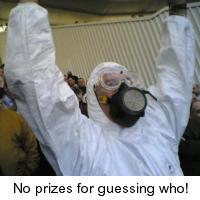 Shola's sudden goal spree means that we've still got a chance of finishing seventh, which would be something of a miracle considering where we were when Souness left. I haven't got a clue whether it's technically possible to sneak into the UEFA Cup with seventh place, and I'm not going to look into it. I'll worry about it when/if it happens.
I didn't go to Boro, mainly because of the train chaos. It sounds like it wasn't much of a game, but obviously I don't really know, especially because I'm having to write this before I've seen whatever highlights they decide to show on MOTD 2. If someone who went to the game wants to fill us in on what the day/match was like then they can post something on the message board. In the meantime I'm off to watch some of the golf!
Monday
Well I've now seen the highlights. But then so have you. If not you'll have read the reports. If you weren't actually there in person of course. In any case you'll know that we were all over Boro until Roeder in his wisdom decided to replace Solano with Dyer. Why do managers insist on over-complicating things! If we're two-nil up and comfortable, why not leave things as they are? There's a lot of truth in the old saying "If it ain't broke.....".


Conspiracy theory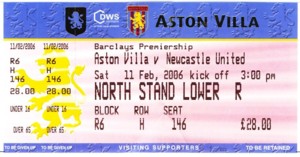 Most Saturday's when I set off for the match I do a quick mental check to make sure I've got the essentials:
Train ticket - check
Match ticket - check
Money - check
It was slightly different setting off for Villa though - I'd given my ticket application to Brendano and so my match ticket had got posted to him. More about this later!

Most of the Yorkshire Mags caught the 10 past 9 train down. I ended up catching the 10 past 10 because I had a few things to do first. A pleasant surprise was that neither train had the expected squad of burberry clad Leeds fans travelling down to Derby. On arrival at New Street I made a bee-line for the Newt next door (well, sort of) to the station. Once there I discovered that the rest of the lads had decided to go elsewhere, I guessed to the Cap and Gown next to the ground. As I was sinking my first pint I started to wonder whether it was Brendan or Steve-the-away-ticket-manager that actually had my ticket. So I sent Stevie a text to find out. His reply was "You've got it". He was obviously winding me up, so I replied straight back "I think not!". A couple of minutes later my phone rang. It was Stevie saying that he'd given me the ticket in Wetherspoons before the Portsmouth game. I told him that he hadn't. All of a sudden Steve didn't seem very sure whether he had or not, but then he did a process of elimination, working out what he'd done with each of the tickets Brendan had given him, and he concluded that he must have given me one. He even knew which seat it must be for - row H seat 146. Well if he had given me a ticket then I had absolutely no recollection of it. Anyway, the bottom line was that I didn't have a ticket for the match. I told Steve that I'd go to the ticket office and tell them I'd left my ticket in the house and see if they'd give me a replacement. But not before I'd had a couple more pints obviously. About 10 minutes later my phone went again. It was Round Boy again, to tell me that he'd managed to procure another ticket from somewhere. What a star! This of course meant having to fork out another 28 quid, but that seemed a better option than having to deal with some jobsworth at the ticket office.

While all this had been going on I'd been joined in the pub by Paul Kemp and Dave McConnell. They'd travelled down via Manchester and had got to New Street around the same time as me. It had taken them much longer to get to the pub though! We agreed that we'd stay in the Newt and get the last train to the ground, expecting to be able to watch the Wigan-Liverpool game. Despite having more big screens than any other pub in the world they obviously hadn't forked out their Premiership Plus though, cos there was no match on. I can't say I was that bothered about Wigan-Liverpool anyway. Speaking of Liverpool, while we were in the Newt I heard the news that Big Issue had been told by his doctor to keep off the drink for a month to give his liver a break. This didn't come as a big surprise. What was a shock though was hearing that he was actually taking the doc's advice and was on soft drinks.

Twenty past two arrived before we knew it and off we went to catch the train to Witton. And before much later we were passing the Cap and Gown, just as the rest of the lads were coming out and so I was able to get my ticket from Steve.

The Toon fans were on good form inside the ground. Apart from people being buoyed by last week's win, it helps that everyone's pulling together now. And it wasn't long before Shola stuck the first goal in and we were going mental. One of our lot managed to fall over the seat in front and smashed the back of it. I'm not saying who it was though cos he's a canny lad and sorted out my ticket. Villa's equaliser was totally against the run of play, but it didn't knock us out of our stride. We totally dominated the rest of the first half and looked dangerous every time we went forward. Nobby was back to his best, and Shola was playing like a footballer and causing Villa's defence all sorts of problems. Our second goal was no more than we deserved. Cue more wild celebrations , and more broken seat backs.

The second half was a bit of a contrast. My initial reaction when Baros went down for the penalty was that he'd dived. Having seen it again I'm convinced he did. The penalty was saved of course, but Baba's sending-off meant that the rest of the game was backs-to-the-wall stuff. Not what you want when you've got centre backs like Boumsong and Bramble. They both had their moments but on this occasion got away with them. At the other end of the pitch Emre had a blinder and ran himself into the ground. The end of the game seemed like it would never arrive, but it did and triggered yet more wild celebrations on and off the pitch.

The journey back was fairly jolly, but also fairly uneventful. The train was busy and so we couldn't get seats together, hence no cards. A few iffy looking Leeds fans got on at Derby, but we didn't have any problems with them.

As soon as I got in the house I started hunting for the elusive match ticket. I thought that what had probably happened was that when Steve gave me it I'd put it inside my season ticket and forgotten to take it out when I got home. But no, there wasn't a Villa ticket inside my season ticket. The only other place I could think to look was in bin in my bedroom. Not the place you'd expect to find a match ticket, but that's exactly what I did find at the bottom. Now it's clearly inconceivable that I'd shoved the ticket in my pocket, and then chucked it in the bin when I emptied my pockets of used train tickets and other junk when I got home. Therefore the only logical explanation is that it must have been planted there by the CIA. Well that's my story and I'm sticking to it.

Something you don't
see very often!

1-0

2-1

A team effort


Sorry BBC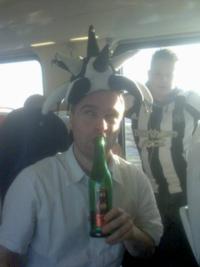 The Beeb were absolutely desperate for us to give them another Hereford, but it didn't happen. As it says on nufc.com, about the best that you could say about the win against Cheltenham was that it was "efficient". It was though a more convincing performance than against Mansfield in the previous round. In fact, I'd go so far as to say it would have been a pretty comfortable afternoon if it hadn't have been for Boumsong having yet another nightmare. Les Ferdinand said at the end that Cheltenham were unfortunate and that "Newcastle were second best to Cheltenham for most of the game". Les should stick to playing football and not talking about it because this is quite frankly bollocks. Other than the first 15 minutes or so of each half we controlled the game. Ok, we weren't playing that well or creating very much, but we dominated the possession and Cheltenham didn't look capable of scoring, even with the best efforts of Mike Riley to assist them (awarding them corners and fouls that weren't, and turning a blind eye to the blatant foul in the area on Ramage).
For various reasons I didn't actually go down to Cheltenham myself. As I write I've got no idea how the trip went for the many Yorkshire Mags who did go. I'm sure I'll hear a few stories next Saturday in Spoons though! One benefit of spending Saturday at home is that I've managed to catch up on quite a few things - there's now a table for the new Predictions competition on the site, plus there's Travel info for Villa.
Changing the subject completely, Dave Bailey informs me that he's got a load of tokens from the Chronicle that can be used to get returns from York to the Toon for a tenner with GNER. If you're interested and haven't got contact details for him then let me know and I'll give you his mobile number or email address.




Fulham 1 Toon 0
'Anon' of the message board isn't going to like this report one bit, but it's simply impossible to write about the Fulham trip without mentioning trains.
There were seven Yorkshire Mags (the Wilson boys, Paul McK, Steady, Round Boy, big Ian Max, plus myself), not to mention two potential members (Ian and Mark, two Geordie teachers from Holmfirth) booked on the 8.15 from Leeds to Kings Cross. The Huddersfield/Holmfirth lot though had decided to join the train at Wakefield, seeing as how it's nearer to where they live than Leeds. Sounds reasonable. Except that the train doesn't actually stop at Wakefield. We spotted this while we were waiting in Leeds. We immediately phoned Stevie Round to tell him that they'd have to jump on the 8.05 from Leeds to Kings Cross, which does stop at Wakey, and meet up with us at Doncaster. Then someone spotted that the 8.05 doesn't stop at Donny! This is where they had a bit of a break though. Ian had driven the four of them to the station and his car was parked outside. So they jumped in the car and Ian put his foot to the floor (by all accounts he might just have exceeded the speed limit once or twice) and they just managed to make it to Doncaster and get parked up and into the station by the time our train pulled into the platform. I'm not sure they would have made it if we hadn't been running a few minutes late mind.
We were about 15 minutes late when we eventually got to Kings Cross, so we wasted no time heading down to the tube. Our normal route for getting to Chelsea or Fulham is Piccadilly Line to Earls Court, then District Line. However I'd heard that the service was better if you got the Victoria Line to Victoria and changed to the District Line there, so I decided to conduct a scientific experiment. While everyone else piled down the escalator to the Piccadilly Line, I headed down to the Victoria Line. Forty minutes later I walked into the Eight Bells at Putney Bridge wondering if the rest of the lads were already there. But no, I was first. Half a pint later there was still no sign of them and I started to wonder if I'd got the wrong pub. A quick phone call to Brendan told me that they were still on the tube! There were engineering works on the Piccadilly Line so they'd had to get off somewhere and catch another tube to Victoria, losing loads of time in the process. So much for my scientific research then!
If I've been in the Eight Bells before it was at least 20 years ago and I can't remember anything about it. It's the natural place to head for anyone arriving by tube, and I was expecting it to be absolutely heaving and not very pleasant towards kick-off. It did get busy, but not seriously so (probably cos loads of people spilled out onto the street), and you never had a problem getting served. All in all a canny little pre-match pub and very friendly.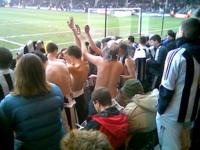 This was my first visit to the revamped Craven Cottage and it's definitely a lot better for away fans, even if the new stand has a bit (ok a lot) of a temporary feel to it. The atmosphere in our end was better than you often get at London games, with the Toon fans in good voice and spirit considering what was happening out on the pitch. I sent a text to someone after half an hour saying "Without doubt one of the worst games I've seen in my life". It was that bad. We were garbage, Fulham were little or no better. I'm not sure what our formation was. When I'd seen the team I assumed that Luque would be playing up front with Shearer. But it looked like he was playing wide left, part of a 5 man midfield, with Shearer on his own up front and getting nowhere. You thought that things surely couldn't get any worse in the second half, and to be fair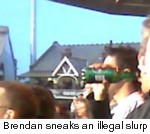 we did come out showing a lot more urgency and looking like we wanted to win the game. It doesn't help though when you can't take a decent corner. Luque took a couple right in front of the Toon fans and failed miserably to get the ball into the right area. Nobby took over and did no better. We looked loads brighter when Chopra came on - pace and movement up front, now that's an idea! We improved again when O'Brien replaced a very disappointing N'Zogbia. But by then it was too late because Fulham had already sneaked a goal against the run of play, and of course when we go behind away from home we can't score. Our last chance was a free-kick just outside the box that was the ideal spot for a left-footer. But we didn't have any left on the pitch by this time so Nobby took it and put it over the bar.
For a change we didn't have any travel problems on the way back. The East Coast main line was shut between Stevenage and Peterborough because of engineering work and there was a replacement bus service. We'd therefore booked to come back with Midland Mainline on the 18.25 from St Pancras. We all made it back from the match in plenty of time and stocked up with food and beer (or wine in a couple of cases). Midland Mainline trains take for ever to get to Leeds which meant lots of cards on the journey, and as is traditional Steady managed to lose quite a bit of money in the last few hands between Wakey and Leeds when trying desperately to recoup his earlier losses.




Irons 2 Toon 4
A good result on my first trip down to the smoke this season. A draw would probably have been fairer, but since when was life fair!
Apologies in advance by the way to anyone who hates me writing detailed accounts of train journeys, but I'm afraid it's simply unavoidable on this occasion.
There was a big group of us booked on the 5 past 8 train from Leeds. I kept an eye out for Leeds Burberry types headed for Wolves on my way through the station, but fortunately they didn't seem to be in evidence. Once on the train I met up with Tom, Jude and Nicky who were not only going to the game but making a full weekend of it - Foo Fighters on Saturday night, other activities on Sunday, then coming back on Monday. As we were waiting for the train to leave Tom spotted Laura Cook walking along the platform, bizarrely looking like she'd just got off the train. A quick text to Laura and Tom had an explanation. Laura and a pal were catching the 8.15 to London to go shopping. They'd briefly got on our train before realising it was the wrong one. "What you get when you put two blondes together" as Laura put it.
The train was very quiet as we pulled out of Leeds. But that was because the rest of our lot weren't getting on until Wakefield. Things soon changed once the Doc, Paul McK, Ian Maxted, Round Boy, and Round Boy's West Ham supporting brother-in-law joined us. It only took us a few seconds to work out that Stevie had been celebrating the end of term in a big way. He was clearly still half-p*ssed from Friday night, and he was soon topping up on 7.5% cider. Chase the Ace naturally ensued. Stevie insisted on demonstrating his famous "Birtley shuffle" to us and anyone else within half a carriage at every opportunity. Yes Steve, we have seen it before. Once he was out of the game he started chatting up Penny the hippy who had the misfortune to be sitting opposite him. For some reason she found it hard to believe that he was not only a teacher but head of department. Eventually his pestering got to her and she snapped. "Will you please stop spitting in my face and respect my space!" was the gist of her outburst. Stevie went very quiet and apologetic. In an effort to get back in her good books he said to her as nicely and as quietly as he could "I'm not trying to chat you up or anything, but would you like a Satsuma?". This bought the house down.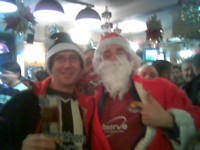 Arriving at a freezing cold Kings Cross at quarter past 10 we headed over the road for a couple of pints in the Dolphin, before setting off over to the Duke of Edinburgh by the ground, picking up Maggie off her train en-route. I was surprised to find JT in the Duke of Edinburgh before us as I didn't know he was down for the game. I wasn't surprised though to find out that he was on a corporate freebie. He therefore soon left us. About an hour later he phoned to tell me that the kick-off had been put back to half 3. I told the rest of our lot, but they all thought it was wind-up. Eventually though it was obviously right because everyone in the pub knew about it. While this gave us a bit more drinking time, we were a bit concerned about making it back in time for our trains - Maggie was on the 18.25 to Sheffield, and the rest of us were on the half 6. Our Paul had no chance of making the 6 o'clock to the Toon unless he left just after half-time. There were of course plenty of later trains, but the problem we had was that our cheap tickets weren't valid on any of them!
When we finally made to to the ground the police strangely decided that Stevie wasn't in a fit state to be allowed in. However, after someone had taken him for a walk round the block they relented. It didn't make much difference really though as he apparently slept through most of the game.
Myself and Maggie had agreed that we'd leave just before the end of the game so that we could get to to the tube station ahead of most of the rush. I thought that going bang on 90 minutes was as late as we dared leave it. I couldn't believe it when they announced 4 minutes added time though - the only delays had been three substitutions. Getting to the station at about half 5 gave us loads of time to get back to Kings Cross. We joined what should have been a fast-moving queue to find that it wasn't in fact moving at all. I've no idea what the problem was, but we didn't move for 15 minutes. Then just as we'd given up on making our trains we did finally start to move forward. As we were going down the stairs to the platform a train pulled out. No! But there was another one right behind it. How long will it be before it fill up and sets off though? The answer was about 2 minutes because they'd again for some reason stopped people from entering the station and our train pulled out 75% empty. It was now about 5 to 6. Maggie's train wasn't looking good, but the half 6 was still possible if we got a good connection at Aldgate East. We didn't though - we had to wait best part of 10 minutes. Not good. We still had 13 minutes though and it was just about possible. But then the train stopped straight after we left Aldgate East and it was 3 minutes before it set off again. So that was it. It was exactly half 6 when we finally pulled into Kings Cross. We raced upstairs to the station just in case the train hadn't left on time, but of course it had. We then checked Maggie's at St Pancras, but that had also gone.
We checked out the options. Maggie's next train was 25 past 7 and she decided to go for that rather than catching a train to Doncaster and changing there. The next (and last) Leeds train wasn't until 8 o'clock. There were a few Newcastle trains before that, but they were checking tickets for those trains before you got on and I somehow couldn't see them letting me on with a Leeds ticket. So the 8 o'clock it would have to be! I'd surely be in good company though because I knew that the rest of our lot had been behind me and Maggie at the tube station and so would have missed the half 6 train by miles. But then I found out that when they'd seen the queue for the tube they'd kept on walking to the next station down the line and had in fact only just missed the half 6. They'd then noticed that there was a train to Hull at 18.40 and had jumped on that. And they even managed to blag their way through a ticket inspection on the train even though they had tickets for a completely different train company. But then their train broke down, and that's the last I heard from them.
I had a couple in the station bar in Kings Cross while I waited for the train. While there I received a text from Paul McK informing me that he was also catching the 8 o'clock, but that he was killing time in the much more salubrious Flying Scotsman. JT staggered into the bar totally wrecked as I was on my second pint. As usual he'd taken full advantage of the free drinks at the ground and there'd never been any danger of him leaving early to catch the half 6. I left him in the bar as I went off in search of food and beer for the train. Once stocked up I headed for the train, but then as I started walking down the platform I saw to my amazement that there was a line of ticket checkers across the platform. It was impossible to get on the train without going through them, so I thought I'd try bluffing my way past. If they noticed that my ticket was for the half 6 I'd explain about the fatal accident that caused the kick-off to be put back, about leaving the match early to supposedly make sure I caught the half 6, and about the problems with the tubes. Sure enough, I got pulled up and was referred to the woman who was obviously running the show. She informed me that it I would have to pay an extra 77 quid on the train, but if I went to the ticket office and sorted it out before getting on it would be a bit less. I tried to explain about the sequence of events that had resulted in me having to catch the wrong train, but she didn't want to know. In fact, I'm absolutely convinced that they were carrying out the ticket check precisely because they knew the kick-off had been late and that people might have missed the trains they were booked on. As I dejectedly turned around to head for the ticket office I bumped into Paul coming the other way. He was just on his way from the ticket office having forked out an extra 70 quid. I wasn't at all happy about having to pay that much, even though technically it was right. So what I did instead was to just buy a single to Peterborough (£21.60). I thought if I could just get on the train with that I might be able to avoid any ticket checks after Peterborough. I zipped up my fleece and put my hat on so that they might not recognise me at the ticket check and managed to sneak though without the woman in charge spotting me. So far so good! What I hadn't reckoned on though was the same woman being the guard on the train. Half-way to Peterborough she came through the train doing a head count, although she didn't spot me. Once we got past Peterborough I needed to keep an eye out for her doing a ticket check - if I saw her coming I was going to hide in the bog! Not long after Peterborough I stuck my head out to take a look down the train. Unfortunately I did it just as she was walking past my seat doing another head count. She cottoned on to me straight away and asked me if I'd bought another ticket. "Yes, but I'm going to need another one now as I only bought one to Peterborough". She informed me that I'd been "very naughty" as she walked off. I assumed that as soon as she finished her counting she'd be straight back for my money. However, Grantham came, then Newark, then Retford, and she didn't reappear. Eventually we reached Doncaster and I decided that it was time to be naughty again. I told Paul that if she came looking to tell her that I'd got off at Doncaster, then I walked a couple of carriages down and locked myself in the bog. Half an hour later we pulled into Leeds. Mission accomplished! Walking down the platform I actually passed her going the other way, but she obviously wasn't on the look-out for me.
All in all a good day. But as I said on the way back, I would have been well and truly p*ssed off if I'd have had all the hassle and extra expense of getting back AND we'd lost the match.
Oh yeah, Michael Owen scored a hat-trick. His first goal came after about 5 minutes. My recollection is that it was a good build-up. I got the impression that it wasn't the greatest finish ever, but I was a hundred yards away and I was near the front so I didn't have a great view. He got another one just before half-time from a Nobby free-kick. No-one realised at the time that it came off his shoulder because we were a hundred yards away and etc. Big Al scored the third right in front of the away end. I didn't know for definite it was in until the Toon fans started celebrating because I was to the side of the goal and low down and there were heads in the way. Just before the end Owen completed his hat-trick. Apparently it was a tap-in after we broke away when West Ham had a corner, but by this time I was half-way back to the tube station (see above).


Toon 1 Gooners 0
It wasn't pretty, but this was a result that we needed badly. As much as anything because it will have hopefully have gone way to convincing the team and supporters that games against the 'big four' aren't a foregone conclusion. Realistically this isn't the Arsenal of a couple of years ago, but you wouldn't have known it the way people were talking beforehand. In the first half we showed them too much respect, but that all changed after the break when we basically didn't let them play. Obviously I preferred the way that we approached these games in the early Keegan days ("We don't care who you are or how good you're supposed to be, we're just going to out-football you"), but we simply haven't got the quality of player to do that now, even with everyone fit. So instead we have to adopt a more pragmatic approach .
These funny kick-off times really screw up your body clock. All day long I was having to check the time and then convert to "three o'clock equivalent" time. I picked a train that would get me to the Toon my normal three and half hours before kick-off, but it just didn't seem right to be setting off so late. I wondered I at one point if everyone else had gone up at the normal time and was making a full day of it (as we would have done if it had been an away game) and that I would be the last one there. The reality was almost the opposite. Gordano normally gets to the Toon at eleven, but on this occasion he didn't get there until two. And so when I wandered into a busy Spoons at quarter to two I found that there were no other Yorkshire Mags in the place. That soon changed though when Gary 2K and Norman turned up, and before long there was a decent group of us.
There were only two trains back south after the game. The last one at quarter to nine wouldn't get me home until about quarter past eleven, so I was really keen to catch the 19.40. I knew that there would be absolutely loads of people wanting to get the same train so I fairly raced down to the station from the ground. I did find time though to pick up a few essentials on the way - sarnies from me Mam, beer from the Mr Q's offie, and a Pink (my last chance ever to buy one). I arrived at the station at the same time as Alan and Tom and we joined the queue to get on the platform. Just as we got through the barrier a bloke that was counting heads said "That's it" and the barrier was closed. Perfect timing! As we waited on the platform Tom got a text from JT (who hadn't got through) saying something like "Do you think my reserved seat will be ok?". Tom had to break the news to him gently that he wasn't going to be getting on the train. The train came in, we squeezed on, people were stood all the way down the train, then we got to Durham and Darlo and most of them got off. It's ironic that JT missed out on getting our train. If it hadn't have been for his beloved Maggie we might still have a nationalised railway, in which case there would have been special trains after the game to Durham and Darlington, leaving the other trains for people travelling further afield.


Everton 1 Toon 0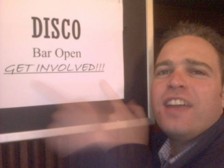 I'm beginning to wonder why we ('we' meaning the team, not the supporters) bother to turn up for the games against the 'physical' teams like Bolton and Everton. It seems like we just haven't got the players to make a game of it. After Everton took the lead it was 25 minutes before we got anywhere near their goal, which just isn't good enough. A few other thoughts on the game:
- yes we should have had a pen, but overall the scoreline was a fair reflection
- Yobo leant on Ramage when he scored, but it probably wasn't enough to warrant a free kick; I'm more concerned about what Emre was doing on the post; it was nearly as pathetic as the Dyer tea-pot impression
- Luque had his best game so far after he came on; he was still shocking though; but I'll still give him a bit more time
A quick bit about George Best now. As I said on the message board, I thought it was wrong to have a minute's silence at all games for him. I can only ever recall it happening for a player once before, and that was Bobby Moore. And he was one player that did deserve it. There's no doubt that Best was a fantastic player, but when deciding if a someone's death merits a nationwide show of respect you have to consider things like:
- what he achieved in football
- what he did for football
- how he conducted himself in life
Best under-achieved in the first two and failed miserably in the latter. I'm sure that George himself had no regrets, but I bet that there are people around him that feel he wasted his football talent and his life. Not to mention someone else's life after he somehow managed to get a liver transplant when there must have been more deserving cases. Well that's what I think anyway!


Ferries' diary (part 1)

Yorkshire Mag and marathon runner Brian Ferries recently started a year's studying in Dortmund. Here are a few extracts from his diary. There's a distinct lack of mentions of beer considering that he's in the brewing capital of Germany. I suppose he must still be keeping in shape ready for his next marathon.
04/10
I've been in Germany for 5 days now and I'm still properly confused and disorientated. I've just registered at Uni but have no idea which modules I'm doing or anything. Once I'm registered and have signed my tenancy agreement I can then register my presence with the local authorities. Only then can I get a bank account. Besides that, Dortmund seems like a canny place. For the last couple of days there has been a proper German market selling snail soup, but I think that was only for the bank holiday. My room is ok. It was horrible when I first arrived but my parents helped me to clean and paint it and bought me a bed to go with my mattress. At the moment my number of friends and acquaintances in Dortmund stands at: 0. I hope when I start my lectures I can get it up to around 3 or 4. The Westfalenstadion is (sort of) on my way to Uni (which is about a 3.5 mile walk). It's well impressive. At the moment they're doing loads of construction work around it in prep for the world cup. Dortmund played Stuttgart on the weekend and the city centre was full of yellow and black shirt, scarves and flags. It was just like Newcastle on a matchday (which is canny incredible when you think that the stadium is a couple of miles away). Can't be bothered to type any more. I have too much to sort out.
18/10
I'm at Uni now. My first seminar was cancelled so don't start properly till tomorrow. I think I only do seminars and don't have any lectures which I think is definitely a better way to do it. I'm struggling to keep up with the Toon. I couldn't find the Wigan game (probably just as well) and watched Dortmund draw 3-3 with Kaiserslautern. I'm worried that I won't be able to find the Mackem game, but at worst I can listen to it in an internet cafe. At the minute I may have 1.4 friends: 0.2 friends = someone who I would briefly stop and talk to occasionally; I have 2 of these in the flats and I have just met a lass off my course in Leeds. She's an assistant at a school but I met her at the Uni where she comes for fun! She has made a circle of friends (or "crew") and said that I am welcome to join them in merriment.
Been to the cinema loads. Saw "Wallace und Gromit auf der Jagd nach dem Riesekaninchen" which, like all the others, is dubbed into German. Sometimes they're easy to understand and other times they're not. I bought a set of juggling balls determined that all the time I spend alone would help me to become a champion juggler (if you can get a champion juggler). However I can't even juggle one without dropping it, so we'll put that one down to experience. The building I'm in is pretty wierd. All the departments are spread out across campus with their own buildings and I'm based in one called "Others". In the name of sexual equality there is a women's toilet on every floor and a men's on the ground floor (which is fun since I'm on the third floor and I've just drank loads of Fanta)! I'm eating loads of pastries (not at the moment but in general).
There are 6 World Cup games in Dortmund and there will be some more in nearby Gelsenkirchen, should be well good. I think that I'll be finished Uni before the end of the World Cup. I know it sounds late but I get a two month break between February and April. I've been looking at pre-draw fixtures for World Cup and the group games in the area (Dortmund, Gelsenkirchen and Cologne) and 19 (inc. Germany) of the 32 teams are covered by the group games here. There is therefore a decent chance that England will be playing in the area. If anyone from the Yorkshire Mags plans to come to Germany for any of the games let me know if you need any help or advice with travel arrangements and hotels etc.
25/10 - Heja BVB!
This weekend I struggling unsuccessfully to find the Mackem game televised. I therefore decided to listen to it on the BBC website. It cut out after 1 min saying that due to contractual reasons I couldn't listen to the broadcast. I therefore had to make do with Skysports videprinter telling me "78:09 Carr defensive throw-in. 78:23 Carr defensive throw-in. 79:03 Given goal kick". Although I felt better at knowing exactly what was happening it wasn't too enjoyable. Coincidentally though the Skysports website had - for that day only - a video of Albert's lob against Man U, which was enjoyable. I would have been distraught about missing the Mackem game if I didn't have the distraction of going to another game an hour afterwards. I went to the Westfalenstadion (a 20 min walk from my flat) to see Dortmund draw 1-1 with Hamburger SV. I've never been to a European away game so the biggest (ground capacity wise) I've seen is Man U v Newcastle. Although the Newcastle away fans are always a good laugh you can't help but feel that Old Trafford's impressive capacity is wasted on Man U fans. Anyway the home fans at Dortmund were a lot better and although there were 7,000 empty seats, there was still an attendance of 75,100. I was too late to get a ticket for the famous Südtribüne (the largest standing terrace in Europe) and was instead in the Südwestecke. I was overlooking the Südtribüne and it is well impressive! The fans (all standing) are squashed together all wearing yellow and black and there are dozens of huge flags and thousands of scarfs being waved before the game starts. It costs only €11 for a ticket in this section so I'm going to go the next chance I get. I tried to take some photos and a video with my phone but couldn't at all do it justice. Strangely they played "You'll Never Walk Alone", which I'm told has been adopted by just about every German club. It's such a shame that Dortmund aren't in Europe. They got knocked out of the Intertoto Cup the round before us. Therefore my hopes of seeing an English team play Dortmund or Newcastle playing in Germany, Holland or France (borders close by) were long gone before I departed England. At the end of November Schalke play host to PSV Eindhoven, which would be canny if Gelsenkirchen is easy to get to.
Besides football, Uni is going well. It's a bit slow but it's only the second week. I've only met 3 English people (the lass from Leeds and her 2 mates) but there are loads of Americans. The Exchange Student department is having a five-a-side tournament this weekend but no-one plays "soccer". "Can you body-check in soccer?" Most of the Americans are really sound and intelligent but some of them come out with daft things. There are loads of Russians, Poles and Czechs on my course and one American asked if I'd ever been to "Czechoslavania". "Is that near that country we invaded?"
It's been raining for about a week now. It's depressing. We play Grimsby tomorrow so I'm going with my (mini) English crew to Boomerang, the Australian bar to watch it. They have Broon on tap! On Thursday Goal! comes out here. The nearest cinema dubs films rather than subtitling which was just wrong when I saw Wallace and Gromit.
I haven't shaved my head or my face since I've been in Germany. Everytime I go for longer than a week without shaving I'm tempted to let it grow but I don't. I thought that for the first 2 months (since I won't be seeing any of my friends or family) I would let it grow so I can get it out of my system. I've just past the half way point and really want to shave as it's look awful and gets in the way of eating and drinking but I have nightmares of waking up clean-shaven. I don't want to give up now as it will make the last month of hairiness pointless. I'm planning on shaving a few days before I get back to England so that friends and family don't disown me.
The German exchange teacher in the League of Gentlemen comes from Duisberg which is in the region and the stereotype upon which that character is based is well-founded. There are loads of middle age blokes who act just like him. I hope you're all keeping well and looking forward to Halloween (which is a 2 day national holiday here!)
14/11
Yesterday I went to the Westfalenstadion to see Julio Cesar's farewell game. It was well enjoyable! It was the Dortmund 1997 Champions League team against Julio Cesar and friends. As you'd expect from such a game there wasn't much passion shown by the players but there was some nice football and it finished 5-2 to JC and friends. Throughout the game they played faux Latino music and cheesy disco to keep everyone upbeat. There were only 35,000 there (in an 82,000 capacity) but most people were squashed into the Südtribüne where I was stood so it felt pretty lively. It didn't kick off until 6.15pm which meant most people were lashed. At one point, as an equivalent to "Stand up if you love the toon", everyone sat down on the floor as part of a chant. It was canny funny and a bit weird. It was the first time I've been in the famous Südtribüne and it was class. For the next home game I'm in a seat in the corner but for the game after that I'm in the Südtr. After that it's Bayern München when Steph's here so I'm going to do my best to get some standing places for that. It's so much better standing and it's half the price! It only cost me €7.50 for the game last night.
The Christmas market is (sort of) here. Different markets across the city centre keep appearing and disappearing but at the moment about 300 stalls run through the city making one long continuous market. I imagine this will probably stay put (or maybe even get bigger). There are hundreds of stalls selling souvenirs, food, confectionary. There are animals, tractors, rides. 20ft Christmas trees line main street but are overshadowed by the world's biggest Christmas tree which they have almost finished decorating. All we need now is snow. I hope everything's going well in Blighty. Good luck to anyone who's going to the game on the weekend.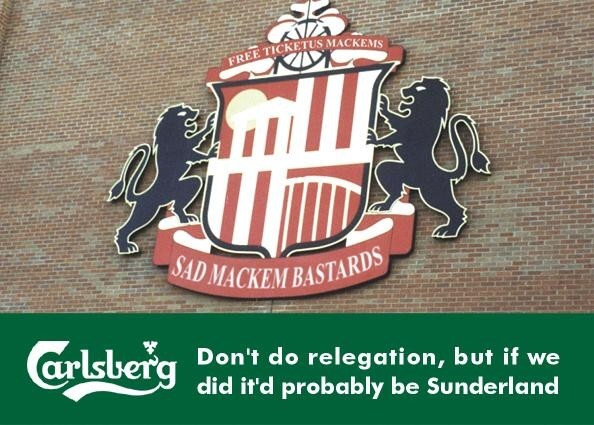 (Ta to Everton Bob and Mike H for the pic)


Joe Jobsworth
The Birmingham match was so boring that I spent most of it mentally composing my letter to Virgin Trains complaining about the behaviour of Joe, the lunatic Scottish Train Manager ('guard' in old money) who we had the misfortune to encounter on the way up to the game. Apologies to those of you that have already heard the story by the way.
Myself, Stevie Round and Ian Maxted caught the 5 past 10 train from Leeds. There were quite a few Birmingham fans on it, and it was only four carriages long, so it was quite busy as it pulled out of Leeds. There were loads of people stood in the vestibules and down the aisles. But so many got off at York that most people that wanted a seat could find one after that. It filled up a bit at Darlo, then the usual hordes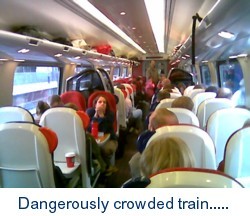 piled on at Durham. But even so it wasn't particularly busy. We were therefore amazed a couple of minutes later when the guard made an announcement saying that the train was 'dangerously crowded' and wouldn't be leaving Durham until the passengers that had got on there 'de-trained' (a new addition to the English language?). As you'd expect, this got nil response. A few minutes later he made another announcement basically saying the same thing. By now you knew that he was serious, and so a few people got off. A few minutes later he tried again, but no-one else de-trained. We'd now been sat in Durham for best part of quarter of an hour and tempers were starting to fray. Some passengers (including Round Boy) got off to confront Joe. Pointing out to him that the train had been more crowded between Leeds and York just washed off him. As did suggestions that he check people's tickets and throw off anyone that had got on at Durham. "That'll take too long." Ok, so let's just sit here all day instead then? There was a member of the station staff on the platform and he obviously wanted the train out the way, but he was ultimately powerless to do anything about it. He did though inform us that Joe's latest explanation was that "It's against rules to travel with passengers standing in the vestibules". Well excuse me but if that's the case:
- how come he didn't ask people to move into the carriages?
- how come it was ok between Leeds and Durham?
- I've been on literally hundreds of trains that were apparently breaking the rules
After another 10 minutes of nothing whatsoever happening someone somewhere decided that it was after all safe for us to complete our journey. But not before a whole trainload of people were delayed by 25 minutes, the train behind was held up, and no doubt loads of people missed connections at the Toon and Edinburgh. What a complete tosser.
It goes without saying of course that the 17.40 back after the game was absolutely chocka (so presumably the guard will be disciplined for breaking rules?). It was so full that one group of Birmingham fans couldn't physically get on it and had to wait for the 18.40. That's the train that me and Stevie Round caught, and we had great crack with that particular bunch of Brummies. There were a couple of them in their 40s who've been following their team for donkeys years, plus assorted kids. Adults and bairns all reckon that Newcastle is their top away game and couldn't say enough good things about us! And they made us promise to meet up with them when we go down to their place. I probably wasn't going to go myself due to the rip-off ticket price, but a promise is a promise......
The other highlight of the day was Big Issue's latest brush with the law. He'd b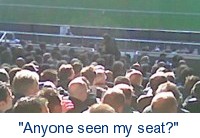 roken his journey into loads of legs, taking advantage of Trainline's generous £5 off offer so that it would cost him next to nowt to get to the Toon, and so had a mountain of tickets. Unfortunately for him though the train he planned to get was cancelled, and the next one went a different route for which he didn't have the right tickets! As far as I can work out he had a disagreement with the guard, the police were called, and next thing you know he was marched off the train. I don't think he was actually charged with anything in the end, but at 12 o'clock he was still in custody and not looking like he was going to make the game. He did though, although I'm not sure how much of it he actually saw. He must have made up for lost pub time by drinking all the beer they had on board his train because he was looking very unsteady when I saw him inside the ground just before kick-off. And 10 minutes into the game he was still wandering round the front of the stand trying but failing miserably to find his seat.



Nice way to get to the game...
The anniversary of us getting knocked out of the UEFA Cup by Bastia back in 1977 occurred recently. So it seems like a good time to expand a bit on my non-attendance of the first leg over at their place, which I touched on a few weeks ago when I reminisced about my trip to Bohemians in the previous round.
Looking back now I find it hard to believe I considered for a second going to the away leg. I'd got back from Bohemians with less than a quid to my name, being on the dole after finishing Uni at the time. I started my first job a couple of weeks before the Bastia away game, but wasn't due to get paid until a month after it. Nevertheless, I was really tempted by take up the offer of a place in a car that a mate of mine Bob Henson was driving over. Now for anyone that doesn't know, even though the team plays in the French league, Bastia is actually in Corsica. Which is an island off the coast of Italy. No-one in their right mind would think of going to a game in Corsica by car of course, but Bob was a bit of lad, and I was a bit young and daft and thought it would be a laugh. But in the end I decided to give it a miss, mainly because I didn't dare ask for the time off work having only just started.
So come the night of the game I was sat in the house tuned into some obscure French radio station trying to work out how the game was going from the occasional short reports they had. About as much as I can remember is that we scored first, they scored two late on, and the reporter had big problems with his pronunciation of 'Barrowclough'!
The Bastia game was followed on the Saturday by a home game against Chelsea. I caught the train up to me Mam's on the Friday night after work. As I was making my way through Leeds station I happened to bump into another Toon fan who to live somewhere in Leeds at the time. "Hey, have you seen in the Mirror today about those Newcastle fans that drove to Bastia?", he asked me. I hadn't, so he proceeded to tell me the story. Apparently this car load of fans had got all to the way to the South of France but then didn't have enough money left to pay for the ferry over to Corsica, and so they'd pooled what they had left and one of them had put on his smartest gear and gone into a casino to try and win some money. He'd ended up winning enough for them to be able to hire a plane to get to the game!
I listened to this thinking surely it had to be Bob Henson's lot that he was telling me about. So next day I made my way to the Magpie for a few pre-match pints, and not long after I got there in walks Bob. "So was that you that was in the Mirror yesterday?" was not surprisingly how I greeted him. Sure enough it was, and he proceeded to furnish me with the full story. They'd had a few adventures on their way down through France, but had eventually ended up at Nice. Their real problem it turned out hadn't been lack of funds, but lack of time. They couldn't get a ferry that would get them to Corsica in time for the game. So Bob had gone to the casino specifically to try to win enough to hire a plane. And he had!
For the next week or so Bob was a bit of a national celebrity. As well as the newspaper stories he also made an appearance on Nationwide, which was more or less an institution in those days. I was fairly devastated at having missed out on the Bastia adventure and sorted out a seat in Bob's car if he was driving to the next round. Apparently Bastia hadn't looked that good in the first leg, and of course we'd scored "the vital away goal", and so we were confident of getting through. But Johnny Rep had other ideas. Me and Bob drifted apart over the years and I can't remember the last time I saw him, but it was an awful long time ago.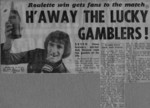 If you think this yarn's a bit far-fetched and/or my memory's playing tricks on me (and it wouldn't be the first time, let's face it), you can read for yourself a story I cut from one of the papers at the time. Or you could just ask our very own Gary 2K because he just happens to have been one of the people in Bob's car!!!


Phew!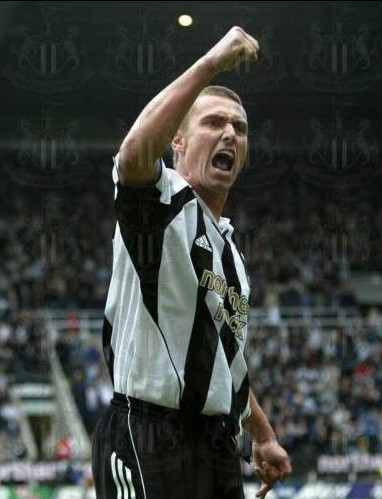 I really hate derby matches. They're ok afterwards when we've won mind. Obviously Shola must have read what I wrote about him after the Wigan game. Because not only did he score two goals* against the Mackems, but he also had far and away his best game in months and months. Perhaps I need to pen a few comments about Boumsong next... Everyone reading this will have seen the S********d game and will have their own view on events, but here's a few thoughts of mine anyway for what they're worth:
- the first half performance was for me the best we've played this season; I put this down to Emre and Solano, both quality players; there's no substitute for class Mr Robson
- S********d were a lot better than I expected them to be; in the past when we've played them they've had stronger squads on paper but have been pathetic, so you've got to give Mick McCarthy some credit (ok, you don't have to if you don't want to)
- Boumsong is getting embarrassing; hopefully it won't be too long before players are fit and we can 'rest' him
- ditto Shearer; except that he'll never get left out the team no matter what
- Ramage had a canny game; he did as well as anyone's done at left back all season
- Souness should get loads of flak for his substitutions; bringing on Faye for Emre says to S********d that we're just going to try to hang on to what we've got, which gives them an immediate lift; if they'd have equalised (and they were f**king close) I would have blamed GS entirely**
* Correction - I've just seen on nufc.com that the second goal was apparently an own goal; but Shola was heavily involved
** Apparently Emre asked to be taken off; in that case we should have played out with ten men




Back to Bohs
These days Portsmouth is comfortably the furthest away trip that we have. It takes long enough to get there and back by car, Wednesday 28th September was 28 years to the day since we beat Bohemians 4-0 at St James' in the UEFA Cup. The same day, totally coincidentally, I paid a visit to Bohemians' ground. I was over in Dublin for work and had a bit of time to kill and thought I would have a walk up to Dalymount Park to see how it had changed since I was there in 1977. Well, I've got to say that it was nothing at all like I remembered it. Not because the ground's changed much (quite the opposite in fact), but because my memory of it is completely screwed up. In fact it's quite scary just how far out the way I remember it is. The outside of the ground and the surroundings were exactly as they would have been when I was there previously. Inside is a bit different - mainly a few seats bolted onto the terraces - but not much. If anything the ground's even more of a dump now than it was then.
There was great excitement when we qualified for Europe for the first time in about six years by beating Villa 3-2 in the last game of the previous season. I myself had never been to an away game in Europe and was looking forward to a nice trip to Germany or Holland. So it was a bit of an anti-climax being drawn against Bohemians. I wasn't even sure whether it really counted as abroad or not. In those days they even had the same money as us! The enthusiasm for our UEFA campaign was dampened generally by the start we had in the league that season. After beating Leeds at home on the opening day we went on the longest losing streak in the league in the club's history. It eventually stretched to ten games, and was five by the time we played the first leg in Dublin. Largely as a result of our league form there weren't that many Toon fans made the trip. Most that did go went with the club and caught the ferry from Liverpool to Dublin. I had a student railcard in those days and so jumped on the train to Holyhead and then took the ferry over to Dun Laoghaire. It was my 21st two days before the game and I'd asked everyone to give me money to pay for my trip.
My mother had warned me to be careful (as mothers always do!) because I was going to Ireland. I told her not to worry as I was going to Southern Ireland, not Northern Ireland which was where there were big problems at the time. Being young and naive I had absolutely no understanding of what was actually behind the problems in Northern Ireland, and therefore didn't realise that there were a lot of people in the South that aren't too keen on the British. I soon learnt. To be fair though, most people over there were great, but we did get the odd bit of abuse shouted at us from passing cars.
Ireland was a real culture shock. We arrived in Dublin itself at about half 7 in the morning and were amazed to find that there were pubs open. Of course, we had to dive straight in one. But it wasn't that long before the novelty wore off and we headed off to get some breakfast and find digs for the night. Once a hotel was sorted we still had a load of time to kill before the game. A trip to the Guinness brewery was the natural thing to do, and we hoped that we might get some free beer out of it. Not surprisingly we weren't the only Toon fans with the same idea. We had to sit through a pretty boring slide show about the brewery, but eventually we were indeed taken to a bar for a couple of free halves.
Next on the agenda was a trip to Dublin Zoo, conveniently not far from the ground. A couple of hours later and we rolled up at the ground. I haven't got a clue what time this was, but it was early. I can safely say that we were the first fans, ours or theirs, to get there. We had a bit of a walk around the outside of the ground. It was pretty much totally dead, but we eventually bumped into some sort of club official. We asked him which end of the ground the away fans went in. He replied that, depending on which way the teams were kicking, the home fans went in one end, the away fans went in the other, then they swapped at half-time. We thought that this sounded very civilised and wandered off in search of refreshment. I spent quite a bit of time last Wednesday trying to work out where the pub was that we went to, but I think I found it in the end. Wherever it was though the barman was an absolute star. Even though he was rushed off his feet he always knew who was next. A bit different to most bar staff today.
After several Guinnesses it was finally time to go to the game. We left the pub to find that things had totally transformed while we'd been sinking our pints. Now there were people all over the place, and the crowd was obviously going to be a lot higher than the thousand or so they got for league games. When we got to the ground we were told to go in the terrace along the front of the main stand. So much for swapping ends at half-time then. Inside the ground the atmosphere was anything but friendly. I can't actually remember much about the first half, but the second half was when it all happened. In fact it all started before their team came out after half-time. We'd come out first and the players had naturally gone down to the end we would be defending. There were fans sitting on the top of the stand at that end (how football's changed!) and some of them decided to start lobbing missiles at Mick Mahoney, our keeper. Before long something landed right on his head and knocked him out! The Toon fans were going mental and would have quite happily got stuck into the Irish lot, but we were fenced in so couldn't. Still, eventually "Super Goalie" recovered, their team came out, and the second half kicked-off. Next thing you know though their fans behind one of the goals decided to invade the pitch, a lot of them running over to where we were. At this point I was very glad we were fenced in! One of their fans slipped up though. He came right up to the fence to hurl abuse at us, but he had a scarf fastened around his neck and a Toon fan reached through the fence and grabbed it and pulled his head right up against the fence, and he got a good punching from our lot. The pitch invasion lasted for ages. There'd only been six Garda (police) in the ground for an attendance of 25,000, so there wasn't much they could do about it. After a while though reinforcements arrived and they cleared the pitch and the game was finished. The final score was 0-0 for the record. We had planned to have a few pints after the game, but we bottled it and got a taxi straight back to the hotel and never went out.
Next morning we called in for a pint before catching the train back to Dun Laoghaire for the ferry. It was the same pub we'd been in 24 hours earlier when we first arrived in Dublin. The barman had actually been to the game and was really embarrassed about what had happened and couldn't apologise enough. Imagine our amazement then when shortly after we saw the papers. Both their papers and ours were making out that it was our fans that had caused the trouble. To make matters worse, Russell Cushing did his best to confirm their interpretation of events by apologising for our behaviour. Strange that Bohemians were banned by UEFA from playing at home for two years then!
Click on the photos for larger images.
| | | | |
| --- | --- | --- | --- |
| | Missile end | Invasion end | Same end, the view I had |
After seeing off Bohemians back at the Toon we were drawn against Bastia in the next round. I fancied going over there for the first leg, but decided against it. I'd only started my first job a couple of weeks earlier and thought it might go down well taking a few days off. Plus I was really short of cash. I decided I'd save up for the next round instead. Big mistake. It would be 17 years before our next away game in Europe - Antwerp. And that's another story.



The longest day
These days Portsmouth is comfortably the furthest away trip that we have. It takes long enough to get there and back by car, but it really is a long haul on the train. I myself left the house just after half 6, but some people had been on the road for ages by then - Cramlington Paul had sent me a text at 10 to 5 saying "On way to pick Brendan up for the start of another adventure to watch the lads. Come on the Toon!". The pair of them were catching the six o'clock train down to Kings Cross, with the Tad lads joining up with them at York. I almost felt guilty about our relatively late start. Almost. It was dark, chilly, and raining steadily as I walked top the bus stop. Quite a contrast to the warm sunshine that would greet us in Portsmouth.
Stevie Round and The Stead were already at the station when I got there. Steady looked like he's come straight from an all-night drinking session. It turned out he was in fact in bed by half ten. In that case he must have been in a hell of a state when he turned in. We'd only just pulled out of Leeds station when Stevie cracked open his first bottle of Sainsburys cider, and Steady wasn't far behind him. We passed the time playing what Stevie calls "Sevens". It's about as easy a card game to understand you can get, but it still took Steady a few games to catch on such was his condition. Even once he'd got the hang of it Stevie still won just about every game, something like eight out of twelve.
After a fairly uneventful journey we pulled into Kings Cross right on time, which gave us plenty of time to get across to Waterloo for our next train. The other lot's train on the other hand had been 45 minutes late getting there and so they were now only half an hour ahead of us. There were loads of Toon fans on the train from Waterloo to Fratton (where you get off for Fratton Park), and most of them had had the odd drink, so it was quite lively.
As soon as we got to Fratton we headed straight for the nearby Wetherspoons where the advance party had set up HQ. There were a few other familiar faces in there as well - Derby Tommo and his brother, and Dennis amongst them. Beer and food prices were surprisingly the same as Wetherspoons in the Toon. Usually when you go anywhere down south, not just London, prices are much higher. It's a pity that the service wasn't also the same as Wetherspoons in the Toon. It was ok early on, but it took for ever to get served after about 2 o'clock. In fact I gave up and went next door to the Magpie for a final pint.
After the game we raced back to Fratton station to make sure that we got on the first train back to Waterloo. Miss that one and there was a serious danger of us missing our train out of Kings Cross, which didn't bear thinking about. But we caught it no bother and it was surprisingly quiet, at least it was once most people had got after the first couple of stops. We ended up sat with a group of females who we soon found out were related to the darts player Cliff Lazarenko. One was his sister, another his niece. The youngest one was also supposedly a niece, but she was also supposedly only eleven. Anyway, apart from being lovely to talk to, they gave us sweets and packets of cheese snacks. Canny lasses!
We pulled into Waterloo bang on time, which meant we had loads of time to get over to Kings Cross. We didn't hang about though because we wanted to be able to stock up with food and beer when we got there. In fact we reached Kings Cross just as a battle between Leeds and Man U fans (as we found out later) was ending. Actually, massacre is probably a better word than battle. The Leeds fans told us that they'd been ambushed in the Flying Scotsman by about 150 Man U fans and had got a good kicking. And these Leeds fans were big lads in their thirties and forties who I'm pretty sure could handle themselves. One of them quite casually told us how he'd taken out a Man U fan in the middle of the road and was hoping it wasn't on CCTV. We found all this out on the train, where the Leeds fans spent most of the journey back trying to track down any Man U fans who were on board. I don't like to think what they would have done to them if they'd have found any, which I don't think they did. We just kept our heads down, Stevie telling them how much we hate Man U and how much we like Leeds!
Anyway, in between trying not to upset the Leeds fans we played Sevens all the way back. This time we played for money, not like the way down, and this time Round Boy couldn't win a game to save his life. Whereas I'd had a string of really crap hands coming down, I now had stacks of fantastic hands and so was showing a very healthy profit by the time we got back. Thanks lads.
We were actually a few minutes early pulling into Leeds. This was really good news for Stevie. He had intended getting off at Wakey and paying 15 quid for a taxi to his place. But we were 95% sure that we'd get to Leeds early and so he took a chance and stayed on. And sure enough, we were in time for him to catch the last train to Huddersfield. Well I assume he caught it, the three of us heading off in different directions on the last legs of our long journey home.

Worse for wear


Wetherspoons

The luxurious away end

Pontoon school



These youngsters haven't got any stamina



Two of the Lazarenko clan


Marathon effort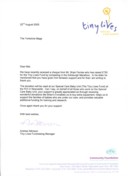 As most of you will know, Yorkshire Mag member Brian Ferries has been raising money for Tiny Lives again. Last year it was the London Marathon, this year it's been the turn of Paris and Edinburgh. He raised over £700 in sponsorship by completing the two events. Well done to Brian (again!) and to those of you that supported him. We've received a letter from Tiny Lives thanking us. Click on the image on the right to see what it says.
Brian's sponsorship will shortly be added to. Paul McKenna has something like 200 quid that he's collected over the last three Predictions competitions, plus JT raised around 130 quid at his work recently. Canny lads!
On a totally different subject, didn't that Aaron Hughes look a canny player against England. Pity he doesn't play for us.


A new beginning?
There was a pathetic turn-out for the recent AGM. Only eight people could be bothered to drag themselves down to the Grove for what was always going to be an important meeting for the future of our club. No doubt some people had genuine reasons for not being there, but it's likely that some stayed away to make sure they couldn't end up on the committee, knowing that Tom, Alan and Darren had all announced their intention of standing down. This is very disappointing as it's unfair to expect the same people to keep putting the work in year after year, plus it can surely only be good for the club to have an infusion of new blood and fresh ideas occasionally.
Anyway, for the benefit of those that weren't at the Grove, some key decisions were reached after much discussion. I'll do my best to summarise them here, although you'll need to wait for the full minutes for the official version of events.
- the club will be run on a less formal and more flexible basis from now on
- there'll be no more monthly meetings with agendas and minutes; instead informal get-togethers will be arranged every 2 or 3 months, and these will be held at locations throughout the area; the first will almost certainly be in Huddersfield in October, but this has still to be confirmed
- the role of Secretary should be effectively redundant in the new set-up, so no-one will take over from Alan
- Maggie volunteered to take over as Treasurer, to be assisted by Stevie Round
- we'll continue to have a Chairman, as a figurehead and to provide co-ordination; Steve argued passionately that we desperately needed someone from the previous committee to stay on to give continuity, and Tom in the end agreed to remain Chairman for another year; to be honest, he didn't take much persuading now that the role doesn't involve having to provided Chairman's opening remarks at monthly meetings
- subs will remain at the current level for another year; there was some talk of getting rid of them, but it was felt that paying a fiver gives people a sense of "belonging"
- subs are now due!; you can of course hand your money to Maggie or Steve at a game; I'm not sure what postal alternative there will be, but I'll put something on the site when I find out
- anyone paying their subs in time will be included in a free Christmas draw with cash prizes




Toon 1 Chelski 1
Not a bad end to the season. I can't not mention though how crap the Chelsea support was. Ok, the fans you bumped into in the pubs were decent enough, and they made a bit of noise in the ground, but imagine if it had have been the other way around. If the Toon had just won the title for the first time in 50 years you wouldn't have been able to get a ticket for love nor money, and the away section would have been absolutely jumping from start to finish. As it was there were loads of empty seats in their bit and the people that did bother to turn up only got excited when they sang that incredibly tedious "One man went to mow" thing. It seems that they're already blasé about success.
There was a big group of us gathered on the platform at Leeds station to catch the 10.12 train up. Even Tom, Alan and Mike had dragged themselves out of bed to catch the earlier train with it being the last game of the season. Also there amongst others were Steady and his lass Adele, and the Kemps. Big Issue and the Huddersfield brigade were already on the train. Stevie Round had his cards with him again, so Chase the Ace was the order of the day as usual. We've been spoilt in recent years by the fast Virgin services up to the Toon. The Transpennine train seemed to take for ever in comparison! Still, it got us up there, and just in time for first orders.

There was a full turn-out in Spoonies, which meant I was able to get in the last of Brian Ferries' sponsor money. Altogether I've collected £127. Added to that is the 12 quid I raised from sales of the Sochaux trip DVD, so that's 139 quid altogether for Tiny Lives. Thanks to everyone that contributed, and well done again to Brian.

Also collected in the pub were votes for the Yorkshire Mags Player of the Season. Big Al will no doubt be devastated to learn that he's going to have to hand back the trophy. In fact he only got one vote! The final result is in fact:

Leeds season ticket holder Adele looking at home
in a Toon top
Taylor
Given
N'Zogbia
B****r
Shearer
Ramage
Dyer
Bernard
Titus
Robert
7
6
2
2
1
1
1
1
1
1
Some strange voting as ever! Congratulations to Stevie Taylor though. Hopefully it won't be the only trophy he wins with the Toon.
Just about everyone showed up in Wetherspoons after the game. A couple of pints later and we headed off for the 25 past 6 train loaded up with beer. Not Aaarrroooonnna though! He'd bought a couple of bottles of cider sure enough, but he'd forgot to mention that they were to take out, and so the tops hadn't been left on. And it was more the bouncers' jobs were worth to let him take them out the pub and he had to leave them behind. So it's fair to say that he wasn't too happy as he boarded the train. I think I might even have heard him swear.
As is usual on the last day of the season, the train journey back was fairly boisterous. Missing this year though was Big Issue's traditional rendition of Bohemian Rhapsody. No doubt he would have treated us to it had he been there, but he wasn't. I assume he'd caught an earlier train. Well either that or he'd been arrested again. Instead we had to make do with more Chase the Ace. It was an interesting logistical problem - nine of us in the game and scattered up and down the carriage. We moved on to Pontoon for the last bit of the journey. Steady was true to form - he put the maximum stake on every single hand and had just about paid for Stevie's train ticket and beer by the time we pulled in to Leeds.

Naughty boys
For anyone that's seen the message board and wondered what the "How many YMs?" is all about, I'll do my best to fill you in. However, I didn't actually witness any of the goings on myself. The bottom line though is that no less than three of our party (but I think only one of them a YM member, and him not a resident of Yorkshire) ended up in the cells on Saturday. It seems that two of the arrests (and possibly even all three) were the result of an incident in the Arkles before the game. The place was, as ever, pretty lively as kick-off neared. Derby Thommo got a bit carried away and stood on his chair at one point. Grabbing hold of a light fitting for balance probably seemed like a good idea until the chair toppled over. Thommo ended up on the floor, along with bits of broken chandelier. A little while later Thommo and Big Issue were walking through Stanley Park towards Goodison and got ambushed by a squad of police. For some reason Big Ish was blamed for what happened in Arkles (perhaps the plod are still trying to get him back for the 10 grand damages he got out of them) and has been hit with four charges, including criminal damage and approaching a football ground when p*ssed. One of the many Toon fans that managed to get into the ground despite being p*ssed was Paul Blacklock. Paul wasn't so lucky after the game though cos he got arrested just after leaving the ground. I've no idea why, but it could be that the police reckoned he was a co-conspirator. Whatever the reason, by the team he was let out he'd missed the last train back to the Toon and so had to crash out at Big Issue's.
Most of the YMs who went to the game set off from Leeds on the 9.08 train. Paul B and Brendan were already on it, having left the Toon about half 7. Paul was clearly up for a good drink as he was on his fourth can of Stella by the time we left Leeds. Steve Round, the Doc and a few others got on at Huddersfield. Stevie had a pack of cards with him, so as usual we had a few games of Chase the Ace on the way over. After arriving at Lime Street we headed round the corner to the bar in the Adelphi, getting there bang on opening time. The beer was dirt cheap, but otherwise the bar didn't have much going for it. It was almost as cold as the pub at Palace, and the lights above the pool table didn't work. That didn't stop us having a few games of killer pool though. Before long we were joined by Alan and Mike, and Everton Bob. By now we had almost a full complement. About the only people missing were Big Issue (got up VERY late and so went straight to Arkles), top ten fan (well, it is an hour from where she lives I suppose) and incredibly Gordon, who had been ordered to go up to Scotland on a family bash for his Dad's 60th.
Just as I was starting to lose all feeling in my hands, we jumped in taxis to Arkles. After a couple of pints in there, I was talked into heading off to an Everton pub with Alan, Mike and Bob. Bob reckoned it was a 20 minute walk. It would actually have been less than that if he'd have known the way. Instead we went in a big loop to get there. After 10 minutes Bob informed us that we were "nearly there". In fact it was another 15 minutes' walk. Alan was almost in need of medical attention by the time we finally got there!
After the game we gave the traditional pint in the Springfield a miss and headed straight for buses back to Lime Street while the bulk of the Everton fans were still in the ground. One or two people caught the 17.22 train, but most of us paid another masochistic visit to the Adelphi bar and went for the 18.22 back, stocking up with cans at the new Spar up the side of Lime Street.
Briefly touching on the game, I might be in minority of one but I honestly can't see what Shola did to merit a red card. He didn't elbow or punch anyone. He didn't do anything that could have caused injury to Cahill. All he did was push him in the back of his head. And not without some justification.


Self inflicted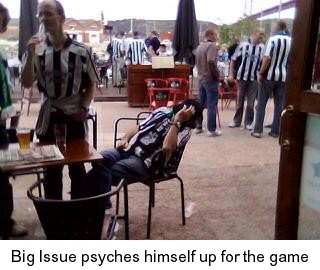 We've only got ourselves to blame for being out of Europe. We wasted chance after chance at key moments against Sporting. We were lucky with the one goal that we did score, but for long periods after that we were controlling the tie but didn't kill it off. Bowyer, Milner, Dyer and Kluivert were all guilty of wasting great opportunities. Every time it happened I worried that it might cost us eventually. All the way through I was hoping that the game would just die, but Sporting wouldn't let it happen. They scored their goals at key moments though. I'm pretty sure that if we'd got to half-time at 1-0 their heads would have gone down. Likewise, if we'd have held out for another few minutes at 1-1 I think that we'd have won the tie quite comfortably. Equally I feel we were quite unlucky with injuries. Dyer going off was a big blow, then as soon as O'Brien came on we looked much shakier at the back.
I'm really p*ssed off for myself as I really wanted to go to Lisbon for this game but couldn't because of work, and was therefore desperate that we'd get though to the semi when I could go. But I also blame myself for the defeat because I (briefly) allowed myself to think about going back to Lisbon for the final. Sorry folks. So now we're just going to have to beat Man Ure on Sunday with a scratch team. It's "Stand up and be counted" time.
Oh, I nearly forgot to mention the Robert "situation". I'm not totally sure what's happened, but I'd like to know what part the press had to play in all this. How come the story broke when it did on the morning of a key game? Did the press ask leading questions then twist the answers to make it look like Robert was trying to undermine Souness? I'm pretty sure that there are a lot of people in the media that don't want us to be successful. Personally I think Souness has over-reacted and done exactly what sections of the media expected/wanted him to do.


Spurs 1 Toon 0
To be honest, I wasn't expecting much from this game. And I certainly didn't get much! After about an hour I was thinking that with the number of players that we had missing it wasn't unreasonable for us to be struggling against virtually a full strength Spurs team. And then I realised that we're going to have basically the same players to pick from next Sunday!! It's quite scary really.
I've been saying for years that the reason I think Stevie Harper is a better all-round keeper than Shay is his kicking. And then look at what he goes and does today! His wasn't the only howler mind. Butt (again) and O'Brien were both lucky to get away with not costing us a goal. Meanwhile at the other end Robinson and King contrived to give Milner as easy a chance as he can ever expect to get. But he completely cocked it up. What's really incredible though is that when you see a replay of it it looks like the ball went exactly where he aimed it. To be fair though, Milner was far from the worst player on the pitch for us. The only real plus for me though was Charlie N'Zogbia when he came on. As well as being about the only player to cause their defence problems, he made sure that he did the simple things right. It's so much easier when players aren't giving the ball away when under no pressure.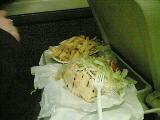 It seems like the lads who travelled down to White Hart Lane had some fun and games getting there. The train from the Toon with Paul Blacky and Gordano on board got held up outside Donny. Some kids had put a bag of cement on the tracks. When they ran over it there was what appeared to be smoke inside the train, so the train naturally had to stop. Meanwhile Big Issue's train didn't even turn up, and then the one that he eventually did get was diverted. When they did finally get to London, Paul and Gordano got sunburnt while drinking their own beer in the pub beer garden. Nothing new there then Gordon. Then on the way back Paul stuffed himself with a large mixed kebab (pictured).
Slightly earlier in the day Brian Ferries successfully completed the Paris Marathon. He reckons that he was "elated just to finish". His time was 4hrs 16mins, but he was probably saving himself for the Edinburgh Marathon in June. For some reason Brian had booked himself onto a flight back that meant he couldn't see the Spurs game on the box. Or perhaps he knew what it was going to be like.
A word for anyone reading this that cheered Lee B****r onto the pitch on Thursday. His actions away from football should ensure that he was already held in contempt by everyone. But his brainless assault on Dyer means that we're now missing two of our most influential players in Cardiff in one of our most important games in years. He might be thick as sh!t but he's still got enough about him to know that if he gets kicked out of Newcastle he might have nowhere else to go in football. So what does he do? He says he's sorry and that he wants to spend the rest of his career playing for the Toon. And people buy it for fcuks sake! Personally I hope he rots in hell.


Back on track
What a difference a week makes. It's just a pity that all the doom merchants at the Man U game weren't at Palace to see that we aren't in fact relegation material after all. Plus those same so-called fans would have witnessed what supporting the team is all about - 90 minutes of non-stop racket.

The stand at Selhurst Park that the away section's in might not be the most modern and luxurious in the country (quite the opposite in fact), but the fact that it's old-fashioned and has a low roof means that it's a reminiscent of how most grounds were not so long ago. And the Toon fans at the game turned the clock back a few years by giving the sort of support that we hardly see now. Of course it helps that we played well and won, but even before we scored there was no let-up in the level of noise.
Palace aren't the best team around of course, but they'd had a really good run leading up to this game. Their confidence was bound to be high, so it was reasonable to expect a tough game. It's therefore a credit to our players that it looked right from the kick-off like we were the team in form. It helped a lot that we reverted to playing the way that we play best, with width and pace good movement, and with midfield players taking turns to burst forward. It's possibly (or even probably!) significant that the improved performance coincided with Shearer and Butt not playing. As it happens Kluivert didn't have a great game, and his goal only made up for an earlier chance where he blasted well over from 15 yards when he should probably have scored.
Steady's preparation for the day involved staying up drinking with an alleged murderer until 4 am. I think he was helping her with her defence strategy. Or something. Anyway, he wasn't a pretty sight at 8 o'clock on the train. Having Steady with us of course meant that we had to play pontoon all the way down to Kings Cross. And he might have been the worse for wear, but that didn't stop him taking us to the cleaners once he'd got the bank. I think I can safely say that we paid for his train ticket. Speaking of tickets, Sean from Bradford had a big scare on the way down. He couldn't find his outward ticket anywhere. the ticket inspector turned up as we were taking the carriage to bits looking for it. Then Steady couldn't find his outward bit either! Eventually though it transpired that Stevie Round (TMG to be?) had cocked up and given each of them two return portions. Panic over.

London was grey and freezing and so even more depressing than normal. We had a couple of pints in the Wetherspoons opposite Thornton Heath station, but then someone had the bright idea of going to another pub that had the Rangers-Celtic game on. So we left a nice warm pub selling a good range of cheap beer and with food available to set off on a 10 minute trek in the cold and rain in the opposite direction to the ground to end up in a freezing cold pub with a crap range of overpriced and overchilled beer and no food whatsoever. Remember the name (the Parchmore) and avoid the place like the plague. You might think I'm exaggerating, but Bradford Chris was wearing his gloves inside the pub. I was drinking John Smiths Smooth (the only beer beer they had) and my hand was going numb the beer was so cold.
It was still raining when we set off for the ground, so we got a bit of a soaking on the way. But at least it was pretty warm inside thanks to the previously mentioned low roof. And all the singing and pogoing soon had us dried out. It might have been cold and raining walking to the station after the game, but I can't say I noticed.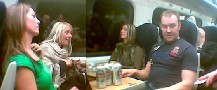 We were back at Kings Cross in plenty of time to get stocked up and beer and food before getting on the train. But Steve and big Ian decided to get straight on board (like because the train might leave early??), and so paid three times as much per can as the rest of us did. Naturally the cards were straight out again. This time though I think we all more or less broke even. Ian was finding it had to concentrate fully mind as he chatted up (only joking Emma, make that 'chatted to') the three women he was sat next to.

There were actually only four out of the six of us playing cards. Chris and Sean aren't away trip hardened yet and so slept virtually all the way back. You need to work at it lads! Just over 2 hours after leaving Kings Cross and we were back in Leeds. Steve and Ian were getting picked up by Emma and going for a curry. I wandered off to catch my bus, looking forward to watching Match of the Day later on.


Trotters 2 Toon 1
Well our unbeaten run had to end sometime, and I had a feeling it would be against Bolton, but it was very disappointing to lose the way that we did. The bizarre team selection had me worried. I've no idea what the reasons for leaving JJ and Ollie Bernard out were, but the end result was that we were totally disjointed for most of the match. Apparently Souness said after wasn't the game that he thought we'd defended well throughout. Apart from the obvious that we conceded two sloppy goals, what's the use in defending well if you're doing nothing at the other end? Surely we shouldn't be looking to not get beat against a team like Bolton. Ok, they're fourth in the table, but they must be about the worst team ever to get so high in the league, and they won't be there at the end of the season.
Apart from the fact that you have to got to work the next day, the biggest problem with Sunday games is that the train service can be all over the place. On this occasion it was the trains between Leeds and Piccadilly that was affected by engineering work. Instead of the usual hour, they were taking an hour and a half, and the trains back after the game weren't stopping at Huddersfield which was a pain in the @rse for Stevie Round. In my case it worked out that I was best off getting a train from Bradford to Victoria. Now it's not very often I venture into Bradford, and I wasn't sure how much the bus fare would be (I know from bitter experience that Day Riders run out a long way before there), so when I got on the bus I said "Bradford please". "One ten" came the reply, pretty much what I expected. As I was handing over my pennies in exchange for the ticket the driver threw me by suddenly saying "Did you say 'One ten'?". "No, actually it was you that said 'One ten', I said 'Bradford please'" was what I thought, but what I actually said was "Err, yeah". Move on half an hour to when we arrived in Bradford. As I was getting off the bus the driver shouted "Excuse me!" Taken by surprise, I turned round to see what he wanted. "If you check your ticket you'll find it ran out in Guiseley". Thrown by this, but thinking he'd got me confused with someone else (I mean, there were dozens of Toon tops on the bus) I replied "Sorry, I got on at Yeadon and paid one ten". "And that only gets you as far as the White Cross at Guiseley". There followed a bizarre discussion/argument, which ended when he told me to forget the 10 pence I apparently was trying to fiddle the bus company out of. I walked away still confused and actually quite annoyed.
That wasn't the end of my travel-related incidents for the day. The train from Bradford arrived at Victoria a few minutes late, but that still left me plenty of time to get down to Deansgate where I was picking up the train from Piccadilly to Horwich (the station by the ground). But just as I arrived at Deansgate I realised that my outward ticket was still on the table on the other train. Doh! I hoped that I'd be able to sweet talk the guard (I still had my return ticket which would help), but at the end of the day I'd cough up the couple of quid for a single if I had to. As it happens there weren't any ticket checks. Surprisingly, there were no other YMs on the train. Steve and Brendano had intended catching it, but in the end they'd decided to go by car, driven by Brendan's lass Lindsey. Also surprisingly missing was Gordano. For some reason known only to himself (or perhaps not known to himself!), he'd agreed to to take Andria up on an offer of a lift from Piccadilly to the pub. Bear in mind here that the train takes 30 minutes to get to Horwich, then it's 15 minutes walk to the pub. Also bear in mind that Andria hasn't passed her test yet and so can't go on motorways, and that the only route she knew was from Piccadilly to her house then to Bolton. So whereas myself and Round Boy's mate Whitey (who I'd arranged to meet up with on the train cos he didn't know how to get to the pub ) had a leisurely train journey and stroll to the pub and were knocking back pints by 20 past 12, Gordon and Big Issue had an extremely frustrating mystery tour lasting an hour and 20 minutes and didn't get to the pub until about 2. Ah well, you learn from your mistakes.
After the game it was straight back to station for the 18 minutes past 6. The good news was that there was an earlier special service that only stopped at a couple of stations en route to Piccadilly. We then had nearly 20 minutes to get over to Victoria for a fast service to Leeds. Gordon (obviously preferring the train by this time) and myself set off at a brisk walk with the odd bit of gentle jog thrown in, and easily made it to Victoria in time. Or at least I did. Gordon was wheezing and gasping and dripping with sweat. The bad news was that everything was shut at Victoria (why??), plus there was no trolley service on the train, so it was dry journey back to Leeds.
We didn't have a ticket check on the way back, and Gordon's hadn't been checked on the way out, so, instead of rushing off to the Angel for a couple of pints before his bus as he'd intended, he sneaked through the barrier without handing his ticket in and made a bee-line for the ticket office to get a few quid refund. I suppose he needs the money.

Gordano queues for his refund


Here we go....