The Watford game epitomised our season - a disjointed performance, with half the team looking like they'd rather be somewhere else. We heard on the way to the ground that Pattison was playing and that N'Zogbia had stormed out the ground in disgust. I initially had some sympathy for Charlie because, let's face it, Pattison's not going to make a Premiership player. But when I think about how awful Charlie's played whenever he's been in the team this season, he can hardly complain. And to rub it in Pattison actually had a canny game. He worked hard and kept it simple. Dyer, although still poor overall, made some decent runs from midfield, one of which of course ended up with him ending our goal drought.

It may have been a typical end of season game on the pitch, but it certainly wasn't off it. If it had have been it would have been hot and sunny. Instead it was cool and wet. In fact, very wet in large areas of the away section where the wind was blowing the rain in. Those of us in those seats with sense (or no coats!) moved to the back of the stand and 'squeezed in'. Others (like Alan H) just stayed there and got drenched. It was good to see 'the' flag put in an appearance, even if it was particularly dirty and smelly. It would have been better though if it hadn't have been upside down and the wrong way round!

It was interesting to see that Watford had a big celebration after the game. This was obviously a complete contrast to what happened at SJP at the end of the Blackburn game. However, this is all down to expectation. The Watford fans expected that their players would give 99% all season, but knew that the team would probably struggle and quite likely go straight back down. Which is exactly what happened. I wouldn't say that us Toon fans expected the players to give 99% every game, but we expected a lot more than we got. And we certainly expected to finish a lot higher up the table than 13th, plus we expected to be entertained occasionally. On top of that we've got a club, a Chairman, and half a squad of players who treat us with contempt.

| | |
| --- | --- |
| Brendan and his Mam | Fringe and his uncle |
| The train boys | The flag comes out in the pub! |
| He's not wrong | The flag enters the ground |
| The flag gets unfurled | Just like the old days |


Thank f### it'll soon be over

I honestly thought we would beat Blackburn. Just shows what I know. If I'd have looked at it rationally I would of course have realised that we were never going to score. We've got probably the shortest front two on the planet with no-one capable of playing the ball to them below 10 foot in the air, and no-one else in the team looking likely to help out on the goals front. At least at Reading we had Sib playing balls through for Oba and Owen to run on to, and also the occasional diagonal ball in from the little Turk. With both of them injured and with Scotty Parker failing miserably in a more advanced role it was back to lumping long balls forward. Not only was it unsuccessful, it wasn't pretty either.

So what's Glenn going to try at Watford in what is possibly/hopefully his last game in charge? A repeat of the Blackburn tactics will see Owen checking his contract for a get-out clause. For me we've got to give our game plan a radical re-think. Instead of playing two wide men (Dyer's a complete waste of space in that role anyway) we have to somehow get some decent service to the front two. I'd go for a midfield of Nobby, Milner, Dyer (and then get rid in the summer) and Butt or The Zog (probably Charlie cos it is Watford after all), and hopefully we can end the season with a few goals.

A quick straw poll before the game saw James Milner an overwhelming choice as Player of the Season (and Young Player and Most Improved Player for that matter!). It's all a bit academic mind because we can't present him with the trophy. We still haven't been able to get it back from a certain Mr A Shearer.

Congratulations to Big Issue for a display of late-season numbness. He slept in and by the time he came to he couldn't make the kick-off. I'm sure alcohol wasn't a factor in this. On second thoughts, perhaps it was actually the application of sound common sense.




Reading 1 Toon 0

Yet another away defeat. Yet another game without a goal. But at least there were a few positives to come out this game. We could, possibly should, have won it. We certainly controlled most of the game and had enough chances. That said though, we were always at risk of conceding thanks to some kamikaze defending by Bramble plus Dyer getting caught in possession at the back, one such piece of buffoonery by our captain on the night (inspired decision by GR!) leading to the goal of course.

Owen looked pretty sharp (sharper than the linesman in fact), and Shola was a threat when he came on. The latter is offset though by the injury to Sibierski who, until he got injured, had played really well in that linking role between the midfield and the front two.

Round Boy's considered view of the game and the state of the Toon in general:
"We were a shower of sh!t. Can't wait for it to be over. We were totally clueless, even with our most attacking players! They're overpaid and Roeder is not the right man. A rudderless ship comes to mind. We must be stupid to renew our season tickets. What's Fat Freddy going to do with a lot of empty seats? 42 points, what a disgrace!"
Get off the fence Stevie. (See me after class for a word about your spelling and punctuation by the way)



Toon 0 Dodgy Russian millions 0

Another home game without a goal, but the performance against Chelsea was a massive improvement on the previous three home games. I'd expected the players to show a decent attitude after the criticism they took for the shambolic performance at Portsmouth, and so it turned out. I'd also expected that Chelsea would be really fired up after Man U's result against the Smoggies, but in fact they were strangely unadventurous. I kept thinking that at some point they'd up their game and probably pinch the win, but it never happened. We weren't particularly adventurous ourselves mind - Emre and especially Butt tend to work harder when the other team's got the ball than when we've got it, which means that the front players really lack support. But on the day I can't really fault a single player (including Bramble! - although he's still got to be got rid of in the summer). Well, when I say I can't fault a single player, I can actually fault one. Dyer again went through the motions. Ok, he was playing wide right, which isn't his best position, but that's no excuse for looking disinterested. Just as worrying as his general performance was the fact that he was caught out for pace a few times. And let's face it, other than his pace there's never been much to his game.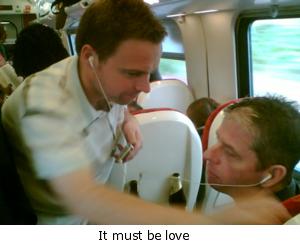 I've got to say that I was really impressed with Andy Carroll when he came on. Based on the little I know about him I'd got it into my head that he didn't have much to offer other than being big and strong. But during the short time he was on the pitch he suggested that there's a lot more to him than that. It would have been understandable for him to have been a bit overawed, but on the contrary he looked full of confidence. When the ball played to his feet his touch was good, in fact he was happy to take a couple of touches before laying it off. More pleasing though was his movement. He drifted all over the place across the front line. A player doing that causes real problems to defenders, and also leave gaps for other players to run into. Or at least it does if you've got players prepared to run into the gaps.

So do you think the people behind the 'Teesside Blues' flag are:
a) A bunch of Londoners who've all had the misfortune to end up living and working in Smogland?
b) A load of people from Teesside who for some obscure reason chose to support Chelsea years and years ago and who have stuck with them through thick and thin?
c) Gloryhunters?
I didn't think it was c) either. Incidentally, even boosted by the Smoggy branch, wasn't that a pathetic turn-out for a side chasing the title? Big club my @rse.




That's more like it!

The win at Bramall Lane was (for most people anyway) as much of a surprise as a relief. Our 40 points should be enough to keep us up because, although Charlton and West Ham are both picking up lots of points just now, other teams down there are in freefall. It's just a pity that we haven't approached a few more away games with the same determined attitude otherwise we could have been in line for a UEFA Cup spot again.

There was a really good turn-out of Yorkshire Mags for this rare game in Yorkshire. Even Gaz Foster was there, his first away game for a couple of years apparently. Star performance though has to be from Martin Miller who, despite being probably the only sober Toon fan there, managed to get himself thrown out celebrating the first goal! He ended up the wrong side of the hoardings (he claims he was pushed) and was promptly removed by the stewards. They didn't even give him time to pick up his jacket (or his little rucksack containing, amongst other things, his Leo Sayer CD!), which is still at the ground now. Anyone live in Sheffield....?


Some of the early arrivals headed for the Bankers Draft for cheap beer, the rest of us ended up in the beer garden (well, beer yard) of the Old Queens Head. It's apparently the oldest commercial building in Sheffield and seems totally out of place tucked away as it is behind the brand new bus station. Anyway, it sold good Thwaites beer and decent food and so it didn't seem to make sense to move from there to go anywhere else. In fact we didn't really want to leave there to go to the game, but we did. Most of us returned to the pub after the game, when we entertained by some street theatre. First up was a near collision between two cars, which lead to a punch up between the passenger of one and the driver of the other. Norman stepped in to break it up when it looked like one of them was going to get badly hurt. Within minutes it was Tom's turn to act as peacemaker when a couple of young lads (Toon fans as it turns out) were getting picked on by 4 or 5 older and bigger lads (locals as it turns out, so presumably Sheff Utd fans). We were concerned for a while that these lot would drag their mates out of the pub up the road to come and have a go at us, but nothing came of it.

| | |
| --- | --- |
| Hooligan! | Third meal of the day - Keith's obviously on a diet |


Toon 0 Citeh 1

Where do you start? Two poor teams, a shocking game, and a result that means we're still not safe from going down. I'm afraid Roeder's got to take a lot of the responsibility for our current predicament. I know we've struggled at times this season due to the number of injuries we've had, but deep down most of us haven't been that bothered that certain players have been unavailable for long spells. You don't need me to tell you who I'm talking about. Roeder on the other hand, for whatever reason, is bending over backwards to fit them back in the team now that they're fit again.

Roeder shouldn't take all the blame mind. Dyer's done nothing the last few weeks. He came back from his long-term injury full of enthusiasm, but that lasted as long as it took him to get his place in the England squad back. And don't get me started on Scott 'the new David Batty' Parker!! Why did he wait until the last 10 minutes to decide that it's quite a good idea to burst forward now and again? Martins had an absolute shocker, but at least you can't fault him for effort. But back to Roeder. Despite the fact that we were rubbish he waits over 70 minutes before making a substitution, and then what does he do? Replaces a defender with a defender. (I don't know why Moore went off - he may have been injured, but he didn't look it to me). He then realises that the natives are decidedly restless and so tries to placate them by bringing Milner on, even though he hasn't warmed up at all. But even that backfires for him because he takes the easy option and takes off Nobby instead of one of the 'untouchables'.

With seven games left we possibly need another 3 or 4 points to avoid the drop the way that Charlton are going at the moment. The easy way of ensuring safety would be to beat Sheff Utd on Saturday, but I bet there's hardly a Toon fan expects us to be up for the battle that we'll no doubt get down there. At this stage in the season you're looking to games against teams with nothing to play for for easy points. That probably means Blackburn and Watford. Except that I expect Watford to battle in every game even after they're down. So we might be struggling. But you never know, we might just go and stuff Chelsea! As for a team that might get us the points we need, this is what I'd go for:
Shay
Nobby, Edgar, Moore, Taylor
Milner, Butt, Dyer (reluctantly), Charlie
Martins, Sibierski
Mind, ask me again after next Saturday and it's likely I never want to see half of those players in a black and white shirt ever again!



Nowt to play for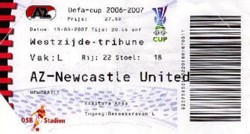 The saddest thing about the feeble capitulation in Alkmaar was that it was so predictable. As a non-performance it was just like Marseille all over again. What was Roeder thinking?!! We didn't try to do any of the things that had caused AZ problems in the first leg. The only good thing was that them scoring their second so early in the second half left us plenty of time to potentially turn it round. Except that Roeder's idea of a positive substitution is to replace Duff with Emre. Isn't that the same Emre who hasn't scored or created a goal in about a season and a half?

A word of advice for anyone planning to travel to Europe in case we ever play there again. Make sure you pack a spare pair of shoes and jeans in case you happen to get pushed in a smelly canal by the local plods. Of course, it just had to Big Issue that was on the receiving end! It wasn't his only misfortune on the trip mind. And he wasn't the only one to have problems. Read on.

Most of our group flew out early on Wednesday, Gordon and Steady from Leeds-Bradford, Big Ish from Liverpool, and Brendan, Kieron and Paul B from the Toon. The Jet2 flight from Newcastle almost got away on time, but the pilot decided halfway down the runway that there was a technical problem of some sort and slammed the brakes on. It was a few hours later that they finally got away. My trip over was a lot less eventful - a gentle stroll in the afternoon sunshine up to Leeds-Bradford to catch the 10 to 5 KLM flight, which was bang on time. I wondered if there'd be any other Toon fans on the flight, but I certainly wasn't expecting to see any other YMs on it. So I was amazed to bump into the Fringe in the departure lounge considering last time I'd seen him he wasn't going to the game, but he'd had a change of heart and booked at the last minute when he heard there were spare tickets and beds going.

Once in Amsterdam it didn't take us long to meet up with the rest of the the lads in the Old Sailor pub. Some of them had had a few by now, which probably explains some of the behaviour. Like Paul showing off his dancing skills (or should that be lack of dancing skills?), and Gordano and Paul almost coming to blows over Joey Barton; Gordon was trying to convince everyone that the Toon should buy Barton, I think it's safe to say Paul didn't agree. At some point Steady and Big Ish got chatting to a Turkish mother and daughter pair. To our amusement the mother took a fancy to Big Issue. Every so often he would come over to us to tell us that his life was in danger as a result of this liaison. He reckoned that a coloured bloke looking on was their pimp and was threatening to put Ish in hospital or worse. This didn't quite tie up with what someone else told us which was that the two women were cleaners in the pub. Cleaners with a pimp??? Still, Big Issue was absolutely convinced that he was going to get ambushed and beaten to a pulp when he left the pub. He didn't. He reckons though that his female friend managed to relieve him of 100 euros at some point.

Eventually people started to drift off. Some headed for their beds, others decided that they wanted food. Darren opted for the latter. He reckons it was a dodgy Chinese that made him throw up when he got back to his room. Nothing to do with the 15 pints that preceded it then Darren?

Next morning I came up with a plan designed to stop me hitting the beer too early. After breakfast I would take advantage of the good weather to have a long look round Amsterdam. I would then get a train up to Alkmaar at around 12 and take a look round there as well. It would therefore be at least 2 o'clock before my first beer. Well the first part of the plan went ok, but then as I was walking to the station I spotted the rest of the lads finishing off brunch and a pint in a café. Needless to say they forced me to accompany them to the Old Sailor and to start drinking pints of beer. After a few in there we moved on to another couple of bars in the red light district, and another one near the station, before finally heading for the train around half 4. By this time we'd lost a few from the group - at some point Fringe had gone back to the Botel to get his cardy(!), and we never saw him again all day, and Steady and Big Issue had also become detached.

Most of the lads bought cans for the train (it was a 40 minute journey after all), but I decided I really needed to eat something (nothing since breakfast and in all probability nothing for the rest of the day) and so bought myself a jumbo sized Kit-Kat. Well it was better than nothing! Before long we were in Alkmaar where we headed straight for a bar over the road from the station. We only had one in there though before setting off for the town centre (so I was finally going to see something of the place!). We could tell from the noise before we got there that the square by the Cheese Museum was the place to be. There were hundreds and hundreds of fans congregating outside the four of five bars along one side of the square. Most of them were AZ fans (the first we'd seen all day!), but probably around a third were Toon fans. We wasted no time getting beers in and joining in with the crack. What happened shortly after is still not exactly clear. I went to the bar to get more beer and when I came out there were chairs and bottles flying. One lad seemed to be getting a good kicking, but I'm not sure if he was one of ours or one of theirs. I never for a second thought that the trouble would get out of hand or last long and so ambled back over to where we'd been stood before the bother started, even though the rest of the lads had by now moved off around a corner. Within seconds a load of riot police arrived and formed a cordon. I think the theory was that it was to keep the two sets of fans apart, except that I and quite a few other Toon fans were on the wrong side of it still chatting to the AZ fans as if nothing had happened. Before long the riot police moved off, and eventually the rest of the lads decided that it was safe to come back. Paul was in quite a bad way though because a police horse had stamped on his foot during the original commotion. More beer and more crack with the AZ fans ensued, although there were a couple of occasions where it seemed like it was going to kick off again. As for who was behind the trouble, I'm pretty sure you can forget all the exotic theories about Feyenoord fans (and Ajax and West Ham fans come to that). I think it was just simply AZ fans who weren't happy about there being so many Toon fans on their patch. They didn't seem to have a general problem with Toon fans though, because I'd walked through the perpetrators without a problem on my way to the bar seconds before it kicked off, plus of course we were still there about an hour later.

So where were Steady and Big Issue during all the excitement in the square? I'm still not sure about Steady (I assumed the pair of them were together, but it transpires they weren't), but Ish was having fun and games of his own. All day he'd made it clear he wasn't happy about drinking in Alkmaar. His theory was that if there was any bother then they'd close all the bars and we'd be knackered. So his plan was to get off the train the stop before Alkmaar (Heiloo) and drink there, then presumably to get a taxi to the ground. Considering the stations at Alkmaar and Heiloo are both exactly the same distance from the ground, this actually wasn't as bizarre an idea as it sounds. However, it's totally academic because Big Issue fell asleep on the train and missed Heiloo. He also missed Alkmaar. I don't know where he ended up, but I do know he got fined 35 euros for not having a valid ticket. It was turning into a expensive trip for him....

Anyway, it was eventually time for us to start thinking about getting to the ground. I'd always assumed we'd walk, but Paul's injury put paid to that. It was agreed to head back to the station and get taxis which was still a long way for Paul to walk in his condition. However, there was ages to go to kick-off and I didn't really fancy getting to the ground too early, so I decided that I was going to walk to the ground anyway, and so off I set. My plan was to head off in the rough direction of the ground and then follow the crowds. Except that there weren't any. I obviously wasn't on the right route and so I did a 90 degree turn to the right thinking I would have to hit main walking route at some point. After a few hundred yards I still hadn't seen anyone else that looked like they were heading for the ground, so I did a 90 degree turn to the left so that I was at least heading in vaguely the direction of the ground. A few hundred hundred yards more and I still hadn't seen anyone. It was at this point I had a mild panic that I would never find the ground and would miss the game. However I asked a passing pedestrian and he gave me good directions and I got there no problem. What was strange during all of this though is that I had a map in my pocket and never for a second thought to look at it! If I had I might have taken the direct route from the town centre to the ground instead of the circuitous route I actually took.

The last part of the walk I was chatting to some AZ fans and wasn't fully concentrating. I suddenly realised the path we were on was taking me away from the away end, which is the nearest part of the ground to the town centre. I was all for jumping over a barrier and crossing a dual carriageway, this being the straight line to where I wanted to be. However, the AZ fans were adamant that I should stay with them, plus the police spread out along the side of the road looked like they meant business. What I didn't know was that there was a canal on the other side of the road. More of that later...... Actually getting into the ground itself was a bit bizarre. They've got those unmanned turnstiles with bar code scanners. But of course they had to have people stood there to show you how to put your ticket in properly. And then there was a bloke on the other side of the turnstile to tear off the corner of your ticket!

Towards the end of the game came the announcement I'd been dreading. "Would the Newcastle fans please remain in their places for 20 minutes at the end of the game". The game finished late enough as it was, and any delays getting out could mean having to get the last (slow!) train back to Amsterdam. As it happens it ended up being nearer to 10 minutes than 20. Everyone not on the official club coaches back to Amsterdam raced out the ground and through the coach park, only to find our way blocked by a set of closed gates. It soon became clear that the police lined up behind the gates didn't intend letting us through. Their justification was that the road outside the gates was a "highway" and was too dangerous for us to cross, and they told us we had to go a different way. We begged and pleaded, but to no avail. Either side of the gates was a canal, and I wondered if it was possible to sneak round, but I decided I'd never get away with it. Eventually myself and Brendan (none of the rest of the lads were with us - it turns out most of them had hitched a free ride back on the club coaches) decided to cut our losses and go the way we'd been told, even though it put at least another quarter of a mile on the distance back to the station which virtually guaranteed we'd miss the half 11 train. Which we did. Even using my map to make sure we went the shortest route back it was still about 20 to 12 by the time we reached the station. On the way we'd passed some locals who sang "You look like Chelsea, you do" (as in "We love you Newcastle, we do") at us. Very strange! I wish we played like Chelsea mind. Anyway, we went for a pint while we waited for the last train, joined shortly afterwards by Kieron. It was in the pub that we bumped into Big Issue and found out about his adventures after the game. Like me, he'd wondered about trying to sneak around the side of the gates. Unlike me, he'd actually tried it. And when he did he reckons that the police pushed him in the canal, then beat him with their truncheons when tried to get out. At least he managed at some point to get a taxi back to the station. But the taxi driver charged him 15 euros extra for wetting the seat. It was turning into a very expensive trip for Big Issue. Oh, and his mobile wouldn't work after it's dunking. It was turning into a very, very expensive trip for Big Issue.

One very slow train journey later we were back in Amsterdam. With the time being 10 past 1 and with us having early flights to catch in the morning (or wanting to get out of soaking wet clothes), we all headed for our beds. And so that's it for European jaunts for the foreseeable future.



Bore draw

For the second time this season the high point of the day was the free street show provided outside of Wetherspoons. Last time it was the taxi that very nearly went up in flames, on this occasion it was the bloke who'd somehow managed to drink himself into a state on virtual unconsciousness before midday. I'd actually seen him being ejected from Spoons as I was crossing the road from the Central after getting off my train. I didn't for a minute expect to see him again, but I was wrong. About an hour later I noticed a police van pull up outside alongside a bunch of concerned people clustered around someone lying perfectly motionless on the pavement. They might have wondered what was wrong with him, but I knew! The police had a hell of a job getting the bloke to come round and so they must surely have realised what a state he was in. Clearly he needed sticking in a cell for a few hours, or perhaps even taking to hospital. We were therefore gobsmacked to look out the window shortly after and seeing him staggering around bouncing off lamp posts and causing the traffic to come to a halt as he weaved across the road. Sure enough, it wasn't long before the police were back. But it still needed a load of head scratching and talking into radios from the four of them to come to the conclusion that was obvious to anyone with an ounce of intelligence. Anyway, that was the last of the entertainment for the day.

It goes without saying that we're almost certainly going to have to improve considerably on the last three performances if we want to progress to the quarter finals of the UEFA Cup. Having said that though, I think people are in danger of building up AZ too much ("I think they'll stuff us two or three nil on Thursday" - Big Issue). While I expect them to provide serious opposition, we're not talking Ajax in their heyday here. The Dutch league isn't what it used to be, and AZ are 8 points adrift of the leaders PSV. I want to see us have a real go at them in the first leg, and that means not setting out with a negative formation with Butt and Parker both included. It's obvious to everyone except Roeder that you just can't play the pair of them in the same team. I've done a quick analysis of our results this season and in league games we're averaging only a goal and point per game when they've both started, whereas it's 1.36 goals and 1.64 points in the other games. Surprisingly, we've also fared better defensively when one or both of them have been missing.
| | | | | | | | |
| --- | --- | --- | --- | --- | --- | --- | --- |
| | P | W | D | L | F | A | Pts |
| Both in starting line-up | 15 | 4 | 4 | 7 | 15 | 19 | 16 |
| Not | 14 | 7 | 2 | 5 | 19 | 17 | 23 |
The difference is even more marked also taking into account cup games:
| | | | | | | | |
| --- | --- | --- | --- | --- | --- | --- | --- |
| Both in starting line-up | 17 | 5 | 4 | 8 | 16 | 21 | 19 |
| Not | 29 | 16 | 7 | 6 | 41 | 29 | 55 |

On a brighter note, I've stuck some pics from Mike's stag weekend in Düsseldorf on the photos page.



Horror show

The only good thing about the Fulham performance and result is that it's almost certainly not going to make any difference to anything come the end of the season. There isn't a player who comes out of the game with any credit. People will say that the new lad did ok, but to me he looks like just another average centre-back, to go with the four or five that we've already got. What we really needed in the transfer window was as everyone knows a left-back. Of course you can only sign players that are available, but I'm not convinced that Glenn had his priorities right from the off. And the last-minute decision to hold on to Luque as 'cover' seems a bit bizarre considering that Roeder isn't going to play him unless there's absolutely no-one else at the club standing.

Who knows if the result would have been any different, but Roeder was (in my opinion anyway!) badly at fault with his team selection. How could he leave Solano on the bench? Let's face it, if Nobby hadn't have been suspended against Villa he would have played in that game and also against Fulham. It appears that Roeder bottled the decision of who to leave out to accommodate him. To make matters worse, he then bought him on with only 5 minutes left on the clock. Surely the change should have been made at least 15 minutes earlier? I always feel that anyone asked to come on so late in the game and with his team two goals behind should be allowed to say "Fcuk off boss you're taking the p!ss". But of course that's not how it works, and so Nobby came on and subsequently produced just about the first bit of quality we'd seen from a Toon player all game with his pass to set up Oba for our consolation goal. This was missed though by some of the Yorkshire Mags. They'd decided by this time (probably not unreasonably) that there was better entertainment on offer at the Flying Scotsman.

Steady managed a bit of outstanding numbness in the Eight Bells before the game. Despite getting in a round that cost 35 quid, he failed miserably to get a drink for Round Boy's mate Jamie who had contributed 20 quid towards the round! Or for Round Boy for that matter. In Steady's defence, he had been up for over 20 hours by this time. And he had had rather a lot to drink!

The lady from Grantham who wanted to take
Fringe home with her



Steady giving serious thought to how much to
bet (What's the odds he goes 50p?)



So far so good (but early days!)



Yes, it really was that bad



Lots of youngsters at the game


Not quite Round Boy's usual healthy eating


Luck evens out over a season?

Isn't it ironic after what happened in our previous two games that there was an off-side element to our first goal against West Ham. Uriah Rennie overruling the linesman's flag was a very timely break because up to that point it was looking like we might be in for a repeat of Wednesday's scoreline. Well ok, West Ham never really looked capable of scoring five, but you know what I mean.

Most people thought that we'd beat West Ham easily. I can understand why considering the Hammers' recent away form, but I always suspected myself that we could be in for a tough game. And so it turned out! Ultimately a draw isn't a bad result as it leaves us 10 points ahead of West Ham with 14 games left. A seven point margin would have looked a lot less comfortable. We've got a few more 'winnable' games coming up against teams currently below us. Victories in each of them would guarantee our staying up, but the most important thing is not to lose any of them.

A big plus from the West Ham was the performance of Edgar after he came on. I don't want to put pressure on the lad by building him up too much, but everything he did was composed and class. Coming on top of his impressive performances against Bolton and Man U it looks like the lad could be a real star of the future. The down side is of course that Edgar was only on because of the injury to Ramage. He'll probably be out for 3 or 4 weeks and so we're shorter than ever of defenders. No doubt Glenn will be bringing a couple in before the transfer window closes though....

Nice one Stevie. The Round Boy slightly overdid the pre- and post-match cider intake and was very boisterous on the train back down to Leeds (Sophie - the lass looking after the buffet - was most impressed). The last I saw of him was when he dashed off to catch his connection to Huddersfield. I've no idea whether or not he caught it (almost certainly not if it was on time seeing as he only had 30 seconds), but whichever train he did get he ended up falling asleep and missing his stop. Next thing he knew he was in Manchester Piccadilly. Naturally you wouldn't catch me doing anything that stupid....




Mighty Spurs 2 Toon Reserves 3

This must have been a great game for a neutral to watch. Much as I detest Spurs, I have to concede though that they could have won by a street, even if their first goal was off-side and the second a miss-hit. Beforehand I was quietly confident that we'd get a draw out of the game, but that confidence lasted all of about 5 minutes once the match kicked off. Quite how we survived for 13 minutes I'll never know, but once the first goal went in I thought the floodgates would open. And they probably would have if we hadn't scored when we did, but the equaliser knocked the stuffing out of Spurs for most of the rest of the first half. Spurs upped their game in the second half though and it was no surprise when they got their second goal. I couldn't really see any way back for us after that, but eventually we did manage a little bit of pressure, and then Oba came up with his wonder strike. It was such a stunning goal that it's not surprising that we were able to sneak another one while Spurs were still reeling. Even then I couldn't see us holding out for the win, but we did through a combination of desperate defending, the post, some Given saves, and some over-elaboration by the Spurs front line.

Anyway, I think it's only right that I take the credit for the victory. I was half-way through putting my shoes on to go down to the pub to watch the game when I realised that it was my unlucky trainers (ie the ones I wore for the dozen or so games of the season before I ditched them) that I was lacing up. Feeling rather foolish because I know it doesn't any difference really, I took them off and instead put on my 'lucky' pair. And the rest is history.

If like me you think that the tickets for this game were expensive (£39 and £44 in the away section), you might be surprised to hear how much some of the Spurs fans paid. The stand opposite the main stand cost £51 and £61, but even this is put in the shade by the prices of the main stand where tickets were priced at a whopping £61 and £71. It almost makes what the Toon charge look like a bargain.




Birmingham 2 Toon 2

Well at least we're in the 4th round draw, but we really should have seen off Birmingham at the first attempt. Once it got to 2-1 it never looked for a minute like Birmingham would equalise. Complacency set in, with players wanting one touch too many, poor final balls, wasted crosses, you know the sort of thing. But it wasn't only on the pitch - I have to hold my hand up and admit that I thought the game was over. I wasn't the only one mind because a lot of the home fans obviously felt the same way judging from the numbers who left well before the equaliser. Not that there were too many of them there in the first place of course. I was amazed when I got into the ground and saw the vast areas of empty seats. I assumed though that the place would fill up at the last minute the way that SJP does. But no, the locals had decided not to bother. So much for the magic of the cup and a chance for them to get revenge for us putting them down last season. The Toon fans though were as ever up for it. The support to the team was non-stop, with much scarf twirling, pogoing, etc. Not to mention just a little bit of p!ss-taking for the feeble home support.

Much was said and written beforehand about the possibility of us having problems with Leeds fans on the journey down and back. I must confess it's one reason I opted for catching the 10 past 10 train down; I was pretty sure that most of the Leeds fans would be on the 10 past 9, which the advance party (Gordon, Hamish, Brendan and Paul B) were on. The only Stone Island badge I spotted on our train belonged to a kid in a group of 5 who were all around 12 or 13. Hardly anything to worry about! Strangely he was also wearing a scarf!

We were about 10 minutes late getting to New Street, so we wasted no time getting to the nearby Newt. There were a handful of Leeds fans in there, all in plain clothes. I'm not sure what they'll have made of the dozens of Toon fans, most of whom were wearing tops and/or scarves. A few quick pints and it was time to head to the taxi rank outside the door. Ten minutes later it was pretty obvious that we weren't going to see the kick-off the speed that the queue was moving, so we raced to the main station rank where fortunately there were loads of taxis.

We had time after the game to stock up with beer and grab a quick pint before making for the station and the 3 minutes past 6 train. This was always likely to be where things would get 'lively'. It could hardly help that Leeds had got beat. Myself, Paul C and Gary P entered the station by the 'back' entrance which meant we hit the platform at the end rather than the normal middle. The first carriage we came to was virtually empty, so we dived in. We were just about to sit down when there was a knock on the window next to us, and we looked out to see a guard bloke waving at us. He got on the train to inform us that we were apparently "in the wrong part of the train". It turns out that the train was actually two trains doubled up (Virgin do that sometimes), and that they were putting the Toon fans in one section and the Leeds fans in the other. Whether the doubling up of the train was by design or accident, it certainly made it easier to keep a lid on any possible problems. As it happens I'm not sure it was really necessary, because as we walked along the platform to the other half of the train I saw hardly any Leeds fans. The Toon section was in contrast pretty busy, but still not as busy as I expected considering the number of Toon fans who were at the game.

Finally, a word of praise for our old friends in the West Midlands Constabulary. Paul Blacklock is quite clearly a hardened criminal from whom the public needs protecting. They were therefore quite justified in their decision that he was touting as he handed over some tickets to someone outside the ground. I'm not sure whether or not he was actually charged with anything, but he certainly didn't see the game. Mind, I'm not sure how much of it he would have seen anyway judging from the condition he was in!

| | |
| --- | --- |
| Pre-match in the Newt | Empty seats wherever you look |
| The half-time entertainment - kicking balls at a shed! | Well, he had had a long day |


Happy New Year

Good performance, good result. Aren't the people who make up Man U's away support (apart from Mary Hinge, who seems like a thoroughly decent bloke, and possibly his mates) a complete load of tossers? I just can't work out what their motives are. The Toon fans at Everton on Saturday were as ever a mixed bunch. But they were predominantly there to show their support for their team and to have a good time. Contrast that with the Man U fans at St James'. Not a single top or scarf between them. What's all that about? The bunch of 10 or so who were in the back room in Spoons were there with the sole intention of antagonising the Toon fans in the pub. Obviously it would have been nice to have seen them get tw@tted, but it was much better really that everyone just totally ignored them. It's a pity that the Man U fans hadn't tried the same trick in the Adelphi. But then again, they wouldn't would they?

I'm confused. I was quite sober at Bolton and I could have sworn that David Edgar played right-back. Yet the Man U match report on bbc.co.uk informs us that Edgar was "making his first start for the club as a replacement for the injured Nicky Butt". To back this up, nufc.com's preview of the game says that Roeder would "either continue with Nicky Butt out of position or hand 19 year-old David Edgar a first senior start". Obviously I'm mistaken then. But nufc.com's Bolton report has Edgar down as being in the starting line-up. Help!!




Out with a whimper

The 3-0 scoreline at Goodison really flattered Everton. The scored three scruffy goals while we missed great chances to have got two ourselves. Oba's penalty was one of the worst I've ever seen; it suggests that I was right when I said at the time that Nobby should have taken the one against Reading. Perhaps Oba should have taken this one with his (apparently) 'wrong' foot as well!

The journey over to Scouseland was brightened up by a nutter on the train. This particular nutter happened to be an Everton fan. He was probably in his fifties, unshaven, and scruffily dressed, with a big rip in his track-suit bottoms. He started off by wandering up and making conversation with some of the lads. I couldn't make out exactly what was being said, but it was pretty obvious that he wasn't entirely normal and that the lads were trying hard to get rid of him. Myself and Round Boy kept our heads down in the hope that he wouldn't pester us. Eventually he wandered off, only to re-appear 5 minutes later. This time he headed straight to Stevie and gave him a load of abuse and threatened him because of something that Stevie had supposedly said earlier, even though he hadn't said a word. The bloke definitely had a screw loose! After a couple of minutes of being generally abusive to all of us he disappeared off down the train again. A few minutes later he was back, this time to threaten us with violence once we got off the train. "You're all right while you're on the train, but wait until you get off.....". Off he went again, presumably to round up an army. Needless to say we never saw him again.

We headed straight out of Lime Street in the direction of The Vine. We never got there though - some Toon walking alongside us told us that they were going to the Punch and Judy and that it was "cheap as owt". We decided to take a look! They weren't wrong about it being cheap - £1.30 for a pint of Fosters! Not that I was drinking Fosters mind before anyone gets the wrong idea. With prices as low as they were the pub was obviously going to be a magnet for all sorts of characters. Sure enough, we hadn't been in there more than a few minutes before a scally came in selling copies of Steve Gerrard's autobiography out of a bin liner for a fiver. Perfectly legit of course. Another amusing incident was when one of the lads came back from the Gents to inform us that someone was having a shave in there with a bic razor! Well I suppose not many houses in Liverpool have running water yet.

Steady entertained us with his efforts at answering trivia questions. He really struggled to name the four English clubs whose full name ends in 'e'. He took ages to get Crystal Palace, Port Vale and Plymouth Argyle (I won't embarrass him by publishing some of his guesses), but then couldn't get Rochdale even when we gave him loads of clues like it's near Bury, starts with 'R', ends in 'dale'. Next was to name the current Premiership player who has played in all four English divisions, the Conference, the UEFA Cup, the Champions League and the World Cup finals*. The first names he came out with were Paul Ince, Dwight Yorke and Denis Wise, not one of them a current Premiership player. Notice that they all end in 'e' though....

All too soon it was time to go to the game. We jumped in taxis and in no time we were by the ground. The traffic was pretty solid so we decided to get out and make the rest of the way on foot. Just then the heavens opened, at the same time as the traffic suddenly cleared!

It's my sad duty to have to report to you that half the Yorkshire Mags at the game left well before the end (well, well before the end in some cases). I'm not going to name and shame them here, but I assume that the one who recently won an award for being Fan of the Millennium or whatever will be returning his trophy. Virtually all the other Toon fans chose to stay until the end and continued to give good support right up to the final whistle, even though in truth we never really looked like getting a goal.

After the game it was back to the Punch and Judy for more cheap beer before stocking up with cans for the train at the very convenient nearby Spar. Highlight of the journey back was Andy managing to stay awake the entire way to Leeds.
| | |
| --- | --- |
| Say no more! | Fringe hides his fringe |
| A swift short for the road | Good pre-match atmosphere |
* It's Steve Finnan - well done Brendan!




Ugly, ugly football

Much as I hate Spurs (see below), I have to concede that over the years they've always tried to play decent football. Sam Allardyce's Bolton on the other hand play the ultimate percentage game - try to win corners, or free kicks and throw-ins within range of the goal, and then then lump it into the box and see what happens. It's not pretty. You often hear people coming out with the comment "They'll get football done away with". Well in Bolton's case it could well be right. Clearly their fans don't like to watch it, which is why they can't get decent gates even though they're pushing for a Champions League place.

For the first half an hour at Bolton we were all over them and could easily have been three or four up. Our makeshift defence (the youngest ever in the club's history???) were strolling it. But then Bolton played one of their hopeful balls into the box, and the rest is history. I don't think you can really point the finger at either Ramage or Pav; it was a nasty ball that ended up right between them and wasn't anyone's clear responsibility to deal with. That goal gave Bolton a big lift and was the signal for them to get their game together, while it knocked us right out of our stride. Bolton's second will no doubt be voted their Goal of the Season. It then took us a couple of substitutions and about 20 minutes to get back into the game, and we had three or four decent attempts on goal late on. By then Bolton were intent on just hanging on - passing it back to the keeper at every opportunity, time-wasting, taking it to the corners to kill time when they were clear through on goal. You get the picture.

My second half wasn't improved by having a complete knob stood in the front of me. He hadn't been that bad during the first half, apart from when him and a mate decided to light up even though there's no smoking allowed on the terraces. But once Bolton's second goal went in he lost it with the Bolton fans next to us (I was in the end seat, he was a couple along) even though the vast majority of them were decent, normal fans. He was giving them so much abuse, and it just wasn't called for. I've been known to swear on occasions, but the language he was using to women and kids was disgusting. He was one of those lads who acts dead hard, offering to take people on outside, knowing he's on a safe thing because it's never going to happen. I was hoping he'd get chucked out, but unfortunately not. Eventually though most of the Bolton fans within earshot decided to leave early, and things settled down a bit. But then the dickhead, aided and abetted by his two mates, turned his attention to the young, reasonably attractive, female steward who was stood at the end of their row and right in front of me. He decided that she might want to go back to the Toon with them on their bus. (Like did he think she was blind, deaf and dumb, or what?). The three of them spent a good 10 minutes trying to wear her down, and crowded round her so that she was pushed up against the mesh separating us from the Bolton fans. She kept asking (too nicely) the dickhead to move back to his seat, but he wouldn't and kept trying to put his arm round her. You could see she was really unhappy with what was going on and didn't know what to do about it, so eventually I gave the lad a shove and told him to give her a bit of space. "Hey, aah wasn't gannin to jump her man!" he protested as he reluctantly moved back a couple of feet. Tosser. The three of them still hung around her hopefully at the end of the game for a few minutes, but eventually they realised they were wasting their time.

PS How does a footballer like Nicolas Anelka end up at Bolton?
Some of the vast amount of memorabilia in the Bromilow Arms



The atmosphere builds



Some of the fancy dress brigade



Getting in the mood



Twirling away



Toon Santa distinctly unimpressed with something


Happy Christmas

Just why is it that I hate Spurs so much? I think it's because they seem to think that, because they won the double nearly 50 years ago and have lifted a couple of trophies since, they are an elite club. Well sorry, if you go back far enough the Toon have won their fair share of silverware, but that's ancient history and a club's only as big as their current standing makes them. Of course, every time Spurs put a half-decent run together the same talk comes out about how the glory days are coming back to White Hart Lane again. And then by the end of the season they end up in their customary mid-table position.

So as you've probably worked out, I was chuffed to bits that we did our bit towards putting Spurs in their place. It was an added bonus that most of the other scores went our way and we go into a difficult looking set of fixtures with a bit of breathing space (not to mention a few clubs) between ourselves and the bottom three.

The current Predictions competition is building up to a thrilling climax. With two games to go there a still half a dozen people who can win it. The new competition kicks off with the Man Utd match. You can download an entry form using these links:
Excel (complete and email)
Printable (complete and post)

I have to knock off now otherwise I'll be getting into trouble off me Mam for being late for me tea. I'll finish by letting you know that Stevie Round's sister Dawn says that we have to call him Steve Porch from now on. Some of you will know where that nickname comes from, but most of you probably won't!




It's not fair! (take 2)

No doubt Watford will feel that they were hard done by not getting at least a point for their efforts at St James'. But hey, that's life! After we'd taken the lead I couldn't see any way that Watford would score. Shows what I know. But after they'd got the equaliser I could only see one team winning it (and it wasn't us!) and I would have settled for one point. As it turns out, dropping two points would have been bad news because of the way the other results went. Just when I thought we'd got a nice safety margin between ourselves and the drop zone West Ham have to go and beat Man U! Hopefully though they'll do what they did after beating Arsenal and embark on a bad run.

It just goes to show the difference a bit of confidence can make. For most of the season Martin's first touch has been awful (and that's being generous!). At Watford it was sublime at times. Let's hope he keeps improving.

Fat Tart Brendan told me in an email last week that he was making a night of it after the game. I was therefore surprised to see him turn up for the match in a Toon top (he's normally in plain clothes when he's off pubbing it around the Toon). I was even more surprised when he suddenly left Spoons about 6 o'clock. "Where's Brendan gone?" I asked one of his mates. "He's off home" came the reply. "Home?!!" "Aye, he's gone to watch the final of X Factor". Puff!




It's not fair!

If there was any justice in the world we would have held out for a draw at Stamford Bridge. It sounds like we probably deserved a point for a battling performance from what the 'observers' on Gillette Soccer Special were saying. Certainly with our horrendous injury list no-one could surely have begrudged us a few breaks. But of course in the real world that's not how things work. To make matters worse, just when he was starting to finally show a bit of form, it sounds like Charlie's suffered a serious injury. It's likely that the list of players missing through injury on Saturday will be:
Nobby
Emre
Dyer
Duff
Moore
Bramble
Parker
Shola
Owen
N'Zogbia
Sibierski
Quite a list! On top of that it's possible that Babayaro will be suspended as well (although I'm not sure when his suspension becomes effective). And it's a game we could really do with winning.

Palermo achieved the near impossible tonight. After winning their opening UEFA Cup group game away from home in Frankfurt, they've somehow contrived not to qualify. That really takes some doing. And it's a bit of a shame because it's a nice warm weather away venue that we now can't have in the later rounds. The other teams to get through from our group are Celta Vigo and Fenerbahçe. Other than Fenerbahçe, teams to qualify in third place tonight (and therefore possible opponents in the next round) are Feyenoord (no introductions needed!), Zulte Waregem (Belgium) and Hapoel Tel-Aviv.




Crisis? What crisis!

Six points and six goals in two games and suddenly everything's all right with the world. I was even up to watching Match Of The Day on Saturday night, which hasn't happened often this season. I've got to hold my hand up and say I was wrong. A few weeks ago, even though I'm always hopeful, I couldn't see any way that by now we would be where we are. We're still not out of trouble by any means of course, but with the team now playing with a measure of confidence we can realistically think in terms of continuing our rise up the table. I always reckon that football is 75% confidence, and that's epitomised by Oba Martins who's suddenly looking like a half-decent player. Beating Blackburn means that if we lose our game in hand at Chelsea it won't be a big deal. And that's a great reason to go down there and make a decent attempt at winning the game.

Not being at the Blackburn game myself, I was given a couple of scares late on by the Gillette Soccer Saturday coverage on Sky Sports News. I was in the next room at one point and heard a goal being described - Tugay had chested it down for someone to blast it into the net. Sh!t! But then I realised it was Tudgay and not Tugay and it was Sheff Wed who had scored. And then a couple of minutes later I heard "An equaliser for Black.........pool". Phew!




Royal performance

The victory against Reading was a great result. Aside from the players we had missing (Owen, Shola, Parker, Duff, Dyer, and the rest - any team other than Chelsea would struggle with half of their first team squad unavailable), we beat a team who are no mugs. An added bonus considering the dross that we've had to endure so far this season was that we actually played some good stuff at times. And that goes for the first half even though the team got booed off at half-time. Martins had probably his best game for the Toon so far; ok, he made a mess of a good chance and then hit the bar when he should have done better, but his all-round game was a massive improvement on most of the games he's played for us. I would still rather Nobby had taken the penalty mind! And speaking of Nobby, is it only me that thinks he should be captain? At least there then wouldn't have been any argument over who should take the pen.

A few words about Reading. Top marks to their fans for the turn-out and support. No doubt there won't be as many up next time, but they put some other supposedly 'bigger' clubs to shame. And also the team, who played tidy, thoughtful football throughout. You don't have to know much about football to be able to see that they'll do more than ok this season.

I can't finish though without a mention for the complete tosser who decided to cone off a lane of the Western By-pass, meaning that there was traffic chaos after the game. It was bad enough that it was done on a night when the Toon had a home game. But it was a real p!sser to find that there wasn't a single workman there. Presumably it was the work of a bitter twisted Mackem.




Top job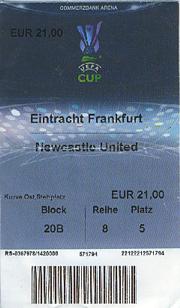 It was another backs to the wall job at times in Frankfurt, but we held on to get the draw. As it turns out of course we didn't need the point to finish top, but a draw is obviously better for confidence than a defeat. I'm not sure why (alcohol possibly?), but I was confident from early on that they were never going to score. As far as I was concerned it was just a question of whether or not we could sneak one. And we did have a chance or two to do it.

Although I enjoyed the jaunt, for me it wasn't as good a trip as Palermo. Possibly it was the weather (not that cold, but a lot cooler than Sicily had been), but I think it's just that Palermo was a much more interesting place. And of course there wasn't any sea to plodge in in Frankfurt. Anyway, here's an account of my trip.

Unlike most of the Yorkshire Mags who'd flown out from Manchester ridiculously early on the Wednesday morning, my flight was a very civilised 11.50. I was surprised that there were only about a dozen other Toon fans on the plane (including some of our Paul's group), but then again it was only a fifty four seater. I'd arranged to meet up with Paul K at Frankfurt airport. He was flying out via Zurich and was due to land an hour before me; I'd said I'd pick him up from the bar in Terminal 1. However, while I was on the shuttle train from Terminal 2 to Terminal 1 I received a text from Paul saying that he'd missed his connection and would be about an hour behind me. So it looked like he'd have to pick me up from the bar instead. But then I got to Terminal 1 and found it was absolutely f***ing massive. There was bound to be a load of bars and I could see it being unlikely we'd manage to end up at the same one. So instead I headed for the airport station, which was much smaller than the terminal; and not far inside the entrance was an inviting bar. I got a pint in wondering how long I would have to wait for Paul, but within minutes I got another text from him saying he landed. I replied with instructions to head for the station, where he'd find me in the bar with the big green sign above the door. I can't be bothered to describe the fun and games we had over the next half an hour, but I think I can safely say that Paul didn't find the bar as easily as I thought he would. In fact, he never found it at all (despite walking past it at one point!). And I hate to think what my phone bill will be (more of that later).

Getting to the hotel was easy enough - the train from the airport dropped us off about 300 yards from the door. When we checked in the bloke on reception said "Oh yes, you got the very cheap rate so you must pay now". Not a problem mate! He then said something about it being their mistake. I didn't quite take in what he said, but to be honest I didn't care. I just knew that it was an absolute bargain - 50 euros a night for a twin en-suite including breakfast. That's half what the other Yorkshire Mags were paying.

By now time was getting on (about half 4), so we just dumped the bags and set out in search of drink. There was an Irish bar that gets good reviews just around the corner, so I though we'd at least check out where it was. When we got there and Paul saw the menu his tongue was literally hanging out (he was desperately in need of food), so we decided we may as well go in. Naturally there were a few Toon fans in already even though it was well out of the way. And naturally there was an Aussie barman (wearing a blue star tee shirt!).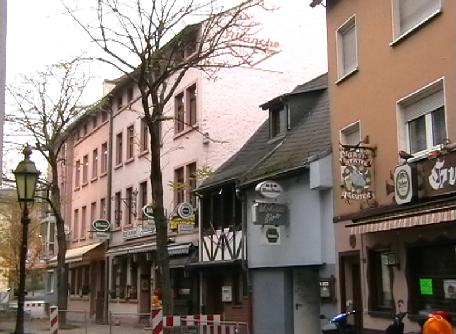 A couple of pints later we headed off to the other side of the river to Sachsenhausen, which I'd read was a good drinking area. Well I knew there were a few bars there, but I couldn't believe how many! There must have been best part of a hundred in a tiny area. We got settled into a canny little place. To begin with we were the only people in (virtually all the bars only open at 5, so it was still early), but before long loads more Toon fans piled in. We got in touch with the other Yorkshire Mags and they said they were on their way from the hotel to Sachsenhausen, so I told them where the bar was. Half an hour later there was no sign of them. Texts and phone calls ensued, but we were no closer to meeting up. More texts and phone calls. Eventually Aaaarrrrooonna said he'd meet us at the end of one of the bridges (the one starting with 'I') and take us to the bar the rest of the lads were in. So off we trooped. We gets to the end of the bridge and guess what? No Aaaarrrrrooonnaa. Another phone call. "Where the hell are you?" "I'm at the end of the bridge." "You can't be, we're at the end of the bridge and we can't see you". "I am. Can you see a big red sign?" No big red sign anywhere. This went on for best part 10 minutes and I was beginning to lose it. I thought "F**k it, I'm gannin back to that bar", but then Aaaarrrrooonna says "Hold on, I'm on WK Strasse". I gets my map out and finds Walter Korb Strasse. He was at the end of the wrong #*&@%#@ bridge! "Don't move, stay exactly where you are and we'll come and find you". So me and Paul jogged along the river and sure enough there was Aaaarrrrooonna at the end of the next bridge. He then took us to the Sports Bar (lots of big screens showing the Bolton-Chelsea game amongst other things, lots of chrome fixtures, you know the sort of place). Lots of beer was consumed, and then people started drifting off. Paul B and the Toon-based lads had set off to the airport just after midnight and were knackered, so it was understandable that they were tiring. Next to go were Aaaarrrrooonna and Paul Mck (too many Pauls!) who went off to get something to eat. Paul K went at the same time; he was also flagging due to an early start and a few beers in Zurich airport.

Brendan and me were the last to leave. I'm not sure what time it was - we tried to work it out next day but failed miserably. So I don't know how long it was after Paul K had set off back to our hotel. But however long it was, I couldn't believe it when I got back to the hotel and found he wasn't there. I'd thought he had a good idea of where the hotel was relative to the bar, and it was only a 10 minute walk, so I didn't think he'd have problem getting back. I sent him a text saying "Were are you? Should I send out a search party?", and went to bed and fell straight asleep. Paul did make it back eventually. He didn't have a clue where he ended up (possibly not far from the hotel, more likely the opposite direction completely), but he'd eventually called in a bar for a drink and then caught a taxi. What he would have done if he hadn't know the name of the hotel as anyone's guess!

Next morning we set off for a look round Frankfurt, to kill some time as much as anything. There isn't a lot to see as it happens. We wandered through the Christmas Market once or twice (it was virtually impossible not to) and also took in the red light area by the station. I'd put a quote from a travel guide site on the Frankfurt travel page warning "Doormen will practically pull you inside to view porno movies, sex shows, sex shops, and discos teeming with prostitutes." I didn't expect it to happen at 11 o'clock in the morning though! Yet that's what happened to Paul and me. This woman grabbed hold of my arm and tried to drag me into one of the many dodgy establishments. "Just look, just look" she kept saying. I eventually managed to break free, but then she got hold of Paul and started on him. It took him a lot longer to get away. I'm still not sure whether that's because she held on harder or because he resisted less!

It was about half 12 when we arrived back at the hotel to sort ourselves out for the game and pre-match beers. We hadn't made any plans with the rest of the rest of the lads, but we thought we may as well head to Sachsenhausen for starters. We got there to find the place pretty dead (only 4 bars open out of a hundred, so not surprising really). We settled into one that was open. After half an hour I sent a text to the lads saying where we we were. Virtually before I sent it they walked in the door - they'd been heading for the same bar themselves. A couple more beers, not to mention complimentary schnapps, later and people were getting in the mood. There was then a bizarre interlude revolving round four Stone Island / Burberry lads. I can't be bothered to tell the story in full - you'll have to ask someone who was there. But they came into the bar we were in, they were loud and very funny and totally dominated the place for half an hour. But you could tell they were a walking time-bomb, and so it turned out. Shortly after they left they were apparently chased thought the Sports Bar by a group of Turks. Then one of them turned up on his own later on in the Sports Bar with a big lump and cut on his head. What happened to the rest of them I've no idea.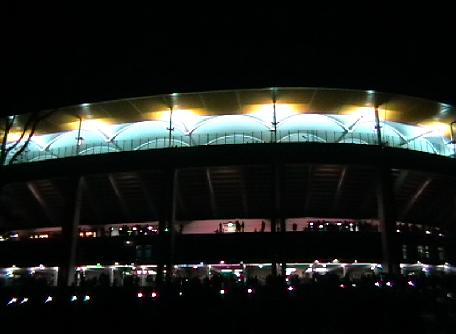 We moved on to the Sports Bar ourselves. Lots of familiar faces came in at various points, including Pigeon on a flying visit from Barcelona. Some of us moved off after a while to a quieter and more traditional place a couple of hundred yards away. We had good crack in there with some locals, including a bloke who suspiciously insisted on buying AAArrrroooonnnaa a drink. As usually happens on these trips, time started accelerating and before we knew it it was time to get the train to the ground. A local copper had earlier recommended that we set off around 6. We'd stood there nodding our heads even though we had no intention of going anything like so early. It was probably around half 7 when we set off, although my memory's starting to get hazy here. We had to leave in reasonable time though because we knew it was a hike from the station at the other end. And it was! Still, I was in the ground well before kick-off. My ticket was for the lower tier. I fancied being upstairs though, and managed to sneak into the upper tier. Once in there I was surprised to find that there was minimal segregation between our fans and theirs. Downstairs there was a fence, a no-go area and a row of stewards/police, but upstairs there was just a few rows of empty seats. That was quite handy for me because I'd been wanting to swap my free scarf from the Portsmouth game for one of theirs, and I was able to negotiate a swap within seconds. As time went on the two sets of fans became intermingled which was a very strange experience in this era. Even more surprising was when I went to the toilet at half time and found that we were sharing the same 'facilities'. Still everyone seemed quite ok about it. Sad to say though there was a very minor skirmish down at the front of the section during the second half. I expected it to really escalate, but fortunately it didn't. In fact, once it was sorted out the police and stewards disappeared again.

A bonus and a big surprise at the end of the game was that we were let straight out (very unusual in Europe). I made my way back to the station wondering how long I would have to wait for a train considering how many people seemed to be ahead of me. About 5 minutes was the answer! Once back in the city I decided that I wasn't in any real shape to go back on the beer again - I'd had a couple more than was sensible before the game, plus I had a relatively early flight to catch. So I made do with a pint in the local Irish bar, then turned in. Once again there was no sign of Paul when I got back to the hotel, but it was still pretty early so I wasn't surprised. I heard him coming into the room a couple of hours later. "Where did you get to then?" "I ended up at the zoo"! Next morning I got the full story from him. When he left the ground he 'followed the crowd'. That particular crowd were going the opposite direction to the station though. Eventually he asked someone where the station and was told that he was miles away, but that he could get a tram from not far away form where he was. That took him back to the centre, and from there he wandered back to the hotel following our route from much earlier in the day, calling in for a few pints along the way. But then he overshot the hotel! Probably not by much though, because the zoo is only a few hundred yards away.

Paul's flight was a few hours after mine, so I left him having breakfast (managing to lock him out the room in the process!) and set off to the airport. I needn't have hurried - the flight was an hour late. Fog was given as the explanation. Funny how ours was the only flight affected! Still, there was a couple of Toon fans that weren't complaining - they slept in and would have missed it if it had left on time.

Photos




Can we play you every week?

Who better to be playing when we desperately needed a win than Portsmouth? Their record at St James' is about as good as ours is at Old Trafford. It's really hard to see how a team at the top of the league can only have one serious attempt at goal in 90 minutes against a team at the bottom, but that's how it panned out. Their fans who made the long journey up for the ridiculously early kick-off (ridiculously early considering who the two teams were that is, but still too early anyway) must have wondered why they bothered. Still, we've been there often enough.

There were quite a few pluses from the game - another good performance at full-back from Nobby (can anyone see Carr getting back in?), a decent shift from Dyer again, Titus and Taylor looking solid at the back, even some good football at times. On the down side we've obviously picked up a couple more injuries. How serious they are remains to be seen, but it means we're down to the bare bones against Eintracht. I suspect that we'll field a real scratch side. It probably makes sense, even if it means we end up getting beat. And I hate us losing any game!

As for the free scarf, "Not bad for 600 quid" as a lad sat next to me commented.




Welcome to Frankfurt

My Frankfurt ticket dropped through my letterbox this morning (Saturday). As usual, it was accompanied by a letter warning me to be on my best behaviour over there. Amongst other things it tells me:
- Toon fans are located in sections 20A and 21 (strange then that I've got a ticket for section 20B)
- toilets and refreshments are available in the Toon section (I should flippin' well hope so!)
- there will be a heavy police presence in the city and at the ground (obviously expecting a big Burberry turn-out then)
- though there is no Consular Office in Frankfurt, staff from the Dusseldorf office will be on duty (definitely expecting a big Burberry turn-out)
- police will arrest anyone they consider to be under the influence of alcohol (that's all of us knackered then)

One piece of useful information they omit to mention though is that your match ticket entitles you for to a free return journey to the ground on the regional transport system. This is a really good deal considering that area covered by the system is enormous - it includes places as far away as 40 miles. The only time restriction is that you have to start your journey less than 5 hours before kick-off. So that allows for plenty of drinking time then! Pity they don't have the same deal at the Toon.




Arsenal musings

I'm sure everyone's seen the Arsenal highlights by now and so will have a good idea how the match went. Obviously it would have been great if we could have held on for the win (and I bet I wasn't the only person who by half-way through the second half was thinking we might just do it!), but we can't really complain about the final result. Dyer's pace made a massive difference to the team; packing the midfield and playing one up front isn't so bad when someone from midfield gets forward to support the lone front man now and again. And for the goal Dyer was beyond Martins which must have come as a shock to Oba. Mind, I don't think anyone expected Kieron to actually stick the ball in the net from that position. And the Arsenal defence certainly couldn't have judging from the way they stood back and invited him to have a go.

There was a full turn-out from the Yorkshire Mags for this game - everyone was wanting to see the new ground (or just tick another one off). Most caught the 5 past 8 train down from Leeds and so were in London very early. The fairly infamous Dolphin was the first port of call. Unfortunately I was on a later train down and so I wasn't on hand to witness the Toon fans moving tables and chairs into the middle of the street so that they could sit in the sun (well it was cold in the shade so why not!).

The train back was a laugh as ever. After a token game of Chase the Ace it was onto the serious stuff - Pontoon. Usually on these trips Steady gets more and more reckless with his decision-making and ends up subsidising everyone else's day out. This time he was outdone by Paul who decided to demonstrate that it's possible for the bank to lose big style. A word of advice for the future Paul - don't double burn when you've got the bank and there's a lot of money been staked.

For anyone that wasn't at the game, here's a few thoughts on the ground:
- it looks fantastic from the outside, but inside it's nothing to write home about; they might have padded seats, but the slope of the bottom tier is too shallow which means that people end up stood up half the time so that they can see
- for some unknown reason there are gaps between the roof and the back of the stands, so people in the top tier will get soaked when it's chucking it down and blowing a gale
- getting out is a nightmare if you're in the front rows, coupled with....
- the bogs (in the away end at least) are totally inadequate; the combination of the two meant that I missed the start of the second half
- what are those stupid inflatable plastic tube things all about?

Approaching the ground across the new bridge



Front row seats



View from a bit further back (Ta to Mike H for this pic)



Half-time vino for Tom & Jude




The bogs might be a joke, but hey they've
got a baby changing unit



Can we hold on? The tension's getting to Laura,
but Cookie's totally confident



Other people have beer and curry




The Doc giving Chase the Ace some serious thought


These youngsters haven't got any stamina (Andy G this time)


If only....

... we'd have played Dyer from the start against Man City
... Roeder would realise that Nobby is the only player we've got capable of making a killer pass
... Emre would make a telling contribution sometime
... Carr would defend properly for once in his life
... we hadn't wasted 5 million quid on Duff

It's quite bizarre, but most Toon fans seemed to be leaving the COMS (come on, someone come up with a proper name for the ground will you) in an upbeat mood. This is because they'll have been thinking about what could have been in the last 5 minutes of the game, rather than what they'd had to endure for the preceding 88 minutes. As anyone that's seen the game will know, we were complete pants until we suddenly realised when it was almost too late that if you break with pace and get players into the box then you've got a chance of scoring. We were dead lucky to still be in the game by this point though; only some desperate defending, a couple of great saves from Harper, and a chalked off goal (correctly as it turns out, but most times you wouldn't get the decision) had stopped Man City being out of sight.

I was amazed to realise a few minutes before writing this piece of drivel that we've only lost once in six games. There was me thinking that we're going through once of the worst sequences of performances/results in living memory, but it turns out I'm completely wrong! Of course, take away the cup games and we are. And with Arsenal coming up next so you can't see things improving just yet. But this is the Toon we're talking about, so expect the unexpected!


"Where are you when you are sh!t?"


Welcome to hell (well, not quite)

I know I said I had a feeling that the locals might go out of their way to make us feel welcome in Palermo, but I never imagined that a bus driver would make a detour a mile off his route to drop me and Maggie at the door of our hotel. Yet that's precisely what happened on the evening of our arrival! While this was a bit extreme, it was an good indication of the treatment we'd receive throughout our visit. Things hadn't started so well though - we'd both had virtually the entire contents of our toilet bags confiscated at the security check at Stansted. For me it wasn't a big deal from a financial point of view, not so for Maggie though. I think I can safely say she was a bit upset. I honestly thought that the hand luggage rules were the same as they used to be before the latest terrorist scare other than that you couldn't take drinks through. I found out I was badly mistaken!

Our flight touched down slightly early in Palermo. This was good news as it meant there was a chance of getting checked into the hotel and then out to a restaurant in time for something to eat before everywhere shut. The airport bus made good time into Palermo, and we jumped off at 'Stadio' (a major interchange next to the football ground) to get our bus to the hotel. I knew the number of the bus we had to get, but after a bit of a search we couldn't find the stop. So (very unlike me) I decided to ask someone. There was a bus sat at the side of the road, with the driver clearly having a bit of a break between journeys. I asked him in my best pidgin Italian where the number 603 stop was. He seemed confused as if there was no such bus. I then told him where we wanted to go, but he still appeared none the wiser and, after saying quite a lot to me in Italian (not a word of which I picked up), he seemed to be saying that we should get on the bus. Although very puzzled, we did as he said. He then drove round the corner to where there was a kiosk thing where they sold tickets and gave out info. We made to get off the bus, but he told us to stay where we were, and he got off. After chatting to the blokes in the kiosk for a couple of minutes he got back into his seat, apparently no further forward. We again made to get off, but he again told us to stay on. So I again told him that we wanted the number 603, and he again waved us back into our seats. Then he drove off. "We're being abducted, we're going to end up sleeping with the fishes", I thought to myself. Well ok, I didn't really. I knew that the bus we were on would take us reasonably near to where we wanted to be, but we'd have about a mile walk to the hotel, which was not what I had in mind, especially when the right bus would have taken us virtually to the door. After we'd been going about 20 minutes I saw a sign for Addaura (where the hotel was) so we stood up. The driver (yet again) told us to sit back down. We were now headed away from Addaura! Now I really was confused. But after doing a loop through Mondello we were soon back by the Addaura turning, and this time we took it. I wasn't absolutely certain, but I was pretty sure this wasn't the proper route for the bus we were on. Within a couple of minutes I knew for definite that it wasn't, and this was confirmed shortly after when we pulled up outside the front door of our hotel! What was really embarrassing about this was that we didn't even have tickets. As anyone who's been to Italy will know, you have to buy tickets before you get on the bus. My plan was that we'd get them after locating the bus stop at Stadio, but we never got the chance.

After checking into the hotel we headed to a nearby restaurant and a had a quick bite and a few beers. After being initially confused by our Toon tops, the staff and locals cottoned on and were very welcoming. Before long though it looked like they wanted to shut up for the night (well I suppose it was getting on for one o'clock), so we headed back to the hotel only to find that the hotel bar was shut. A bit of a blow, but at least it meant I wouldn't have a hangover the next morning, a bit of a novelty on a European trip.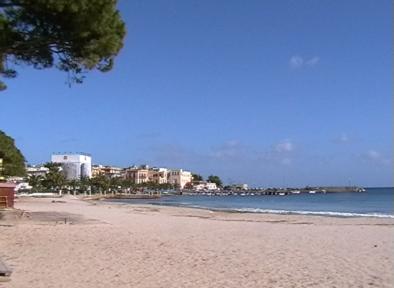 The next day was very blustery, but sunny and warm. A quick check of the hotel pool told me that I'd wasted my time packing my trunks - the water level was about two foot below where it should be and there was all sorts of crap floating on the surface. The hotel had obviously decided that summer had finished some time ago. Not exactly devastated by this (I hate swimming in cold water) we set off on a stroll to Mondello. We bumped into some of the York Mags and heard about their run-in with some local scallys and subsequent rescue by the riot police the previous night in the centre. It made us realise that we'd made the right move not to be staying in Palermo. After a nice drink in a beach-side bar we set off to check out the ground - I'd thought it would be a good idea in case things were dodgy at the ground to find out exactly where the bus would drop us off and where our entrance was. So off we went to buy some tickets and catch the bus. Except that it was lunchtime and all the Tabacchi (where you buy bus tickets) were shut. A bloke who was stood in the door of the shop next door to one of the Tabacchi said we could buy tickets on the bus, so we made our way to the stop. A couple of minutes later the bus pulled up and who would believe it but it was the same driver as last night! He greeted us with a great big grin and waved us on board. I said that we wanted some tickets, but he shrugged because he didn't have any, and then (as ever) he indicated that we should just sit down. This was getting very embarrassing because I hate not paying my way (especially at only a euro a ticket!), but there wasn't much we could do about it. Anyway, the first thing we did after getting dropped off at the ground was to buy a great big wad of tickets!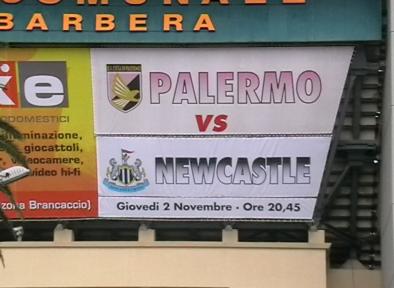 Someone had just put up a stall selling scarves and tee shirts next to the ground. We decided we just had to buy a scarf each, those half-and-half ones, even though they contained a frightening amount of pink. The going rate was 10 euros, but this being Italy I felt obliged to haggle and offered him 15 euros for two. He didn't look impressed so I tried 18, but still no joy. He explained that he didn't actually own the stall and so couldn't negotiate, so we had to fork out the full 20 euros. Well at least I tried. As we wandered around, wearing our Toon tops of course, lots of people were shouting at us or tooting their horns, but it was all good natured. We sort of sussed out what the lie of the land was at the ground. Our tickets said entrance 23, except there wasn't an entrance 23. There were maps of the ground all over the place showing all the entrances, including 23, but they were clearly hopelessly out of date because the actual gates bore no resemblance. Still, we managed to work out where we had to go in, and we knew where to get off the bus so that we'd have the least possible distance to have to cover to get there, so we headed off for food and drink at a nearby bar, before catching the elusive number 603 bus back to the hotel.

After getting organised for the match (dumping anything we could possibly do without, like credit cards and any money above what we reckoned we needed, and picking up jackets so that we could cover up outside the ground) it was back to Mondello for a few pre-match pints. We soon found out that we weren't the only ones who'd decided that Mondello was a sensible option as the "beach bar" had been taken over by a group of Toon fans. These were lads who could clearly look after themselves, but they'd also had a run-in the previous night and didn't fancy a repeat. Before long Dennis and Big Issue arrived, not by coincidence I might add - they knew where we would be. It was about this point that the weather took a turn for the worse. Not only did it start hoying it down, but the wind got up. We were under a canvas cover, but the sides were open and we were getting wet. We moved towards the middle, but we were still getting wet. We moved to the other side, but we still got wet! The rain eased off eventually, but we moved on anyway. The next bar was very welcoming, despite Brendan saying it was "unfriendly" when he was there a few weeks back. Every time we ordered a round they brought freebies (sandwiches, crisps, etc) to the table.

When we couldn't put it off any longer we headed to the bus stop. The first bus went straight past without stopping. We found out later that the driver decided there were already enough "hooligans" on board. We only had to wait a couple of minutes for the next one to turn up. While this would take us to the ground, it wouldn't drop us at the stop we had planned to get off at. As it turned out this was academic because we discovered that the streets around the ground were closed to traffic and the buses were all diverted. As we got off the bus it was really quiet - even though it was still a good 20 minutes to kick-off most people were already in the ground, as they do in Italy. In fact it was so quiet Maggie and me didn't bother covering up our Toon tops. As we'd found all day, the Palermo fans we did come across were all dead friendly. About 100 yards from the ground we reached a barrier across the road where they were checking tickets. As soon as they saw us we were taken to one side and escorted by a couple of police towards the ground. We assumed this was standard procedure, and was certainly fine by me! When we got to the ground we were surprised to find that, instead of being taken around the side to our entrance, we instead went straight through the main entrance. We then went through to the side of the pitch, and around the pitch to the Toon section. I again assumed this was how everyone else had got into the ground, but it was obvious from the heroes' reception we got from the rest of our fans that this wasn't the case. Quite why we received this special treatment is still a complete mystery. It could have been for our safety because we were showing our colours, or perhaps the police thought it was a bit close to kick-off (it certainly wasn't by Toon standards!), but whatever it was the police certainly didn't give any impression that we were causing them a problem.

As for the game, you'll have seen it. The Toon fans did their best at times to make some noise, but it's not easy when there's only 162 of you (168 who'd bought tickets, minus 5 who'd allegedly been arrested, minus Paul Blacklock who'd bought a ticket even though he never intended going). The Palermo fans were noisy throughout other than right at the end. I can't say it was intimidating though because we were fully protected by fences and nets.

As ever in Italy, we were kept in for ages at the end of the game. It's a lot easier to take when you've won though! In the days leading up to the game I'd been worried that after the game me and Maggie would be forced onto the buses back into the centre. I was worried (ok, petrified) because the West Ham fans had got ambushed when they got back. But by the time the game came around, because we'd had no bother with the locals since we'd landed, I was no longer worried about any reception the Palermo fans might have planned for us. I was though really keen not to be forced onto the buses because they'd be taking us in completely the wrong direction and it could be a bit of a nightmare getting back to our hotel. But when they did finally let us out the ground our reconnaissance earlier in the day paid dividends. We were surprised to see a side gate that was open and unguarded, and we knew exactly where it led. We dived though it then jogged around the ground and made our escape. Within 15 minutes we were on the bus back to the hotel. Once again, the driver dropped us right at the door. What a service! Unfortunately the hotel bar was shut when we got back, as was the bar next door. But I'd got some cans in earlier in the day just in case, and so we weren't that bothered.

The next day was all about catching lots of buses and seeing as much of Palermo as we could. Most of the Toon fans reckoned the place was a dump, but it seemed pretty ok to us. We ended up back in Mondello for a bite and a couple of drinks. Eventually it was time to head to the airport and so we trudged to the bus stop. As ever, we didn't have to wait long for a bus, and when it pulled up we were amazed to see that it was 'our' driver yet again. And what a smile he gave us.

I know some/most Toon fans reckoned that Palermo was a dodgy experience, but I can honestly say that Mags and me both had a great time and never felt threatened for an instant. Quite the opposite in fact - everyone we came across was brilliant. And to think I wasn't going to go at one point after hearing what happened when West Ham were there.

More photos




Duff choice?

Newcastle 0 Charlton 0.

The defining moment of the game came early in the first half, up till then we had threatened the Charlton goal and looked like scoring. Parker chased a ball and Charlton player back to the line just below me and put in a typical crunching tackle. You could see from the way he gingerly got to his feet and stood with his hands on his knees he had tweaked something, and from then on, we lacked a box to box player to get in on the numerous crosses and knock-downs that Charlton seemed unable to stop. Parker played on in a much restricted role and the game petered out with Duff missing a number of good chances in the second half when 1 on 1 with Scott Carson, who was much the busier keeper.

A word for the much maligned defence, who apart from a major wobble just near the end from first Harper, then Bramble and then Moore were rarely troubled.

Definitely a case of 2 points dropped rather than a point gained however.

On the journey up played "These Four Walls "the new release from Shawn Colvin on the old 8 track and amused myself by playing "Duel" with a Transit Toureno (you know, the Spielberg film where a driver is terrorised by a malevolent truck).

The Transit was one of those small minibuses and kept on overtaking me, then slowing up a few miles later and letting me overtake it. So the next time it came up to overtake me, I just floored the accelerator and pulled away just enough to put 20 metres between us until they got bored and stuck to a steady speed.

The trip South was less eventful, with "Once Again" by John Legend playing all journey.

A final word on these 5.15 games, I never know when to eat: today had some soup at home (courgette), then my usual 2-4-1 at JDW but when I got home hungry again.

Haque




Welcome to Palermo

I've just received my Palermo ticket today. It comes with a couple of pages of info, apparently provided by the British Embassy. They start off by saying that "Palermo is generally a safe place to visit", before proceeding to list a whole load of reasons why it's likely to be anything but safe when we play there! Amongst other things, they suggest staying in small groups to avoid the indiscriminate attacks that the West Ham fans experienced on their visit the other week. Yet it was the fans in small groups that were the victims of those attacks! The info goes on to strongly recommend that fans travel to and from the ground on the buses that will be laid on. Again, it was when the West Ham fans got dropped off by those buses back in the city centre after the game that the worst violence occurred; hundreds of 'tooled-up' locals were lying in wait, and the riot police stood back and let them get stuck in. So you'll not get me on one of those buses in a million years! As it happens me and Maggie are staying in a nice little resort 5 miles up the coast from Palermo and don't intend going anywhere near the city centre on the day of the game. At least, that's the theory. Anyway, some other words of wisdom are:
- some supporters are just there to find the occasion to fight, don't accept provocation
- pickpockets and bag snatchers are "likely" to strike (well it is Italy after all!)
- be streetwise
- don't carry your passport
- don't use abusive language and avoid provocation
- stay in a group if going out late; don't go to nightclubs on your own
- there are reports of people being planted with drugs by door staff and then nabbed by them, and bribes demanded
- don't leave drinks unattended or they might be spiked
- avoid the suburbs
- don't drop litter, keep Palermo clean and tidy (strange considering most of the place is a filthy slum)
In case you're wondering why there's no headline relating to the win against Portsmouth, it's mainly because I wasn't there and don't know much about the game other than what Tony Cottee had to say about it on Sky Sports News. It sounds like we were rubbish in the first half, but that's not surprising considering the conditions and the fact that we'd made a load of changes. We were clearly much improved in the second half and won it reasonably comfortably in the end. While the game wasn't anything like as important as the two league games coming up, it's got to be a good result against a team that's confident and in pretty good form. One thing that's a bit worrying to me though is that it's very likely that the two goalscorers won't start on Saturday.




Old Trafford horror show

Don't anyone allow themselves to be fooled by the scoreline against Man Utd, because 8-0 would have been a fairer reflection on the game. In over 40 years of watching the Toon this was about as inept a display as I can recall. It was up there with those classics from the Dalglish era:
- the 1-0 defeat at PSV that Kenny tried to tell us was a good performance
- the 3-0 defeat in Monaco when we were 1-0 down from the first leg but didn't really try to score
- the 4-1 hammering at Elland Road when it was nothing short of a miracle that we got one

Does anyone remember the Keegan days when the side played without fear and we actually used to believe we could win games like this? It seems an awful long time ago now. I don't agree with going out to play for a 0-0 draw in the first place, and it's pretty suicidal when you can't defend very well at the best of times. But if you are going to set out to play that way then it's got to be on the understanding that you'll change things if you fall behind. Not us though, we just kept on playing the same way. Charlie warming up during half-time was surely a sign that we were going to pull off a defensive midfield player, probably Butt, and push forward more? Wrong, it was Milner who made way. So no change there then, except that we now that we now had a left-footed player (Duff) playing wide right to go with the right-footed player playing left back. A few minutes later and it was 2-0 and, unless our ambitions were purely damage limitation, we had to start having a go. Wrong again, it was still best part of 20 minutes before we eventually brought on Martins.

So where do we go from here? Seven points from seven games suggests that we're going to end up in a relegation battle unless something changes. I really wish Fat Freddie hadn't bottled it in the summer.


"Shoes off if you love the Toon"



The Man U fans leave in droves to
get the early train back to London
Considering how much stick I give to people who leave the match early, it's embarrassing to have to confess that I managed to miss the kick-off at Old Trafford. It wasn't intentional though. In fact there wasn't a lot I could do about it. We left the Waldorf at 20 past 2 to catch the 14.34 "football special" train from Piccadilly. It only takes the train a few minutes to get to the station at the ground, and the station's right next to the away turnstiles, so no problem. Except that the train was over 15 minutes late turning up! It was after 10 to 3 by the time we finally pulled out of Piccadilly, so we did pretty well to only miss the first minute really. And in retrospect I wouldn't have minded much if I'd missed the whole 90 minutes.




Scary

It's hard to believe that we could make Levadia look a half-decent side, but we managed it. Whereas in the previous home tie against Ventspils we played some decent stuff and never once looked in trouble, this time round we were stunningly poor, especially in the first half. Apart from the goal we did eventually concede, there were numerous occasions when Levadia could quite easily have scored. And for their keeper to only have to make one save in the first half is a disgrace. Martins had another shocker, but then produced two excellent finishes (and celebrations!) for his two goals.

It's amazing how people that have been in and around football for decades still don't understand how European ties work. The Channel 5 commentary team (John Helm and Joe Royle for those that don't know) were adamant that an early Toon goal would have as good as put us through. NO!!!!! At the start of the game Levadia had to score one goal in 90 minutes, and two goals overall, to knock us out. A goal from us would mean that they still needed two goals to put us out, the only difference being of course that they would have had to score both of them within the 90 minutes.

Anyway, despite being far from convincing in our European games so far, we are in Tuesday's draw. Apart from the group format giving those of us who fancy a European jaunt two away trips to choose from, it also gives us a great chance of progressing to the third round.




Double blank

Two games without Shola and we've failed to score in either of them. Who'd have thought we'd be missing Shola's goals! Whereas we might have scored a hatful against Ventspils, we hardly looked like hitting the back of the net against Villa despite having tons of possession. I suppose that's always likely to happen when you pack your team with midfield players and only have one up front. Especially when the one up front has never played with his team-mates before. It's not possible to judge Martins on his performance against Villa. He didn't look very good, but in his defence he didn't get much in the way of service.

I've ranted about this sort of thing before, and I'm going to do it again. It's beyond belief that the team should get caught up in traffic and only get to the ground 45 minutes before kick-off. This totally negates any benefit that might have been gained from travelling down to Birmingham the day before the game. As anyone who's ever competed in sport at even an amateur level knows, it takes ages to get a long coach journey out of your system. And lo and behold we were caught napping after only 2 minutes. After that we started to take control of the game, but without threatening much. Shambolic defending by Babayaro, and to a lesser degree Titus, gifted Villa a second goal, and I doubt there was a Toon fan in the ground seriously thought we were ever likely to recover from that position. When Martins went down injured I got the impression that he could have played on if he'd really wanted to, but that he thought to himself "Stuff it, I've had enough of this". Down to 10 men and with Luque up front we were effectively down to nine and a half and despite the occasional foray forward it was really just a question of whether or not we could keep it at 2-0.

Apart from the match it was a canny day out. The lack of trains from New Street to and from the ground (due to engineering works) was a pain in the @rse though. I jumped on a bus just down the road from our end after the game and thought I was going to be back in the city centre in no time. Wrong! We covered the first mile at slower than walking pace and I seriously thought I was going to miss the 5 o'clock train back. In the end I made it though, as did everyone else.

| | | |
| --- | --- | --- |
| Alan J and Paul use beer bottles to discuss formations | | Toon fans fill the one end and nearly half one side, and still the gate was only 35,000! |