So the Toon are looking to cut their wage bill? Seems to me that a good place to start would be to get a certain Alan Smith off the payroll as quickly as possible. Against Hertha Berlin the best that you could say about him was that he was anonymous. At least fellow 'striker' Shola did get into the six yard box a couple of times. It's got to be a real concern when your two starting front men haven't scored a goal between them in the last year. Any team would struggle a bit with their three top strikers missing, but most would have something better than Smith and Ameobi to fall back on. Much of the game was like a replay of much of last season - tons of possession, loads of corners, but little creativity or end product. Geremi obviously hasn't been working on his corners since we last saw him.

Positives to come out of the Hertha game? Gutierrez looks like he could be a really good buy. He showed good skill and appetite, and a surprising willingness to cover back. It was a bit worrying that he faded so much after a really bright start though. Hopefully it was just down to a lack of match fitness rather than him becoming disillusioned when he realised that the players around him aren't in his league. Duff look as sharp after he came on as I've seen him since he came to the Toon; at least he managed to work the keeper, even if only just. Guthrie looked steady enough; we already had plenty of steady midfield players though, it's quality attacking midfield players that we're crying out for.




Out with a whimper

The performance at Goodison was a major disappointment, if not a total surprise. A few weeks back I thought that the last couple of games could end up as a team desperately needing points (us) up against a couple of teams with nothing to play for (Chelsea and Everton). It's turned out completely the opposite and, as might be expected, it's been the team that's needed a result that's come away with the points on each occasion. Meanwhile some of our players have looked like they've started their summer break a bit early. Even Nicky Butt had a bit of a nightmare against Everton. Meanwhile other players, given yet one more chance to show us what they can do, demonstrated yet again that they've got absolutely nothing to offer us. Step forward Cacapa, Smith and Duff.

Speaking of players, this is how the Player of the Season voting ended up:
| | |
| --- | --- |
| Whitley Beye | 8 |
| Stevie Harper | 5 |
| Nicky Butt | 4 |
| Oba | 3 |
| Milner | 2 |
| Stevie Taylor | 1 |
| EMO | 1 |
| Joey Bartoon | 1 |
I voted for Butt, but I can't argue with the choice of Monday, Tuesday, Habib Beye. He's played consistently well all season, despite having to adapt to English football and having to deal with a massive change of culture and climate. So well done Habib. Now we just have to get the trophy back from a certain Mr Shearer...




Waste of a shirt

A couple of weeks back I was convinced that we wouldn't lose against Chelsea. But after the Sunderland and West Ham performances I suddenly wasn't quite as confident! We more than matched them in the first half though, even if in my view we showed them too much respect. "Not to worry", I thought, "Kev will get them really fired up for the second half". And let's face it, we had nowt to lose and could afford to have a real go. And so what happened? We sat way, way too deep and allowed them all the time and space to impose themselves on the game. Poor Oba was at times surrounded by 5 or 6 of their players when hopeful balls were pumped up vaguely in his direction. I'm not sure how much of the difference was down to the introduction of Smith. I'm not even sure why the changed was made. But if it was to give Smith a chance to show what he can offer then he blew it big time and just confirmed what most of us worked out a long time ago, namely that he's got nothing to offer. "Waste of a shirt", as Cookie said later.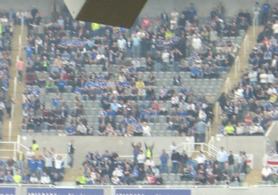 It was a disappointing way to end our home campaign, as much as anything because it would have been great to keep our unbeaten run going to the end of the season. Most of our fans though didn't seem too unhappy afterwards. Bobby Robson would have been bemused, if not totally pissed off, to see the fans' reaction at the end considering what happened when we finished 5th in Bobby's last full season. Fickle lot aren't we! Speaking of fickle, what about that shower from Chelsea? In with a chance of winning the title, yet there were hundreds of empty seats. Obviously because they've won it a couple of times the Chelsea fans are getting blasť about the league now. As you would. Well, actually no. Champions League Final or no Champions League Final, if the boot had been on the other foot tickets would have been like gold dust. And there certainly wouldn't have been any empty seats if it had been Man U or Arsenal playing at SJP in the same circumstances.




End of season dross

The unaccustomed sunshine and high temperatures gave the West Ham game a real an end-of-season feel even before the kick-off. And there was little change after kick-off, especially from the Toon. To be fair, considering that we've come in such a short time from looking as good as down to mid-table mediocrity, beating the Mackems along the way, I think it's fairly understandable that the players have eased off a bit (or completely in the case of Viduka). How we managed to get a draw is a mystery to me. Grabbing a goal before half-time after being so poor up to that point was hard to was believe, but going in level was pretty embarrassing. Not that the Toon fans were complaining though! The second half performance was an improvement, but there was still little end product.

Most of us travelling down from Leeds were on the 8.05 or 8.15. Cookie Junior though had a lie-in and caught the 5 past 10 because she'd had a few drinks on the Friday night. As if the rest of us hadn't. Anyway, points or signalling or something problems meant that we arrived at Kings Cross a bit later than expected, so we wasted no time heading over to the Duke of Edinburgh. For some reason the pub decided that the commentary to the Chelsea v Man U game had to be about 1000 decibels, so myself, Maggie and Fringo relocated to the beer garden (for 'garden' read 'back yard') where it was fractionally less noisy. The problem with being out there though was that those of us with not much hair ended up with very sore heads the next day. And I'm not talking about hangovers.

A special mention for Laura when she belatedly arrived at the pub. At one point she disappeared into the ladies. She took her handbag with her, which is obviously not unusual for a female. Strangely though she also took her (nearly empty) glass. When she came back out her glass was mysteriously full again. Gordon would have been proud of her.

Stevie Round was celebrating big style on the way back because he'd gone for 2-2 in the Predictions. Looking at the table you might wonder why it should be such a big deal when he's still in the bottom third, but the 3 points he scored took him above his lass, and whichever one of them finishes lower has to pay for a meal out.



Kick-off approaching

El Fringo in the Duke of
Edinburgh beer garden



Food and drink on the way back


Toon 2 Gypsies, tramps and thieves 0

A crap performance, especially in the second half when we were basically pants. But we won, and that's really all that matters in these games.




Nearly there

The draw at Fratton Park means that three more points will make our place in the Premiership next season mathematically certain. It goes without saying that would be extremely satisfying if those points came from a win against S********d next Sunday. Of course, if the Smoggies beat Bolton on Saturday then we won't need any more points. We'd still want them though!

It's a reflection of the massive improvement that's occurred in the last month or so that we can go to Portsmouth and boss the game and to be disappointed not to take all three points. Mind, even though we were on top most of the game I was still relieved to hear the final whistle because all the way though the game I was expecting Defoe to pop up with a goal at any moment. And he had his chances! Our performance level slipped a bit from the previous couple of games. Perhaps this was just some of the players easing off a bit now that we're effectively safe. It was still a good all round performance though other than Enrique slicing the ball into touch regularly and Geremi's woeful corners. Geremi actually puts in some decent free-kicks, where he whips the ball in from a diagonal (like for the second goal against Fulham), but his corners are truly shocking. It's hard to believe we haven't got anyone that could do better.

Anyone with a massive amount of time on their hands might want to check out the new links I've put on the Links page. There's some really good reading there!




Toon 3 Reading 0

I can't believe there's ever been a transformation like it - a few weeks ago we were getting hammered every game, now we're strolling to one victory after another. It's quite reminiscent of KK's first spell in charge - a desperate relegation battle, but finishing the season on a high and looking like we should never have been down there in the first place. The big difference this time around is that we're about 6 games ahead. Back to the Reading game, they started off much the better side to be fair. But once we scored the first goal there was only going to be one result. The performance wasn't on a par with the Spurs game, but once again there wasn't a weak link anywhere in the team. All of sudden I no longer think that we need to get rid of half the squad in the summer! I'm even prepared to give Duff another chance - if Keegan can achieve such a transformation in Barton then perhaps he can do something similar with Duff.

Once again we bumped into some 'interesting' characters on the train back; I put it down to Stevie Round Boy's natural tendency to chat to anyone and everyone. One lad tried very hard to persuade us to get off the train at Darlo and go back to his place, where substances and exotic ladies would have been available. He couldn't believe that we didn't want to take him up on the offer. When he proceeded to tell us about his past (like time spent in Strangeways due to football violence!) we wondered if our rejection of his very generous offer might cause things to turn nasty, but fortunately he took it reasonably well. I think the fact that he was almost comatose (as a result of excessive drinking in the Toon to celebrate his brother's 50th) might have had something to do with this. Never a dull moment with Stevie!




King Kev rules again!

Around 10 past 4 on Saturday I was worried as hell that victories by Bolton and Birmingham were going to drag us back into the relegation dogfight. But then came Arsenal's stunning recovery, to be followed by our equally stunning win at White Hart Lane. And just in case the Beeb somehow manage to suggest otherwise with their highlights, I can assure anyone not at the game that our performance really was that good. We absolutely hammered Spurs and could quite easily have won by more. In fact, I'd say it was the best Toon performance for quite a few seasons. I couldn't fault anything at all in the team overall or the players individually other than Geremi's set pieces. Ok, I know he scored from one of them, but I reckon that should go down as an own goal against Robinson. Every other set piece was once again wasted. On the odd occasion that Geremi managed to miss the first defender the ball sailed miles past every player we had in the box.

I put the win down to a number of factors:
- confidence; 4 points in the previous two games had obviously given the players a massive boost; even conceding quite early on didn't seem to knock their belief
- Nicky Butt had a magnificent game
- Joey Barton had easily his best game for the Toon; this meant our midfield was so much more competitive
- having a settled team for a few games (it's not rocket science!)
- the defence look much more solid with Stevie Harper between the posts
- it was the perfect time to be playing Spurs; hopefully the Pompey and Everton players will also be thinking about their summer hols when we come up against them
- Alan Smith not being in the team




At last

What a difference a week can make. Before Birmingham it was looking a good bet that we'd be relegated, but four points from that game and the Fulham game have put us in a really strong position. Considering who Bolton have got left to play, another 3 or 4 points could realistically be all we now need to stay up. Not that I'm thinking in terms of us scrambling our way to 35 or 36 points and surviving by the skin of our teeth. Apart from anything else, I would hate it if we gave the anti-Toon brigade the opportunity to be able to harp on about us staying up with a points total which any other season would have seen us relegated. So we really need to kick on and pick up every point we possibly can between now and the end of the season. It's not unreasonable to think that we could end up with more than 40 points because with a bit of luck Spurs, West Ham, Everton and even Chelsea might well have nothing to play for and/or more important things to worry about by the time we come up against them.

The Fulham game was a real potential banana skin. For a start I was concerned by the apparent consensus of opinion that a decent second half against Birmingham meant that everything was suddenly ok, with the preceding twelve and a half games conveniently forgotten. Then there was Fulham themselves. They hadn't won away for a year and half since they won at, that's right, St James' Park. And the Toon being the Toon you could just us losing to them again. And Fulham certainly set off looking like they fancied their chances, no doubt buoyed by their victory against Everton in their previous game. Even our early goal didn't knock them out of their stride. Fortunately though their good possession play tended to fizzle out when they got within sight of our goal. On another day one of those 30 yarders from Bullard would have ended up nestled in the top corner with Harper helpless to do anything about it, but perhaps our luck's finally started to change because none of his efforts seriously troubled us. At the other end we created a succession of decent chances and should really have had the game sewn up by half-time. As it was we had to wait until late on for the comfort of a two goal cushion. Even then we still couldn't relax because, although Fulham never really threatened in the second half, if they'd managed to pull a goal back we would probably have totally fallen apart.

There seems to be a lot of talk about KK's team selection being influenced in a big way by what certain individuals do in training. Now I can understand a reluctance to pick someone who tosses it off all week ahead of someone who works his bollocks off. Yes, in an ideal world the grafter would be rewarded with a place in the team. But we don't live in an ideal world (otherwise it would be the Mackems not Derby propping up the table with a pathetic number of points) and life's not fair and ultimately what players do on Saturday afternoon has to be the biggest factor in team selection. Let's face it, whose goals are more likely to keep us up, a) Alan Smith's or b) Mark Viduka's? Exactly.




Phew!

At half-time against Birmingham I was convinced we were as good as down. It looked to me that the players we've got couldn't keep us up. There was no-one wanted the ball apart from Oba and one or two others, EMO was totally ineffectual as a captain, and the defence was all over the place. The second half though was a total contrast. While hardly playing like world beaters, we totally dominated the 45 minutes and should really have won. Having said that, I was more than happy to take the point because I always had a sneaky feeling that Birmingham would do to us what we did to them at our place, and that would have killed us psychologically, especially after what happened against Blackburn.

It was good to see Keegan having the bottle to finally drop Duff and Smith. It wasn't good though to see Geremi playing instead. I've always thought that David Batty was one of the most limited players in the history of football, but Geremi makes him look almost good. How many corners did we have in the second half? Six? And every single one of them wasted by Geremi. That's shocking at the best of times, but for a team in our position it's absolutely criminal. And if Geremi was bad, Barton was hardly better. Has any footballer in the history of the game ever given the ball away more in 90 minutes than Barton did against Birmingham? And to think the club are busting a gut to get him available to play. Why didn't we just allow him be locked up until his trial? It would have been doing everyone a favour.

It was a bit of inspired management by KK to take our best player off with 10 minutes or so to go. Not. I'm not surprised Oba was upset. That was our best chance of winning the game down the toilet. Like I always say, football's a simple game. If KK really felt that we needed to make a substitution even though we were well on top at the time, it had to be anyone else that went off.

I'd like to finish with a word for Stevie Harper. I reckon that we would have lost tonight with Shay in goal. Harper though pulled off a couple of crucial saves at vital times, but on top of that he came out and caught some crosses, and just generally looked calm and in control. That's exactly what we're going to need over the next few weeks.




The season starts here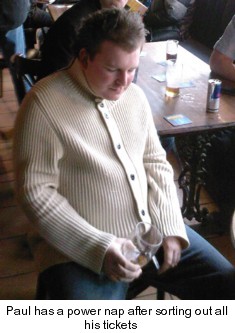 Ok, I knew there was a good chance we wouldn't get anything out of the Liverpool game, but the performance and the manner of the defeat were an embarrassment. Keegan said beforehand that he believed we had a chance of winning. So how did he go about trying to achieve a victory? Pack the midfield to stifle them, and somehow sneak a goal. We've tried those tactics numerous times over the last few seasons against the top four and we've ended up losing comfortably on every single occasion. And sure enough the ploy failed miserably again. It's true that the deadlock was only broken with a fluke goal, but when the ball's bouncing about in our penalty area as much as it was it's only a matter of time before it goes in. The Kevin Keegan of a few years ago would never have sent out a team to play like that, so why does he do it now? Yes, the players he had at his disposal in those days were suited to going forward, but the players we've got now just aren't suited to defending. It's as much the midfield as the defence that's the problem. How many times were Gerrard and Co able to cut straight through into our box virtually unopposed? Where was Nicky Butt? Where was Smith (supposedly doing a man-to-man job on Gerrard)? Someone said on the 606 web site that any team playing Alan Smith in every game deserves to go down, and I can't disagree. Another thing. If you're going to play a lone striker, what's the point in it being Michael Owen if all you're going to do is lump long balls vaguely in his direction. We'd have been better off playing Andy Carrol.

Anyway, we've really got to forget about all that's happened over the last couple of months. We've got 9 games left and we need to take at least 9 or 10 points from them. Most people will be thinking that if we can beat Fulham, Reading and Mackem then we should be ok. While that's true, I don't look at it quite like that. Yes those three would be great games to win, but I don't care where we get the points from as long as we get them. What I would say though is that we can't really afford to lose any of those games, or the Birmingham away game for that matter. I'm not though for a minute saying we should set out with the intention of not losing. We should be aiming to win all those games, but if we have to settle for a draw so be it, and if necessary we have to take a few points out of what logically are our tougher games. Who knows, it's possible though that those 'tougher' games might not be. By the time they come round it could be that the opposition will have nothing to play for.

What's indisputable is that the team needs the fans behind them from now on in. Regardless of what we might think about the owner, Chairman, manager, team selection, tactics or individual players we have to give the team our full support from the first kick to the final whistle. Anything less and we'll have failed in our duty as Toon fans.




Marathon Man

In case anyone's not already aware of it (and just why haven't you been reading the message board?!!), Si Martin's signed up to do a charity run
next Sunday (16th); at a time when he'd normally still be crashed out in his bed, he's going to be pounding 3 miles around Gosforth racecourse in aid of Sport Relief. Now 3 miles might not sound very much, but remember that this is Si we're talking about. He's used to getting around by helicopter and it's years since he did any exercise. I mean, have you seen the size of his belly recently. Him running 3 miles is like someone who's fit running a full marathon.

Si's original fundraising target was a modest 20 quid. But he's easily surpassed that figure thanks mainly to some generous Yorkshire Mags. That doesn't stop anyone else from sponsoring though. The easiest way to do it is online here. Alternatively you can just let him know by email, phone, text or whatever how much you want to pledge and he'll stick it down on the old-fashioned sponsor form that he's got.

Good luck on the day Si, and remember not to have more than a dozen pints on the Saturday night. And a curry's definitely not a good idea.




Rough justice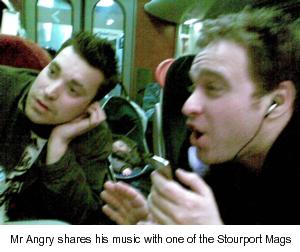 For the second time this season against Blackburn we've played pretty well and ended up with nothing. This was an especially bad game to lose because, as was inevitably going to happen eventually, some of the teams below us won. It was frustrating to see EMO fail to score from a sequence of chances that he would have put away for fun a few years back (usually when playing against us!), but at least we did for once create the sort of chances that he thrives on. It's worrying though that you can't see where else in the team a goal is likely to come from.

Liverpool away isn't the sort of game we need right now. Unlike most people though I don't accept that the result is a foregone conclusion. Obviously current form and our record at Anfield over the years means that Liverpool are likely to end up with three points. But in football the form book occasionally goes out the window. We only have to look back two weeks to see what can happen. No doubt most football 'experts' would have said that Barnsley had absolutely no chance of beating the Scousers. Well apparently the Barnsley players had other ideas, even after going a goal behind. If we battle for every ball and have a bit of overdue luck then who knows what could happen.

Something seems to have gone wrong with Wetherspoons' recruitment process. I was under the impression that you couldn't get a bar staff job with them unless you basically didn't have a clue. But there was a lass behind the bar on Saturday who, not content with serving customers in something like the right order, also managed to serve two people at the same time. No doubt she'll be shown the door before the next home game.




Going down

There's no getting away from it, on current form we'll almost certainly get relegated. Ok, Reading are losing every game right now, but we've got to assume that they'll start picking up points before long. We need to scrape together around 10 points to give ourselves a decent chance of staying up, but it's difficult to see where those points are going to come from. And any more hammerings like those we've been having lately and the players' confidence is going to be completely shot. To be fair heads didn't really drop against Man U, but we looked hardly capable of hurting them while it seemed like they could score any time they wanted. It wasn't quite a repeat of the humiliation at Old Trafford though. On that occasion we were lucky that it wasn't double figures. This time the game was fairly even and Man U probably only had about 10 attempts at goal. It's just a pity that five of them went in! About the only positive note for us was that Andy Carroll gave us a bit of much needed presence up front after he came on. No doubt he won't get a look in against Blackburn mind!

Some of us had the misfortune to have to endure the company of some total wankers of Man U fans on the train journey back. Most of their lot got on a late-running Kings Cross train, accompanied by a few police. Some of them though decided to hang back and get on the Leeds train, without an police accompaniment as it happens. To make matters worse they ended up in our carriage. It would be an understatement to say that they weren't exactly magnanimous in victory. In fact a few of them were clearly looking for a fight, a clue being when they started chucking bottles (plastic!) at us in an attempt to goad us. Their plan backfired though because unknown to them there was a Man U fan sat at our table and he was just a little bit unimpressed, and I think he would have quite happily torn the main perpetrator into little pieces. There was an uneasy stand-off for the remainder of the journey to York where the troublemakers fortunately got off to catch a connection to Mancland rather than staying on as far as Leeds. We could of course have taken the easy option of moving to the next carriage, as virtually all the terrified 'normal' passengers did, but we weren't going to give them that satisfaction. Tossers. We discussed amongst ourselves whether or not Toon fans come across the same when travelling to and from games. Obviously we're a bit biased, but we all agreed that there's no comparison. I've seen a few things I've been pretty embarrassed about, but our fans are usually no worse than loud and very drunk.

PS Who's Robert Plant by the way?




GAM£ 39

What do we make of the fairly bizarre announcement that the Premier League are looking at playing some games abroad from a couple of years hence? I can't say this comes as a big surprise to me considering the league and the clubs' infatuation with maximising income, and in some ways I don't have a problem with it. If it's done the way that they're talking about then no-one loses a home game and no-one really gains an advantage through the extra game. But I just find it incredible when the top clubs have complained for years about too many games and fixture congestion that they're now suddenly happy to play an extra game. And let's face it, we're not talking about France or Germany or Italy. At least some of the games will be played at the other end of the planet, which means that the clubs involved will insist on 7 days clear of other games before and after. So that's two weeks added on to the season. Just so that Wigan can play Fulham in front of a couple of hundred disinterested Chinese. Like I said, bizarre.




Toon 1 Smoggies 1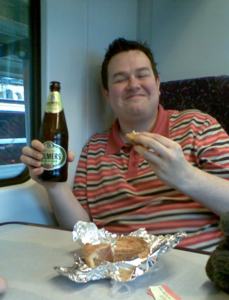 Just in case anyone was in any doubt, the Boro game was further proof that KK is going to have his work cut out to transform us into a half-decent side. While we're unquestionably underperforming, as much as anything due to a lack of confidence, we just don't have anything like the quality we need if we're going to challenge the top 6 or 7. Midfield is the main problem as far as I'm concerned - it doesn't matter who's playing there they don't create enough or give the front two enough support. Having said all that, with a half-decent ref (and linesman) we might have won the game easily - Owen's early goal wrongly disallowed, Boro's equaliser wrongly allowed to stand, and a succession of free-kicks around Boro's box not given. It's not the first time in recent games that we've been on the receiving end of some rubbish officiating. If as they say it all averages out over a season we should be getting plenty of breaks over the coming weeks.

A message for Sky and Setanta - 1.30 is much, much too early to be kicking off on a Sunday. It's even worse when there's a reduced train service due to engineering works. It meant a very early start for those of us who wanted to make sure we'd get up to the Toon in decent time. Leechy took the opportunity to conduct some research into the effect that 5 litres of cider (and pork pies) on a Sunday morning have on the human body.




Arsenal 3 Toon 0 (take 1)

Oh well, another season without a trophy. Not that the defeat at the Emirates was totally unexpected. And it means that we can now concentrate on securing the dozen or so points we need to keep us up. At least we tried in the first half to take the game to Arsenal, and for a time were well on top. But it was scary to see how it all fell apart after half-time, when we couldn't string two passes together. It doesn't help when Nicky Butt does his best Titus Bramble impression and sprays a succession of 70 yard passes straight into the crowd. He wasn't the only one at fault though - Owen again appeared disinterested, and Cacapa again looked out of his depth. The substitutions were very curious - Rozehnal replacing Enrique was hardly adventurous, and then Duff was taken off even though he'd had one of the best games I've seen from him since he signed. Smith also had a decent (for him) game, looking much more comfortable playing up front.

I'd caught the train down to St Pancras from Leeds. It was slow, but it was quite a bit cheaper then the Kings Cross option. It also gave me chance to see the 'Eight Billion Pound Station' first hand. And very impressive it was too! I walked the length of the champagne bar, but didn't feel tempted to call in for one - I was headed for the only slightly less salubrious Dolphin, where I met up with Brendan, Paul, and others. A few swift ones later it was time to head up to the ground. Nothing is ever straight forward for Big Issue when it comes to travel, and so it proved again. He'd topped up his Oyster Card (it's a pre-paid card that you use to travel around London, working out considerably cheaper than pay-as-you-go) with 20 quid during the week, but now he couldn't find it. He was still searching through pockets and bags while we were on the tube up to Arsenal.

I might have had a slow journey down to London, but I made record time coming back. I caught the half 6 from Kings Cross and was in the house at 20 past 9. Pretty good considering the long bus journey out to Yeadon.

| | |
| --- | --- |
| Money well spent? | That sculpture |
| Paul wisely keeps his hair covered | Toon friendly pub |
| Crossing the bridge to the ground | Canny view |


New manager, same old problems

We might have put four past Stoke, but our inability to break down a determined Bolton team was a reminder that we're desperately lacking creativity. The players that were unavailable, with the possible exception of Emre and Barton (when he's not locked up), wouldn't have given us that much more going forward. Even KK is going to have his work cut out transform our current midfield. Whether or not he can find anyone to bring in before the transfer window shuts remains to be seen.

Highlight of the day was the presentation of a clock to the manageress in Spoons to replace the one that disappeared when the pub was refurbed last year. Attempting to stand on a beer glass crate stood on its end to hang the clock on the wall probably wasn't the wisest move the lass has made. Predictably she ended up on her arse (fortunately apparently unhurt), and the clock ended up in bits. Oh well, nice idea.

It's just as well we made good time motoring back down to Leeds with Keith. Big Issue's kebab and farts made it a bit of a journey from hell. I've just about recovered now, but I reckon it'll be 3 or 4 days before the car stops stinking.

PS I've just remembered - wasn't the ref absolute pants?! Doesn't understand the concept of advantage, doesn't understand what constitutes a bookable offence. Three minutes added time in the second half? With the substitutions and Bolton's play acting and time wasting it should have been at least 5. Not that we would have scored of it had been 25.

| | |
| --- | --- |
| Mike's new hair style | Paul prefers the wind tunnel look |
| El Fringo attempts to put the clock back together | Plenty of smiling faces- before the game |
| The silly hats | Farting in his sleep |


Return of the Messiah

I didn't think for a moment that Keegan would ever make another return to the Toon. I thought he was brave when he first came back as manager considering how successful he'd been as a player. He's really putting his neck on the block by coming back again. Anyone who thinks that his arrival means an instant transformation to free flowing football and loads of goals is deluding themselves. In Keegan's first spell as manager we certainly were very, very good at times. We hit a peak at the start of the 1994/95 season when we hit 35 goals in our first 10 competitive games and literally no-one in Europe wanted to face us. And then of course there was that 5-0. It wasn't always like that under Keegan though, but people only remember the good bits. What can't be denied though is that he's already made a difference - 4-1 against Stoke with 10 men for most of the game just wouldn't have happened otherwise. And apparently a few players, including Duff and Owen, looked much more lively.

What do I think of the appointment? It doesn't make sense! There's been all this talk of taking a long-term view, getting things right from the bottom up, sorting out the academy and youth set-up. Keegan's not your man for that. What he will do though is to give a the club and the fans a massive lift. Everyone knows we can't challenge the top two or three clubs in the Premiership in the short term, but at least we might give them a bit less respect under KK, and we might have a bit of fun along the way. Life certainly won't be dull! And when he does hand over to someone else you can be sure that we'll have a better squad than we have now.

It's fascinated me the last week or so how the papers and numerous web sites have been so full of stuff about what's been going on at the Toon. A lot of it has concentrated on how we think Newcastle are a big club whereas in fact we aren't because we haven't won anything for so long, blah blah blah. So if we're only a small club, how come all these people with no connection whatsoever with the club or area are so obsessed with happenings at the Toon?

PS Heard yet another refence to H******d on the radio on Wednesday night. If (a bit unlikely I admit) Havant and Waterlooville knock out Liverpool, do you think the BBC will finally forget about that game? I don't think so either.




Total shambles

Yes we should been 1-0 up, and the free kick for the second never was, and the last goal wasn't even close to being over the line, but at the end of the day we were well beaten by a much better side. I've seen us lose plenty of times at Old Trafford, but the latest non-performance takes some beating. And without some poor finishing and desperate clearances it could have been a lot more. The worst part about it is that the players you might hope would lead by example let us down badly:
Michael Owen - as expected got little or no service, but when he had a chance to get us back in the game he fluffed it
Shay Given - been a professional for over a dozen years and yet can't kick a ball
Nicky Butt - constantly gave the ball away when under no pressure
Damien Duff - still hasn't produced a half-decent performance for the Toon and should be chased
Alan Smith - what does he do?
It's clear that whoever comes in as manager must be able to give the players a real lift. While I think our squad is no better than average (who have we got that can change or win a game?), we are still underperforming at the moment. I'm not for one minute suggesting that KK should come back, but we need someone who can instil self-belief in the players the way that he did. Unfortunately managers like that are few and far between. In fact they're virtually non-existent nowadays when coaching qualifications are considered more important than basic football knowledge and man management skills.




Man U hoodoo to be buried - exclusive

The reason for our failure to beat Man U at Old Trafford for 36 years is really obvious to me. It's me. Consider the facts. Our last domestic trophy was won in 1955, I was born in 1956. We couldn't win at Southampton for donkey's years, I decided to give it a miss in 2004 and we won. The last time we won at Man U was 1972 (7 days after Hereford - typical Toon), I started going there in 1973 and the rest is history. I can only remember missing one league game there since that first visit. It's traditionally been one of my favourite trips despite our record in that time. Apart from the fact that it's obviously so easy to get to, not to mention a few good sessions in the Waldorf, it's always been fcuking hilarious winding up the Man U lot. But I have to confess that the long succession of disappointing results and (often, but not always) performances have finally taken their toll, and I'm not going this time. It just seems crazy to fork out best part of 40 quid for a ticket largely to wind up their fans when I can watch it for nowt on Setanta, and so that's what I'm doing. So get your money on the Toon triumphing at our Theatre of Nightmares. I just did - 33/2 at Betfair.

PS I forgot one. Remember that infamous run of matches in London without a win? What was it, four years and 26 games? Well needless to say I was at virtually every one of those 26 games, but not at the match at Highbury where we finally ended the run.




The final straw

Well the Toon owner/Chairman have ignored my advice and got rid of Big Sam. It seems like the reserve team's defeat against the Mackems was one bad result too many. At least Sam's departure is officially by mutual consent, which should save us a load in compensation, even though it almost certainly wasn't really.

So where do we go from here? Don't ask me! I would like to think that for once we've got someone lined up. Just as long as it's not Venables or a load more that I could mention. I'm actually one of the minority who think that Shearer could be the man for it. The fact that he's got no experience doesn't bother me one bit. Either you've got what it takes or you haven't. And at least he'd be given a chance by the fans, unlike a couple of our recent appointments. Of course it would be a big risk, but so would any appointment. We've had our share of proven managers over the last few years, and they've mostly been pants. Whether or not Shearer would want the job is of course another matter. Probably not at the moment if he's got any sense.

Watch this space.




Time to move on BBC?

The Beeb just can't get Hereford out of their system. Since that horrible day other teams have been subject to similar or greater humiliations - Coventry losing at Sutton, Burnley (then in the old first division) losing AT HOME to non-Wimbledon, Man U held at home twice in recent seasons by non-league teams (although erased from history apparently). Yet it's still the Hereford game that gets dragged up any time they want to talk about cup upsets. I mean, it's 36 years ago now! And still every time we get drawn against a team from a lower division they wet themselves at the thought that we might get beat, and they jump at the chance to show the game. And isn't it fucking great when we spoil their party.

I can't believe the BBC's coverage of the Stoke game. I lie, because I can really. They way they were going on you would have thought we were up against a bunch of part-timers. Now correct me if I'm wrong, but aren't Stoke 4th in the Championship and on a great run, and weren't they at home against a team who are mid-table in the Premiership, on a shit run and short of confidence, and generally pretty crap away from home? For my money Stoke were slight favourites, and I would have settled for a replay beforehand. In the end I thought a draw was a fair result. Stoke huffed and puffed but quite frankly for a team doing as well as they are they didn't offer that much. The first half we were very comfortable and had the only three decent chances. The second half started off pretty much the same. Then Stoke brought on 'The Beast', and for 10 minutes we were all over the place and Stoke could easily have scored a couple. But from then on it was again pretty comfortable. I'm not saying that we were better than Stoke, or even good. It's just that while Stoke could have won, they didn't "deserve to win" as all the so-called experts were saying. And those experts of course include our own Alan Shearer who tries so hard to be politically correct and unbiased when it comes to the Toon that he ends up talking bollocks. Stoke should have had a penalty because the ball happened to hit Stevie Taylor's arm? Like where else do they think his arm should have been? And did they discuss Wilkinson's shove on Carroll right at the end that was more of a penalty?

Here are a few thoughts on some of the players in the team today:
Viduka - quality at times, but overall commitment poor
Enrique - worryingly again looked out of his depth
Duff - when is he going to start to deliver?
Smith - what does he do?
Taylor - great commitment (goes without saying), but also effective
Faye - not as eye-catching as Taylor, but solid as a rock

Going back to the coverage, what summed up the BBC's infatuation with our cup record was Jonathan Pearce's reference to Tony Pulis being Harry Redknapp's assistant at Bournemouth when they "famously" beat us on penalties in 1992. So famous in fact that only our fans and theirs remember it. And the BBC.

PS The BBC web site has a balanced report on the match. They were obviously watching a different game.




Happy New Year?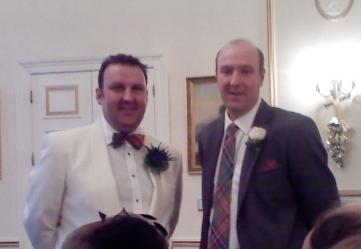 As we go into 2008 I can't make my mind up about this season and the state of the club in general. Just when things had been looking up, with the team and the fans pulling in the same direction, the wheels have come off the wagon again. Unlike most people I wasn't too bothered about the Derby game. I've already written off this season and so the dropping of two points was largely irrelevant, and overall it wasn't a bad game to watch compared to some off the dross we've had to endure over the years. But then came Wigan, which was awful. After showing a big improvement with his team selection, tactics and substitutions, Big Sam reverted to early season. I would never condone playing a lone striker in a game like this. Arsenal might do it of course, but that's because they'd have loads of midfield players breaking forward in support. Who did we have in central midfield? Geremi, Smith and Emre, with Geremi bizarrely being the most advanced of the three. So Viduka was basically on his own. But even though the team selection and tactics were pants, it doesn't excuse the individual performances most of which were shocking. And nothing excuses the response from the fans. "We're shit and we're sick of it"??? So much for our fantastic away support, always getting behind the team no matter what. Yeah, it was shit, but hearing that from the fans isn't going to motivate anyone to play better.

I came away from Wigan totally despondent, thinking there's no way that things can carry on as they are. Then I look at the league table and wonder all the fuss is about. We're probably about where we should realistically expect us to be. We simply haven't got the players to be much higher up. If our most creative midfield player hadn't decided he didn't want to play for us any more then we might have been pushing for a UEFA Cup spot, but unfortunately it's West Ham who are benefiting from his class now. So barring an influx of real quality in January I don't see much improvement in the second half of the season, which doesn't look good for Sam considering that a good chunk of our 'support' have already decided they want him out. What's the alternative? Our Paul reckoned we could get Mourinho. Meanwhile back in the real world, it probably depends ultimately on what a certain Mr Shearer's plans are. He's possibly the only person who be given time by the fans. Of course he might turn out to be totally crap as a manager. I can't see it somehow though. I can see a lot of players falling out with him though!

Anyway, I'm always hopeful, so let's hope that 2008 is much better than 2007 was.

PS Anyone going up by train tomorrow is officially allowed to leave a couple of minutes early if they need to to catch the 21.47 train. (The later service has a bus replacement between Darlo and York in case you hadn't seen it on the Travel page.)




Fulham 0 Toon 1

Hell this was hardly a classic but there were a couple things to take from the game other than the very welcome 3 points: we kept a clean sheet away from home, and we won in London. The overall performance was really disappointing though, especially after starting so well. I knew that we wouldn't last 90 minutes playing as well as we did for the first 5 or 6 minutes, but I couldn't believe how quickly we tailed off. Our biggest problem seemed to be midfield, with Butt and Geremi hardly in the game. I'm convinced that Butt actually went about 45 minutes without touching the ball at one point. It just wasn't the sort of game where you needed two defensive midfield players. We're also really struggling up front. I mean, when was the last time one of our strikers scored in open play? It's quite worrying that we're nearly halfway through the season and we've got someone playing up front (Smith) who not only hasn't scored yet, but who has hardly looked like scoring. At one point yesterday the commentator even said when Milner was looking to play the ball into the box "He had no one to pick out, he only had Alan Smith"! For my money we've got to use Viduka more. I'm not saying he should play every game, but more than 15 minutes now and again would be good. And especially yesterday when he's got such a good scoring record against Fulham. Seeing his name on the team sheet would have had Fulham crapping themselves even before we kicked off.

The team might have run out of steam yesterday, but the same can't be said for the fans. They also started off strongly, no doubt helped by the even longer than normal pre-match drink. But they kept it up for the full 90 minutes which as some achievement considering how poor the game was. And it was all the more surprising considering that there will have been a lot of southern-based Toon fans there which normally dilutes our support. Contrast our fans yesterday with the Liverpool 'fans' at the corresponding game a week earlier. Their lot at Reading were sat throughout the entire game other than to celebrate their goal, and there was about as much life in them as there is in the Platinum Club seats.

| | |
| --- | --- |
| YM WAGs prior to the game | Paul rests his eyes |


Crisis? What crisis!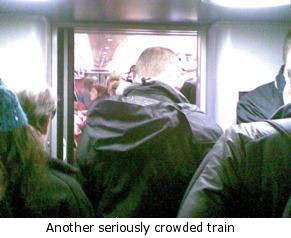 Three decent performances in eight days and all the talk of a managerial change has suddenly disappeared. Not that it should ever have been there in the first place of course. It was good to see how the crowd again stayed behind the team after we conceded the early goal. It seems that Joey Barton's well chosen words have really hit home. I can't say I've got much time for him as a person, but he was spot on with most of what he said about our home support. We would almost certainly have lost the Arsenal and Birmingham games with our 'old' crowd. Instead we picked up four points from them and can now start thinking in terms of overhauling the teams above us instead of glancing nervously towards the bottom of the table.

Even though he hasn't been in the team every week since he signed, I've thought that Habib Beye has looked like he could be a real class act. And a few more match-winning interventions like yesterday could see him end up being a cult hero - charging forward in injury time to win a corner, urging the fans to make more noise, and then heading in the winner. Brilliant! And I was dead pleased that loads of people missed his goal. I still don't get why so many people leave so early. Even though I don't like to see it, I can understand it when the game's crap or say when it's a midweek game and someone has a long journey home and wants to get a flyer and so dodges out just before the end. But even on Wednesday against Arsenal with it all to play for there were people near me who left with 10 minutes to go. And as often as not it's people who aren't regulars. They pay a load of money to see a match as a one-off, it's a cracker, and yet they choose to miss a good chunk of what they've forked out all that money for. Bizarre. I can only think they've gone to the match to as some sort of street cred thing rather than because they actually want to see the game.




Back to normality

How refreshing it was at Blackburn to be in a Toon crowd who were there almost universally to give full support to the team apparently no matter what. It probably helped that the performance was a massive improvement on what we'd had to endure in the preceding few games. Who knows what would have happened if we'd conceded an early goal or two, perhaps the fans would have turned on BSA and the team again. However, we actually started the game quite well on this occasion and matched Blackburn in the first half. We had more possession and pressure, but they had the two best chances, both courtesy of dodgy defending. The game moved up a gear in the second half, but the pattern was much the same with us continuing to have the bulk of the possession. Ultimately the game was won by two pieces of brilliant finishing by Bentley, the like of which he might not repeat all season. Oh, and the free-kick for his first shouldn't have been. Anyway, here are a few pluses to take from the game:
- good performances from all the players (other than the instances of dodgy defending in the first half!)
- easily Barton's best game so far
- Smith looking a lot better in a position he's clearly happier playing
- playing further up the field
- positive substitutions

There was a massive turn-out of Yorkshire Mags for this game. Most of us travelled over by train, on the whole arriving nice and early for a big beer session. A small number were an hour behind though - either because they fancied an extra hour in bed (Alan, Tom, Fringe), or because their train down from the Toon was running late and so they missed the connection at York (Brendan, Paul B, and others). Keith and Bryn drove over though; finding themselves 'alone' in the Golden Cup, they journeyed by foot and bus across Blackburn to join us by the station in the Adelphi. By the time they arrived we were well into a marathon game of killer pool; there were about a dozen of us playing, and after a triple 'rollover' there was more than 40 quid in the pot! In the end it was Hamish who kept his nerve and walked away with all our money.

The announcements towards the end of the game that "The train back to Newcastle is at 11 minutes past 6 and it won't wait" were bizarre. For a start, getting to the station for that time was hardly going to be difficult as it's only a half-hour walk back. But secondly, why would anyone suppose that the train would wait?!!! As it happens the only concern anyone had was whether or not we'd be able to actually get on the train. When it finally turned up about 15 minutes late it was as expected only a two carriage job. And there must have been 200 Toon fans waiting on the platform! It was every man for himself, but I just happened to be stood in a good spot and only had to fight my way about 6 feet to a door, and could have even got a seat if I'd have been that bothered. I was one of the lucky ones though. Not so lucky were the people who couldn't physically get through the doors and so had to wait an hour for the next train. The trip back really was a journey from hell, not helped by the fact that we crawled most of the way, and I had to feel sorry for the 'normal' passengers on the train. Steady passed the time doing what he does best, namely trying out his worst chat-up lines. This time it was Danielle and Jolene from the Toon who were on the receiving end. He tried but failed miserably to persuade Danielle to join the lot who were going for a curry in Bradford.

| | |
| --- | --- |
| Brendan sensibly attired on this occasion | Not so El Fringo though |
| A vital shot in the marathon killer pool tournament | The winning shot |
| A good turn-out in the Adelphi | Round Boy gives his vocal chords a work-out |
| One seriously crowded train | Playing spin the bottle with Danielle and Jolene |


A very public undressing

Let's make this clear for anyone who didn't see both games. The Liverpool performance was much, much, much worse than Portsmouth. Ok, we may have been up against a better team, but whereas Portsmouth could just about be marked down as a one-off fluke, against Liverpool we were completely humiliated in everything other than the ball actually hitting the back of the net. Just where we go from here I'm not sure. Part of me would be quite happy to see Big Sam depart after some of the team selections, formations, tactics, and performances of recent weeks. Not to mention results. Assuming though that he's not going to walk away, I can't help feeling that we'd be shooting ourselves in the foot by booting him out the door. Of the few top managers available, would any of them in their right mind want to take on a job knowing that they're only going to be given a dozen games before they're judged?

On the assumption that Sam's going to be here until at least the end of the season, I reckon he needs to have a big re-think if he's going to have any chance of getting the fans on his side. Here are a few tips in case he's reading:
PR
The fans don't want to hear that we're going to places like Derby and the Mackems with a game plan of not losing. Much better to say that we're going there to get all 3 points, but that we'll settle for a point if we have to.
Keep a settled side
Even if this occasionally means leaving out players he'd like to have in the side. Other clubs can make half a dozen changes from one game to the next and you don't notice any difference. We try it and most of the team look like they've never played football before.
Play players in their natural positions
Anyone with half an ounce of sense would have played Beye at right back against Liverpool and Edgar at centre back.
Don't ever give Alan Smith a game
He might get "stuck in", and he might have had our only decent attempt against Liverpool, BUT HE'S NOT GOOD ENOUGH. And finally.....
Football's not a complicated game
Play to your strengths and let the other team worry about how they're going to stop you. Especially when you've got better players than they have.




Embarrassment averted

Like probably most people, I would have settled for 1-1 against the Mackems beforehand. And I certainly would have done at around 2.00 when we were a goal down and not looking like getting back in the game. The result was just about the only thing we can take out of the game though because collectively and individually the performances were once again sub-standard on the whole. In the heat of the battle you often don't take it all in, but it was quite scary watching the highlights in the cold light of day next morning to see how many the Mackems could have scored. We've got what looks a decent squad, but Big Sam needs to work out pretty soon what his best team and formation are and stick with them. He especially needs a settled defence, preferably with players playing in their natural positions. And we as fans probably need to assist by taking a long-term view and accepting that there will some painful set-backs along the way. Just as long as one of them doesn't occur on April 19th!

The day didn't start well. The train that myself and the Doc were on was delayed at York by "conflicting movements north of York". That's a new one on me. We then crawled all the way to Darlo, getting overtaken by a couple of trains on the way, without a word of explanation. By now we were about 35 minutes late, and to make matters worse they were serving beer in Spoons! Seeing as how we were on a beerless train and how we were likely to be overtaken again by the Virgin train that was right behind us, we jumped off at Darlo, stocked up with cans, and then boarded the Virgin train. We were now drinking beer and on a train going at full-speed, so things were beginning to look up. Not for long though. Getting into Spoons at about quarter to 11 I was looking forward to a few pints and a bite to eat before we set off to get the Metro over to the Dark Place. Think again. The place was absolutely chocka with 'boys'. I hadn't seen as many caps and Stone Island badges in years. Getting served was a nightmare, not helped by the staff not having a clue. Eventually though I did manage to get some beer, but food was forgotten. Things improved not long afterwards though when all the thugs left to catch the half 11 train. The more sensible amongst us had another pint and then strolled over to the Metro station. A very civilised journey over to Mackemland ensued, helped in no small measure by the refreshments provided by Steady. I was initially surprised to see himself and the Doc drinking bottles of pop, but I soon found out everything isn't always as it seems!

After alighting the Metro at the Stadium of Shite station we sensibly resisted the temptation to have a pint in a Mackem pub on the way to the ground. Once inside the ground I was reminded once again just how poor their ground is compared to the palace that is St James'. Just why it's considered to be a top ground by a lot of people is beyond me. Everything about it is cheap and nasty and the facilities are totally inadequate. Still, hopefully we'll never have to go there again.

We all knew that we'd be kept in the ground at the end of the game. It was a pleasant surprise though when the announcements informed us that it would only be for 10 or 15 minutes. But when 10 or 15 minutes turned into 25 or 30 minutes people started getting restless. And when we'd been there for half an hour and we were told it would be "only 5 more minutes or so" it looked like things could turn really nasty, and the police were having a really hard time holding the Toon fans back. Finally though we were allowed out. However, it was still another 15 minutes before the police dispersed and we were able to set off back to the Metro. Not bad, only an hour since the game finished.

Back in civilisation we were forced by the reduced train service to have a few pints. And then the train was running late, so we had to have another pint. And then we got some beer for the train. And so by the time I got home I was a bit the worse for wear and I didn't make it down to the Woolpack to see the Shambolix. Sorry Tom.
| | |
| --- | --- |
| Pre-match build-up in Spoons | The thugs head off to catch the hooligan special |
| Mickey Mouse ground | It threatens to get nasty |


Toon 1 Pompey 4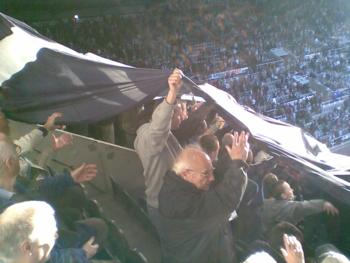 Well so much for my theory that we were going to be harder to beat this season! On top of the feeble displays at Derby and Reading comes this humiliating thrashing at what is supposed to be Fortress St James'. To be fair, for most of the game we didn't play that badly. It's just unfortunate that the game was already as good as over! It would have been interesting to see what would have happened if we'd have managed to score a second, but in all honesty we never came that close.

Just as worrying as the results and overall performances in the last couple of games have been the performances of some individual players. And I'm not just talking about defenders! You don't need me to tell you that EMO has been a long way from his best. The poor service to him hasn't helped, but he just doesn't look sharp (or interested some might say), and he could certainly have done a lot better with the chances that have come his way. Just as disappointing has been Joey Barton. I'm sure I'm not the only one who was expecting great things from him after what we've seen him doing for Citeh, but it just hasn't happened yet. Still, it's early days for him. Another disappointment against Portsmouth was Alan Smith. He was playing in what I'm sure is his preferred position, yet he was pretty innocuous other than picking up another booking.

So Portsmouth finally got a win at SJP after 58 years of trying. Let's hope we don't see another amazing winless streak ended next Saturday. I know the dirty horrible Mackem bastards have got to beat us at their place one day, I'm not quite ready for it to happen just yet.




Toon 3 Toffees 2

For the benefit of "Confused" and anyone else who couldn't work out what the hell my original Everton "write-up" was all about....

Everton Bob was going on in Spoons before the game about how for once I wouldn't be able to slag off Cahill seeing as how he wasn't playing. Well by the time I'd got home from the game, had summat to eat and watched MOTD2 while sipping (ok, guzzling) wine I was pretty well shagged. Doing the absolute essential web site updates (Tickets, Travel, Results, Predictions) before I could collapse in bed was a pain in the arse, and there was absolutely no way that I was going to do a comprehensive write-up of the day/match. But equally I couldn't not write something about Cahill.

As for the game, I thought Everton were very poor up to the point where Johnson bundled the ball in for his first goal of the season (I'm still not convinced it wasn't an own goal mind). The game was more even after that and looked to be heading for a draw until Big Sam's inspired (or should that be lucky?) substitutions. It then looked like it was going to be another flattering 3-1 home win until Everton's bizarre second. Bob missed the goal though because he was well on his way to the pub by then. Not that that made much difference as one way or another he'd contrived to miss three of the four goals that preceded it.

There was a massive turn-out of Yorkshire Mags in Spoonies before the game, including a few faces not seen for a while, plus a new female member who was getting loads of attention until she got chucked out. It's a pity that Maggie wasn't there as she would have had a field day collecting subs.

Oh, and isn't that Cahill a tosser?


There's a full set of full-size pics from the Horsforth lads' day out on Mike H's Facebook page thing (you need to be registered and a 'Friend' of Mike's to see them though!)




Massive Club 3 Toon 1

Not too sure what to say about this really. I thought that we didn't play that badly and had controlled much of the game, especially in the second half, but probably without creating as much in front of goal as we should have. As I was walking away from the ground I overheard a Toon fan say to his missus "3-1 against West Ham last week probably flattered us, and 3-1 flattered them today". A fair assessment I thought. So I was amazed when on MOTD they were absolutely raving about how good Citeh had been. Perhaps I was watching the game through beer goggles. It's always hard to take when you get beat by this lot because they're so full of themselves outside the ground afterwards. But it happens with monotonous regularity these days.

I much preferred Geremi in the more advanced role that he was used in for this game, he contributed loads more than he has in previous games. However, we still lacked creativity in midfield. When's Barton back?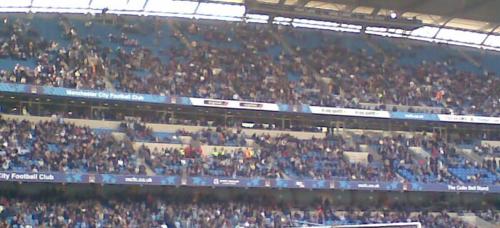 Massive club? Don't think so.


That's more like it!

Ok, it might not have been the most convincing performance against West Ham, but it was a very welcome result. The early goal should have relieved any pressure the players might have been feeling, but it was West Ham who went on to have the best of the rest of the half, and we could count ourselves fortunate to go in at half-time with a lead. Once again we were lacking creativity in midfield. Butt seemed to at least be playing further forward than in previous games, but he's never going to make runs into the box or play defence-splitting passes to the front men. It's going to be interesting to see what happens when Barton's fit again. Assuming he gets straight back into the team that is. Logically one of the two central midfield players will have to make way. Which means either Butt, or Big Sam's recent appointment as captain.

Anyway, I'm not sure what was said during the interval (the longest half-time ever in the history of football???? - I thought they weren't coming out again), but we were much better after the break. And especially after Enrique came on and we had more players playing in their natural positions.

I'm hoping someone can help me out here. Has there been a law passed in the last few years that says that women on hen weekends must wear pink cowboy hats? Whether there has or not, I reckon the three most secure jobs going are undertaker, prison office, and punk cowboy hat maker.

Anyway, I'm sorry but I can't be bothered to write any more. It's late and it's been a long day and I'm off to watch MOTD2.



AGM highlights

There was a pretty good turn-out for the AGM despite (or because of?) the short notice, including our youngest member, Konrad Pattinson. In fact it was probably the best turn-out for three years. That's not saying much mind. Anyway, we had some lively discussions on a number of subjects. Here's a summary of what was decided, to the best of my memory and in no particular order.
Committee
We're going to continue to operate without a full committee, ie with no Secretary. In the absence of any other volunteers or nominations, the present incumbents were unanimously re-elected. In case anyone doesn't know, that's Tom as Chairman and Maggie as Treasurer, with Round Boy as Mags' assistant.
Bank Account
The history to this is that two years back the then Treasurer Darren Upton resigned due to work commitments. When we subsequently tried to pay money into the club account we were told by the bank that it had been closed. Darren's explanation was that the bank had closed the account due to there being no money in it. Now, apart from the question of why there should be no money in the account, banks simply don't close accounts like that. Ok, they might declare the account as 'dormant' if there's been no activity for a few years, but that's another matter. Two years later we still haven't been able to get a satisfactory explanation out of Darren, plus he's failed miserably to supply any documentation (accounts, statements). We also haven't managed to open a new account for various reasons, which makes it difficult to bank the various cheques that the club's received in that time! The plan of action agreed at the meeting is:
- ask Darren nicely once more for an explanation; if he doesn't come up with the goods then we resort to Plan B
- Round Boy and Ian Maxted are going to open a joint account; they will open it in their names as a personal account rather than a business account because it's apparently much more straight forward
Subs
Subs will remain at their present level, ie £5 for an individual or £6 for a family all at the same address. They're now due. You can hand your money to Tom, Maggie or Round Boy. Alternatively, if you're not likely to see any of them in the near future, send an email to webbie@yorkshiremags.co.uk and I'll reply back with Maggie's address and you can stick a cheque in the post. Alternatively (2), if you wait a week or so it's possible you'll be able to pay through the web site if you've got a Paypal account. I have the technology, whether or not I can get it to work is another matter. Watch this space.....
Club season ticket
We currently sell this at 25 quid a game, which means that even if we sell it for every game (which we don't) we lose around 100 quid over the season. From now on we're going to charge £35/£30/£25 based on the category of the game (A/B/C). This compares pretty favourably with the matchday prices of £45/£30/£28 for that seat. A decision on whether or not to renew the ticket will be made at the end of this season.
Match tickets
We really went round (and round and round) the houses on this! It mostly concerned whether or not we should charge a fee for supplying tickets (home and away), and what that fee would be for members and especially for non-members. I'd be here all night if I had to summarise the whole debate, instead I'll just jump to the conclusions:
- being able to obtain tickets (home and away) is the prime motivation for membership for many people and that's why they pay their fiver; therefore they should get their tickets at face value
- non-members wanting tickets will have to pay a one-off five pound payment; they will then effectively be a member for the rest of the season and will be supplied with a membership card (see below)
Membership cards
Anyone paying their subs will be given a membership card. This obviously supposes that we can physically get it to them!
Funds
In order to try to build up some funds Stevie Round is going to flog some domino cards in Spoons. Just don't tell the staff!
Meetings
Although they weren't that well supported, some people miss the regular meetings that we used to have. We're therefore bringing them back! But rather than going back to having them on a Tuesday evening (it was a pain in the arse dragging yourself out the house in the cold and dark in the middle of winter, knowing that you could only have a couple of pints at the most because you were driving), we'll have them on Saturdays when say it's an international break or the Toon play on the Monday night or when we've got no game because it's 4th round day and we've already been knocked out. The first one will therefore probably be in a couple of months.
Social events
We'll try to organise the occasional social event. Curry nights are the obvious thing to do. An end-of season barbecue is another option. Depending on how funds are, there could be an element of subsidy.
Supported charity
For many years we used to raise money for the Burns Unit at Bradford, for obvious reasons. Since then, because our President Peter Beardsley is a patron, it's been Tiny Lives at the RVI. We've decided that it's time for a change! Another local charity seemed like a good idea. Martin House Hospice was suggested and unanimously agreed on.
Player of the Year
Normally we vote for this near the end of the season and present the trophy to the winner as soon as possible afterwards. A quick straw poll at the last home game of last season came up with local lad James Milner as the clear winner. Unfortunately though a certain Mr Shearer has still got hold of the trophy. Tom (brave man!) has taken it upon himself to get it back and to sort out the presentation. We'll decide who's to present it if/when we've got the trophy!

I think that's about it, but if anyone that was there reckons I've missed something then please shout up!




Honours even

A draw against the Smogs was probably a fair reflection overall. I thought we started well and were totally in control until they suddenly got an equaliser out of nothing. The Setanta commentary team obviously didn't agree though as they kept going on about how our 4-3-3 system was as ineffective as it had been against Villa. One thing I will say about that formation is that it needs midfield players getting into advanced positions regularly, and with Butt and Geremi looking scaringly like the reincarnation of Parker and Butt it puts a lot of pressure on the remaining midfield player. We reverted to 4-4-2 in the second half to keep the commentators happy, but I couldn't say that I saw much improvement. If nothing else Oba was a lot less effective than he had been when playing wide. Still what do I know.

It's a real shame that we couldn't have held out for the win because it would have made the perfect present for birthday boy Tom who was 50 on the day. The previous evening was of course his 'surprise' party in the Wellington pub in Leeds. How much of a surprise it was I'm not really sure, but I suspect The Doc's text earlier in the day was a bit of a giveaway: "Happy birthday Tom. Sorry I can't make it to the party tonight". Even without The Doc there was a tremendous turn-out, with a lot of people having travelled from far and wide to be there, including a large contingent of family and friends down from the north-east. I think I can safely say that a good night was had by all, with (loud!!!) music provided by Tom's band Shambollix. Aaarrroooonnnnaa was unfortunately working the next morning and so had to keep himself right. He therefore restricted himself to seven pints of Amstel and so was "stone cold sober" (his words) as he left relatively early to get a taxi home, bouncing off the door frame and staggering along the street as he went. Anyway, a big thank you to Jude and Nicky for the fantastic job they did organising the event and getting everyone there.

Here's a few photos I took. Click on the thumbnails for a full-size version.
You can watch a short video clip of the Shambollix in action by clicking here. Alternatively you can download a version with better picture quality. Apologies for the sound quality though - my camera apparently doesn't do Dolby Digital Surround Sound.




"We are top of the league"

That's how one of the most popular chants at Bolton went. The other was "Big Sam's black and white army" in time to the Reebok drummers who were a bit slow to cotton on to the fact that they were playing onto our hands every time they started up.

We couldn't really have asked for a better start to the season. Well, for the first 45 minutes anyway. It just seemed like nothing could go wrong; one minute it would have been 2-1 but for a block on the line by Stevie Taylor, the next minute it's 3-0 thanks to a lucky deflection. But then after half-time everything that was good about the first-half performance went out the window. Instead of being positive we sat back and invited pressure. Instead of being purposeful we were clueless. Rozenhal went from looking complete class to Bramblesque. If Bolton had managed to get a second goal then I don't think we'd have held on. But they didn't.

There was an excellent turn-out of Yorkshire Mags in the Bromilow Arms before the game. Most had gone over by train, but Brendan (now an ex-YM or what?) had organised a minibus from Whitley cos he's now too old to get a Young Person's Railcard. Apparently it was some of Brendan's lot that invented the new sport of bush jumping before the game. Now chucking yourself into the middle of a bush isn't inherently dangerous, but that's not the case when you get carried away and end up going right through and landing on a load of empty asses or falling down a drop, or both.

It's my sad duty to have to report that some of our lot left the ground well before the end of the game for no apparent reason. The second half kicking off 8 minutes late meant that it was a bit tight for those of us wanting to catch the 3 minutes past 5 train, but it was still possible to stay till the end and get to the station in time. But when your train's at 14 past 5 and the station's a 5 minute walk from the ground??? (Only winding you up Alan!)

The early arrivals



More Yorkshire Mags



Why not! (click here for a video of a more painful landing -
right-click and Save Target As, then play)


Great support; as ever